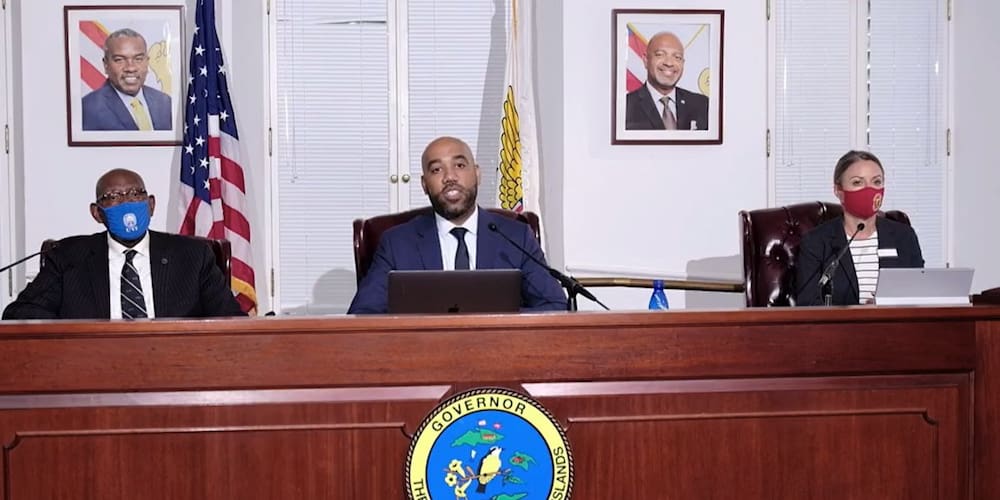 The continued surge in active COVID-19 cases on St. Thomas makes it clear that there "are not enough vaccinated people in the territory," Territorial Epidemiologist Dr. Esther Ellis said Monday.
Speaking during the weekly Government House news conference, Ellis said the positivity rate since June 12 has risen to 3.09 percent.
This week's stats include eight hospitalizations on St. Thomas, of which two are "critically ill" and one is on a ventilator, Ellis said. Overall, there are 109 active cases: 93 on St. Thomas, one on St. John and 15 on St. Croix, including one patient at the Gov. Juan F. Luis Hospital. While Ellis said that monoclonal antibody treatments for COVID-19 have reduced critical symptoms of the virus and death, three out of 122 patients still require hospitalization.
Repeating what she's said for the past few weeks, Ellis said the high numbers on St. Thomas are "mostly due to a surge in cases among unvaccinated individuals." As of Monday, 42,463 residents – or 53.5 percent of the eligible population – had received the first dose of the COVID-19 vaccine, while 34,290 have received a second dose.
To boost the numbers, Gov. Albert Bryan Jr. announced last week a lottery for fully vaccinated residents, who will have a chance to win $100,000 each week for 10 weeks starting next month.
Speaking Monday, Government House spokesman Richard Motta Jr. added that along with the Department of Education's plans to be 100 percent in-person during the next school year, a special drawing for school-based personnel in public, private and parochial schools will also take place on Aug. 9.
"In addition to the general vaccination drawing for $100,000 for 10 weeks open to all residents, the government will also sponsor a drawing limited to employees who work in the territory's education system and will feature three cash prizes in each district: $25,000 for first place, $10,000 for second place and $5,000 for third place," Motta said.
The special drawing will take place on Aug. 9 and is open to all school-based personnel who have a workstation in one of the territory's schools, including principals, teachers, guidance counselors, cafeteria workers and school monitors – as well as all school bus drivers.
"We continue to encourage every eligible member of our community to go out and get vaccinated, which is truly our best shot at beating the virus," Motta said. "In order to preserve the health and safety of our faculty, staff and students and to ensure that our school year gets off to the right start we are encouraging them to become fully vaccinated before the reopening of schools."
Unlike the previously announced weekly general drawing, school personnel who want to participate must register so the V.I. Health Department can verify eligibility. Registration details will be announced. Additionally, as part of this back-to-school effort, the government will also provide additional incentives for minors who get vaccinated prior to the start of the school year and details for that program also will be announced, Motta said.
According to Government House, federal funds from the American Rescue Plan earmarked for public outreach will support both lotteries.
Anyone 12 and older is eligible to receive the vaccine. Parents or guardians must accompany any minor to get vaccinated and bring an ID for both the minor and the parent or guardian.
Information about the COVID-19 vaccines is available by calling the V.I. Territorial Emergency Management Agency hotline Monday through Friday from 8:30 a.m. to 3 p.m. at 340-777-8227 (340-777-VACS).
USVI 2021 Technology Summit
During Monday's news briefing, University of the Virgin Islands President David Hall and Microsoft's William Adams also discussed this week's USVI 2021 Technology Summit, a five-day event to shape the future of technology and access to technology in the territory.
Hall said UVI will use the former West Bay supermarket on St. Thomas, which UVI has acquired, to create an Innovation Center where UVI students can get firsthand experience using technology. A similar facility also is planned for UVI's St. Croix campus.
"The focus of the Tech Summit is to benefit from the insight, power and years of experience of the leading technology company in the nation, Microsoft, and to use that resource as a way to improve governmental processes," Hall said. "Throughout the week, we will be hearing from the leaders of various agencies about the challenges that they face and how, through technology, those challenges can be addressed."