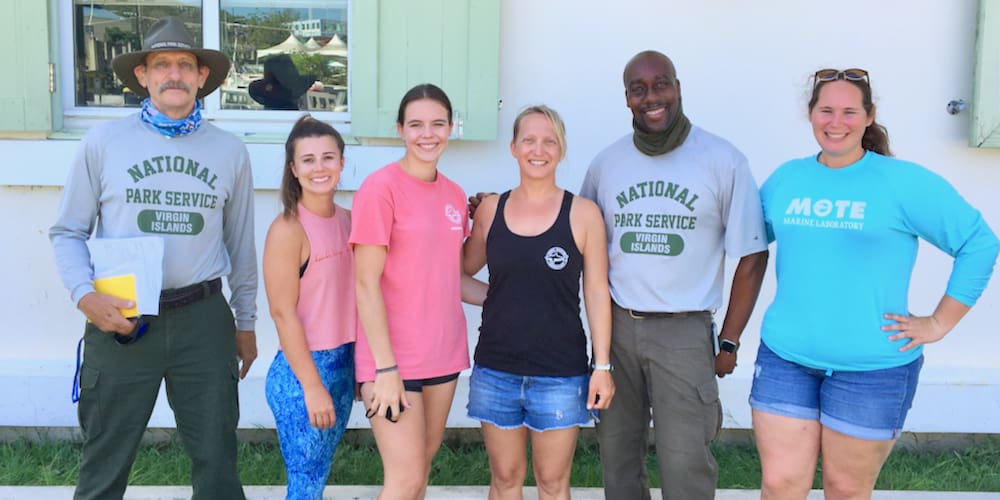 The Virgin Islands National Park has teamed up with Mote Marine Laboratory and Aquarium in Florida to test out a new tool in the fight against lethal Stony Coral Tissue Loss Disease, which has been devastating coral reefs in the territory since 2019.
Dr. Erinn Muller and a team from Mote Labs were on St. John for the past two weeks to see if a new ointment made by Ocean Alchemists will be effective in fighting Stony Coral Disease.
During the past year, Virgin Islands Stony Coral Disease Strike Teams have been using a product made by Ocean Alchemist called Base2B, an ointment that can be combined with Amoxicillin Trihydrate and applied directly to the edges of the diseased coral tissue to halt the disease's spread. The product has had over a 75 percent success rate at treating SCTLD over the past few years in the state of Florida, according to the company's website.
Now Ocean Alchemist is developing a new ointment that is antimicrobial but does not contain an antibiotic, according to Muller.
"I don't know what's actually in it," she said. "The formula is proprietary. We're hoping that it's equivalent to or better than Amoxycillin. We're here on St. John to see if it's effective."
During the 10 days of research, divers from the park and Mote applied the "Coral Cure," as the ointment is called, to nearly 100 corals at Hawksnest Bay, Yawzi Point, and Tektite.
They are working on coral populations that are separate from the ones being treated by members of the St. John Strike Team under the direction of the Caribbean Oceanic Restoration and Education Foundation, locally known as CORE.
The efforts of all the researchers are being reported here.
On Wednesday, their last day in the field, the team from Mote and the VINP circled back to corals they treated the previous week, but they were not yet able to draw any conclusions.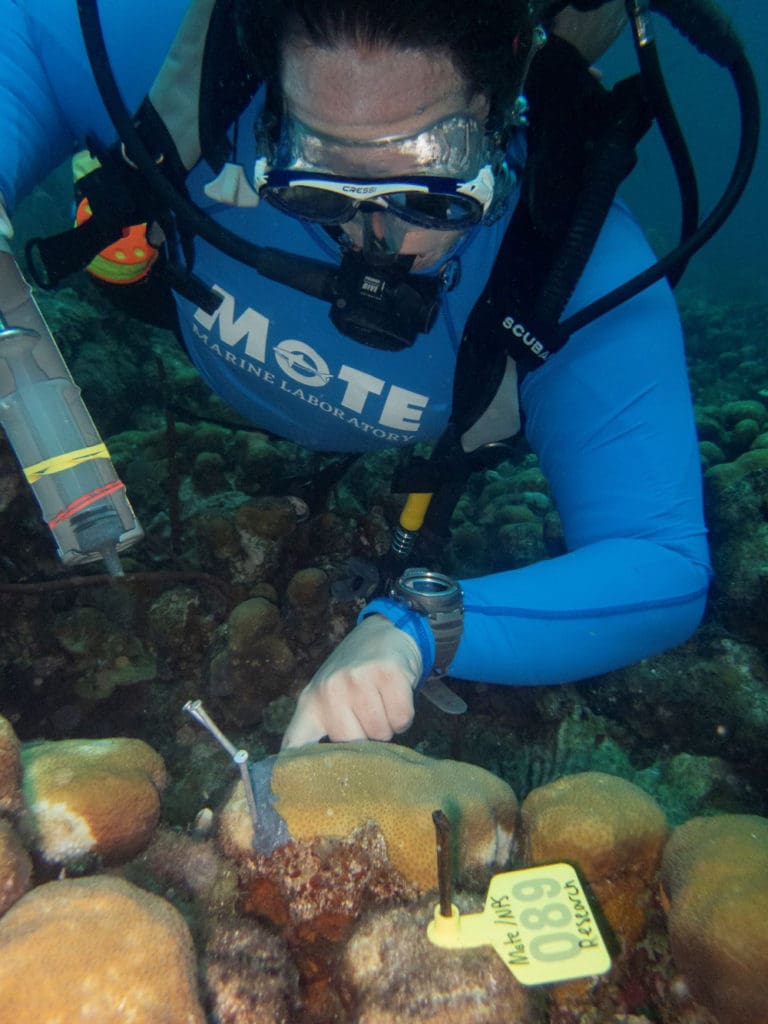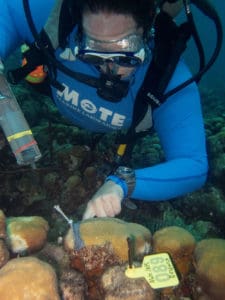 "It's difficult to determine the efficacy at this point, but we'll be back in September to visit the treated colonies," Muller said.
If it is effective, the ointment could become the new medication of choice.
"The new ointment sticks a lot better than Base2B and doesn't require premixing," she said.
The project is funded by the National Park Service and is part of a grant that began years ago before Stony Coral Tissue Loss Disease was seen in the Virgin Islands.
Muller now serves as science director of the Elizabeth Moore International Center for Coral Reef Research and Restoration at Mote.
Prior to her tenure in Florida, she spent years doing research in the Virgin Islands, studying coral diseases such as white pox and white band. White band disease, which began spreading throughout the Caribbean in the 1980s, destroyed as much as 90 percent of the populations of elkhorn and staghorn corals, she said.
Muller began her research career working with Dr. Caroline Rogers in the Virgin Islands National Park on St. John from 2004-2008. She then served as a biologist at Buck Island Reef National Monument on St. Croix where she focused on black band disease from 2009 to 2010.
"It was great to see Erinn again and to have her and her team from Mote here to join forces with CORE and NPS to try to learn more about this disease and effective ways to treat it," Rogers said.
"The disease is dramatically changing the undersea world around St John, and corals continue to die from it," Rogers continued. "It is killing corals that survived the devastating disease outbreak in 2006 and the 2017 hurricanes."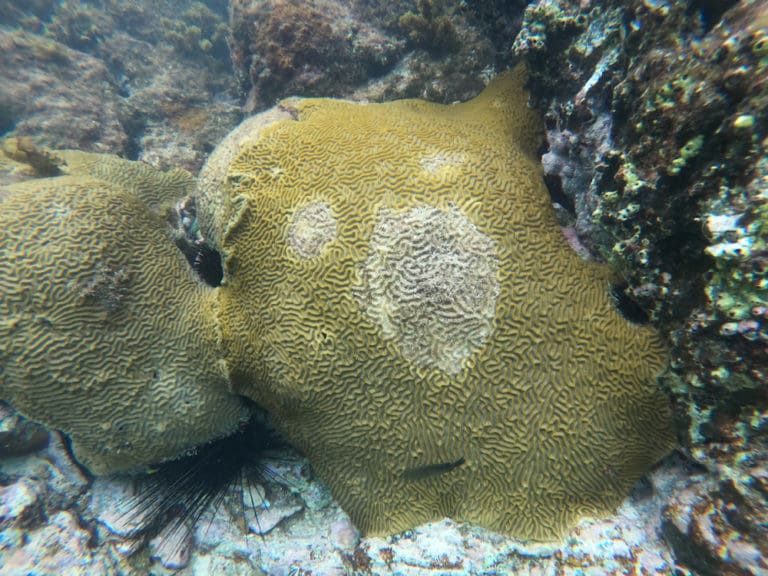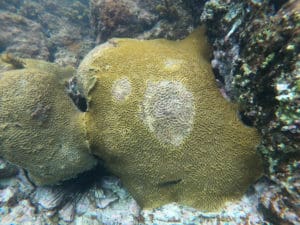 Muller said she witnessed a period of record-breaking coral decline following coral bleaching events in 2005-2006. "There's been decline for decades," she said, "but there was still so much left here. It's now hard to see hundreds of corals dying from SCTLD, all at the same time."
No one knows the cause of Stony Coral Disease, but Muller said researchers are focusing on the biomarkers found in certain coral species that are disease resistant.
"The resistant ones seem to have a unique bacterial community, probably regulated by the corals. We're trying to transfer that knowledge to the stony corals."
Researchers are hoping to find corals that are resistant to SCTLD and then use their tissue to grow new colonies through a process known as microfragmentation. The corals are grown in land-based laboratories and then replanted on reefs.
"The way forward is coral restoration, but we also have to think about cleaning up our environment by focusing on local water conditions, and we have to make sure climate change is addressed," said Muller. "It's a global effort."
Although she is based in Florida, Muller said the Virgin islands will always have a special place in her heart. "Seeing the devastation on St. John from Stony Coral Tissue Loss Disease gives me the motivation to find better tools to fight it. I hope our efforts help others."