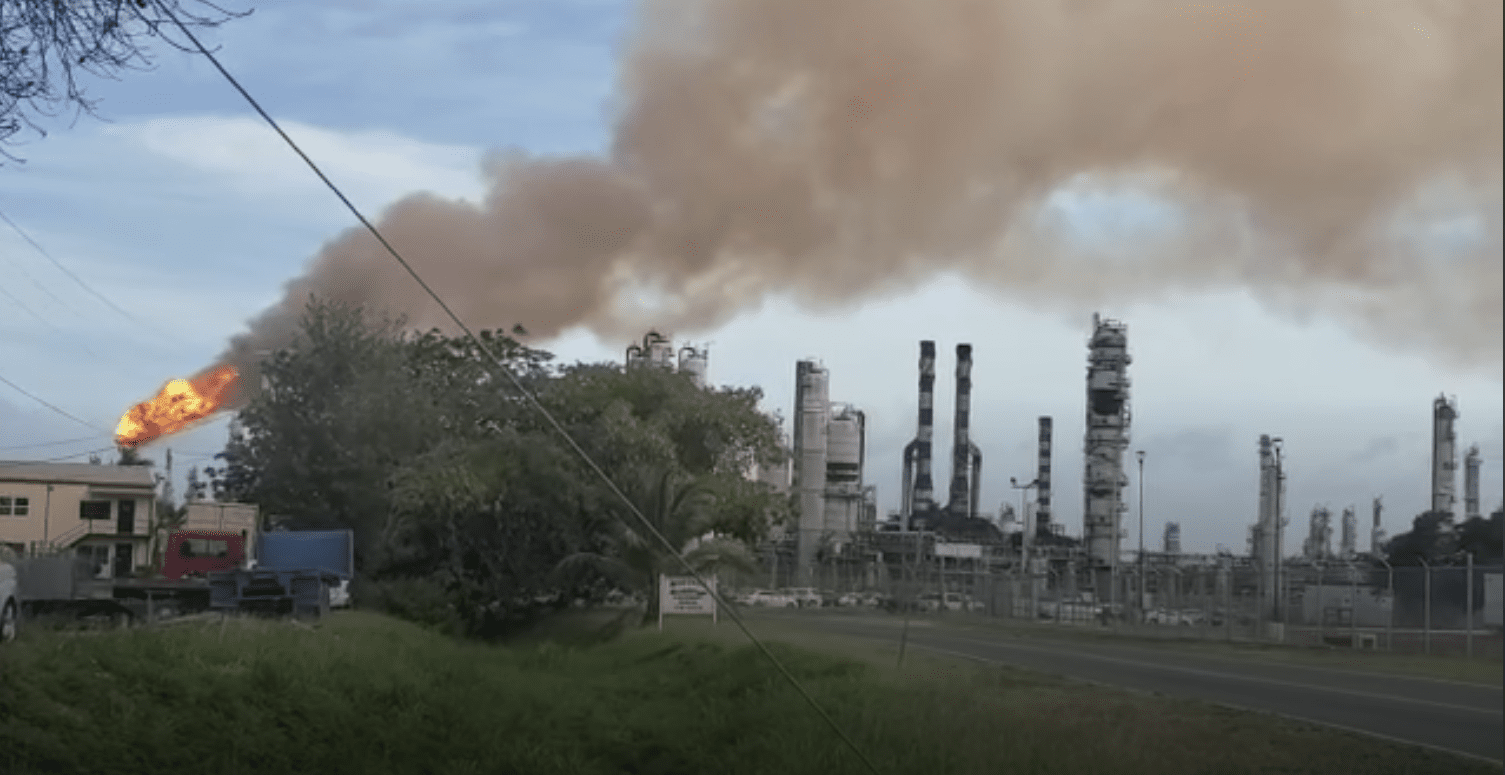 Nine St. Croix residents filed a complaint against Limetree Bay Ventures and its terminal and refining businesses on Wednesday, charging that toxic emissions and oil from their refining operations threaten the residents' health and enjoyment of their homes.
"In its attempts to prematurely restart a facility that had been idled for nearly a decade, Limetree caused tons of airborne chemical emissions to be emitted downwind in the neighboring communities on the west end of St. Croix," the complaint alleges. "Among the toxicants emitted were sulfur dioxide (SO2), sulfur oxides (SOx), particulate matter (PM) and oil droplets – all of which are harmful to human health."
See full complaint here: 2021 05 19 COMPLAINT
The plaintiffs represented by Colianni & Colianni, Burns Charest, LLP and the Pate Law Firm seek the creation of a medical monitoring program to compensate for Limetree's impact on their health and redress for the nuisance it has caused – not only for themselves but "for all others similarly situated," potentially involving hundreds of St. Croix residents living downwind of the Limetree refinery.
The events of the case started in February with the release of oil into surrounding neighborhoods, according to Vincent Colianni.
"In late April, after a series of hydrogen sulfide and sulfur dioxide releases from Limetree, hundreds of people called our office with respiratory complaints. That's when we knew this was a serious problem that needed to be addressed," Colianni said.
Limetree announced the resumption of refinery operations on February 1 after an eight-year hiatus. Almost immediately, oily residue released from its stack rained down on local properties. While residents in surrounding neighborhoods complained of nauseating odors, three schools in the refinery's downwind path closed twice because of them, the complaint alleges.

On April 24, the V.I. Health Department warned the community of the potential health effects of the emissions, the complaint says. While the Department of Planning and Natural Resources found an exceedance of sulfur dioxide, the U.S. Environmental Protection Agency confirmed the refinery released hydrogen sulfide as well. Yet again, fires within the refinery caused more oily droplets to rain on more residents' properties, it alleges.
Although Limetree has denied that it was the source of odors that triggered hundreds of calls to EPA and health department hotlines, Colianni is confident in the case.
"We absolutely can prove that," he said. "Limetree has admitted to most of the allegations. The problems started when Limetree started. Common sense says there is no other plausible source."
If sufficient evidence can connect Limetree's emissions with specific illnesses the plaintiffs could experience, a medical monitoring program would improve their health outcomes by giving them access to medical exams and diagnostic screening to catch and treat the illness early.
Amassing the evidence to justify medical monitoring is a herculean undertaking, however.
"We need medical evidence that establishes a causal link between these chemicals and the health problems," Colianni said. "But there is plenty of medical literature that establishes the causal link. Sulfur dioxide and hydrogen sulfide are both known to cause serious respiratory problems."
One of the linchpins in the medical testimony is the study of Stephen Williams published in the Journal of the National Cancer Institute showing that people within 30 miles of a refinery are at significantly greater risk of cancer – and it increases at 10 miles, Russell Pate said.
"The refinery creates an increased risk of cancer in people who are innocent," Pate said. "They are not the ones causing the increased risk, the refinery is. The refinery should not be able to externalize that cost onto innocent people."
Exposure to toxicants is more than just harmful, it's a nuisance, Colianni said.
"Homeowners on the west end of the island have to live with noxious, rotten egg smells and oil spattered on their homes and cisterns. The defendants created and emitted the pollution. They should make it right," he said.
The case awaits a response from Limetree, and a judge must certify its medical monitoring and nuisance classes in order to move forward.
Related links: