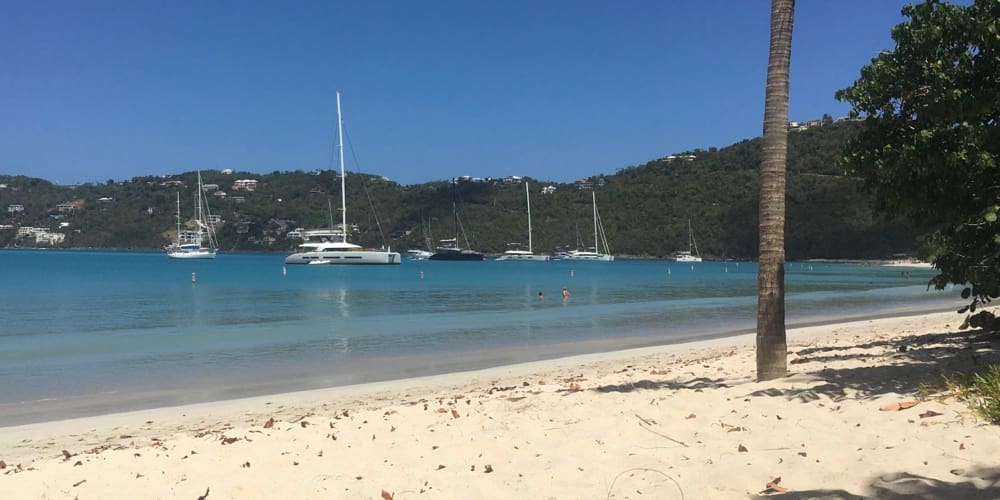 The Magens Bay Authority voted on Friday to introduce five new categories of monthly passes, in part to accommodate non-resident visitors, create an all-park pass and raise the fees for the resident couple and resident senior passes it currently offers.
Board members meeting on Zoom voted unanimously to introduce the following new monthly passes starting on May 1, 2021:
– Resident adult (age 13-59) $25
– Resident family (of 4) $55
– Non-resident adult (age 13 and older) $40
– Non-resident couple (age 13 and older) $70
– Non-resident family (of 4) $130
The board also voted 6-1 to increase the cost of the resident senior pass from $8 to $12 per month and the resident couple pass from $25 to $35, effective Oct. 1. St. Thomas-St. John-Water Island Administrator Avery Lewis, who is Gov. Albert Bryan Jr.'s representative on the board, voted against it.
The new all-park monthly pass will cover admission to both Magens Bay and Smith Bay for 25 percent more across all categories, rounded up to the nearest dollar, effective May 1. Senior citizens and veterans will be exempt from the surcharge.
The all-park pass, approved in a 5-2 vote with board Chairperson Katina Coulianos and Lewis voting against, prompted the most discussion.
"A person cannot be in both parks at once. I think this is a little ridiculous," Coulianos said. However, board Secretary Elliott "Mac" Davis said that while he was reluctant to create yet another category of fees, parks such as Disney World offer the option of paying to visit just one park or buying an all-park pass that costs more.
"We're [currently] granting a value to all pass holders for no additional expense," Davis said. "We need the money, and we're giving value."
Under Magens Bay Authority rules, resident adults are age 13-59, seniors are 60 and older and children 12 and younger are admitted free. Non-resident adult passes apply to ages 13 and older.
In a unanimous vote, the board also expanded the rules for senior citizens to prove residency, which traditionally required a senior citizen card issued by the USVI government. Effective immediately, the authority also will accept V.I. driver licenses as proof of age and residency, or a passport or other government-issued ID showing a birth date, in tandem with a current utility or property tax bill.
In other business the board:
– Voted unanimously to direct Manager Hubert Brumant to place "No Soliciting" signs at Drake's Seat, the popular lookout on the north side of St. Thomas that also falls under the authority's management. The move comes after Brumant said he had to call the police and Licensing and Consumer Affairs after he found a person hawking wares at the site on numerous occasions.
– Received an update from Coulianos who, along with board members Davis, Barbara Petersen, Dayle Barry and Vice Chairman Robert Moron, met with Department of Planning and Natural Resources officials in February to discuss enforcing regulations for the increasing number of boaters anchoring in Magens Bay during the COVID-19 pandemic. Coulianos said they will supply DPNR with the authority's rules and will strive for enhanced coordination between the two agencies in a bid to foster a better relationship between the boaters and park staff while ensuring they adhere to the rules of the park and the government of the U.S. Virgin Islands.
– Tabled a walking tours proposal by HL Freyn IV, who also is the operations manager at the Yak Shak kayak and paddleboard concession at Magens Bay. While Freyn said he wanted to secure the board's approval before applying for his business license and paying $5,000 for insurance, board Treasurer Cecile de Jongh and Lewis said he was required to get the license before bringing his proposal to the board. Freyn also will need to provide the board with the study guides he will use to train his tour leaders so that they can ensure the information is accurate. They also suggested he develop a test for prospective guides. "HL knows what he's talking about," Davis said of Freyn, who offered tours from 2009 to 2014 before stopping to address "personal issues." However, having taken tours of Charlotte Amalie with guides that were "woefully uneducated," Davis said the board would need to ensure the consistency and accuracy of Freyn's employees. Freyn is proposing to offer his tours for $79 per adult and $39.50 for ages 12 and under, and pay the Magens Bay Authority a 20 percent cut, he said.
– Unanimously approved a vehicle entry fee waiver for the Virgin Islands Electric Vehicle Association's car rally on Earth Day, April 24. On past Earth Days, the group has merely driven through Magens Bay Park, said Robert Upson, who appeared at the meeting on behalf of the association. This year, it would like to end the rally at Magens Bay so participants can enjoy lunch and a dip in the water, and also because it will provide a scenic backdrop for photos for the national association, Upson said. Lewis voiced concern about adherence to the governor's executive order, which mandates masks, social distancing and 5 p.m. beach closures during the COVID-19 pandemic. "Our national organization is very cognizant of that as well," and members will be required to sign waivers and adhere to all pandemic rules, Upson said.
– Met in executive session to discuss personnel matters and the results of the authority's annual financial audit. "Personnel action was approved on a unanimous vote," Secretary Davis reported in a readout of actions taken upon the conclusion of the executive session, which was adjourned just before 1 p.m.