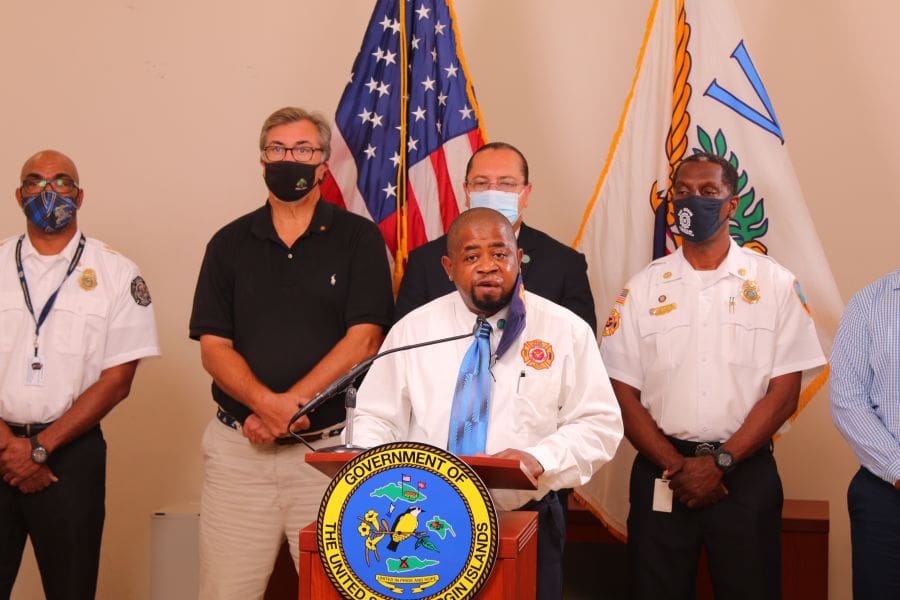 A brief press conference from V.I. Fire Service on Wednesday detailed the coordinated response effort that took about two days to recover the victims of Monday's fatal helicopter crash on St. Thomas.
Fire Service Director Daryl A. George Sr. said a collaboration of crews from Emergency Medical Services, St. Thomas Rescue, the V.I. Police Department, V.I. Territorial Emergency Management Agency and the V.I. Port Authority's Fire and Rescue Division helped establish a joint incident command center that helped responders clear a path to the crash site, near the Botany Bay preserve.
Fire Service initially received a call from emergency 911 at approximately 3:15 p.m. on Monday about the crash and sent out its first responding unit from Tango Company, with more from the Echo and Hotel companies joining after additional reports came in at 3:16 p.m. about heavy smoke coming from the area.
Crews of five were sent into "heavy, dense" vegetation, which George said later was cleared by St. Thomas Rescue volunteers with chainsaws, to locate the crash site. The site was found within 30 minutes, and fire teams began to extinguish the fire they found, afterward searching for victims. Four were found, identified by George on Wednesday as pilot Maria Rodriguez and passengers Daniel Yanonne, Neisha Zahn and Tyler Yannone.
"Earlier reports stated there were five victims, so the crews continued to search," George said. "After a long process of trying to determine if there was a fifth member, it was determined there were only four passengers at the airport."
With VIPA updating the NTSB and Federal Aviation Administration with information and waiting for guidance and approval to "retrieve" the victims, first responders suspended their efforts when darkness came as conditions in the area became unsafe.
George said that at 6:30 a.m. Tuesday, crews were once again back at the scene, with recovery completed at approximately 9:47 a.m. after the Justice Department's Medical Examiner and team transported the victims to Schneider Regional Medical Center.
Operating within a close-knit community, George said all responding this week were touched by the tragedy and offered condolences to the families and loved ones involved.
Tuesday, Rodriguez's daughter and manager of Caribbean Buzz Helicopters Charlotte Van Heurck issued a statement on behalf of the company, whose team is "devastated by this accident and the subsequent loss of life."
"Extensive research will be needed to learn exactly what caused the accident. Right now, we are focused on supporting the families of those lost," the statement said. "Out of respect for the privacy of the family of the passengers on board during the accident that occurred yesterday, we cannot provide any further details at this time."
Rodriguez was remembered by her daughter as a lifelong St. Thomas resident with more than 25 years of flight experience, who was extensively familiar with the aircraft, area and flight-related conditions. She is survived by her husband and two children.
On Wednesday, Antilles Head of School Liz Morrison also took time to reflect on Tyler Yannone, who was a member of the school's Class of 2021.
"Tyler was a really kind, joyful, thoughtful and genuine young man. I loved his passion for flying and the way that he was so authentic. Adolescence can be a messy time characterized by self-doubt and insecurity, but I never saw that in Tyler. He talked to everyone and was just as comfortable with adults as he was with his peers. He loved his parents and he loved life," Morrison said.
"I admired the way he made a conscious decision to see the good in every situation and in all people. Every interaction with him left me feeling more positive and optimistic. I love the energy of people like that," she added. "Throughout this challenging year of managing school during a pandemic, Tyler came to school every day with a positive attitude just grateful for the opportunity. He was certainly a model for all to follow."
Students have also shared stories about their classmate's character, she said.
"He wasn't just a good, loyal friend. He took the time to talk to everyone," Morrison said. "He took the time to talk to our younger Lower School students. He took the time to care about others in genuine ways. It was never fake or for show. It was because he cared. It is a rare human that is as kind and thoughtful as Tyler."
Related link: 
St. Thomas Reeling from the Shock of Losing Revered Community Members