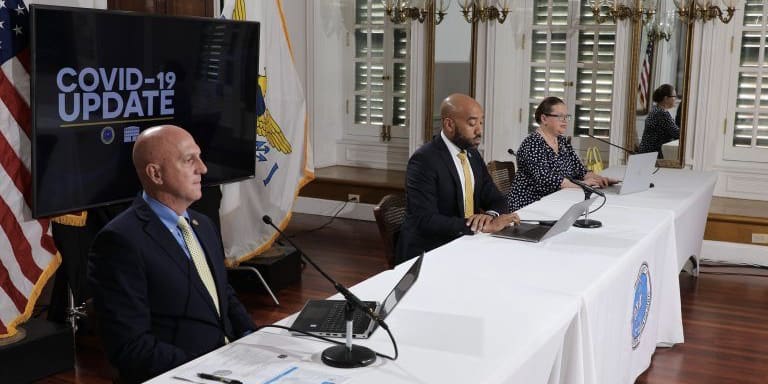 A partnership between the V.I. Territorial Emergency Management Agency and the Department of Health will streamline the scheduling of appointments with local providers for the COVID-19 vaccine, which officials said on Monday is in "high demand," particularly as more residents become eligible to receive it.
To "get more shots in arms" as quickly and efficiently as possible, VITEMA has launched a vaccine hotline allowing residents to call and make appointments for the vaccine. The hotline is open from 8:30 a.m. to 3 p.m., Monday through Friday. Residents calling into 340-777-VACS (340-777-8227) will be connected to operators that will coordinate appointments with providers.
Residents also can leave a message after hours with their name, call back number and island of residence, or visit the VITEMA website.
Veterans age 55 and older also are eligible and can call the VITEMA hotline or make an appointment through the Veterans Administration at 787-641-4591.
Speaking on Monday at a weekly news briefing, VITEMA Director Daryl Jaschen said feedback during the ongoing rollout of the shot revealed a need by providers for help.
"We are currently in Phase 1 and we have 28-plus providers who have quickly become overwhelmed by people wanting the vaccine," Jaschen said. "That is a good challenge to have and we are looking at what we can do to improve the process and get more information out there."
As of Monday, 12 providers have taken advantage of the partnership with VITEMA, and more are expected to come on board as Health moves into Phase 1C of the vaccine rollout, which includes a wider range of professionals, from water and waste management workers to media and communications employees.
Also speaking Monday, Health Commissioner Justa Encarnacion said that phases of the rollout are continuing simultaneously, with 1A and 1B ongoing and 1C soon to come. At this point, 9,429 vaccines have been administered with 1,815 completed second doses. More are being ordered and received, including 900 additional doses of the Moderna vaccine that have come as a result of the new federal administration's push to increase access across states and territories.
Encarnacion encouraged residents who are eligible for the vaccination to "please take advantage of the opportunity to get it," and continue to adhere to public safety guidelines such as avoiding non-essential travel, wearing masks and social distancing.
As of Feb. 1, Health has reported that 41,968 residents have been tested for COVID, and of that number, 2,421 have tested positive, while 39,454 have tested negative, with 93 test results pending. The territory's weekly COVID positivity rate is approximately 4.1 percent, with 91 active cases.
"We did see some improvements, but with new cases seen throughout the territory, our positivity rate fluctuates," Encarnacion said "We experienced an increase in hospitalizations last week with as many as six cases in the territory all at once. Currently, there is one person hospitalized in each district, which is good news, but this indicates that as new cases persist, there is a potential for more people to experience severe illness."
Health has ramped up its pop-up testing in response, with sites on all islands scheduled this week.
– St. Thomas Home Depot: 1 p.m. to 3 p.m. Tuesday, Feb. 2.
– Canegata Recreation Center on St. Croix: 10 a.m. to 1 p.m. Feb. 2, 9, 16 and 23.
– V.I. Port Authority Gravel Yard on St. John: 1:30 p.m. to 4:30 p.m. Wednesday, Feb. 3.
– Bordeaux Fire Station on St. Thomas: 1 p.m. to 3 p.m. Thursday, Feb. 4.
– Canegata Recreation Center on St. Croix: 10 a.m. to 1 p.m. Feb. 4, 11,18 and 25.
In other news, Government House Communications Director Richard Motta Jr. said the Bureau of Internal Revenue is expected to begin issuing the second round of stimulus checks next week based on residents' 2019 filings, and that on Sunday, for the Super Bowl, bars and restaurants are allowed to sell alcohol until midnight and remain open until 1 a.m.