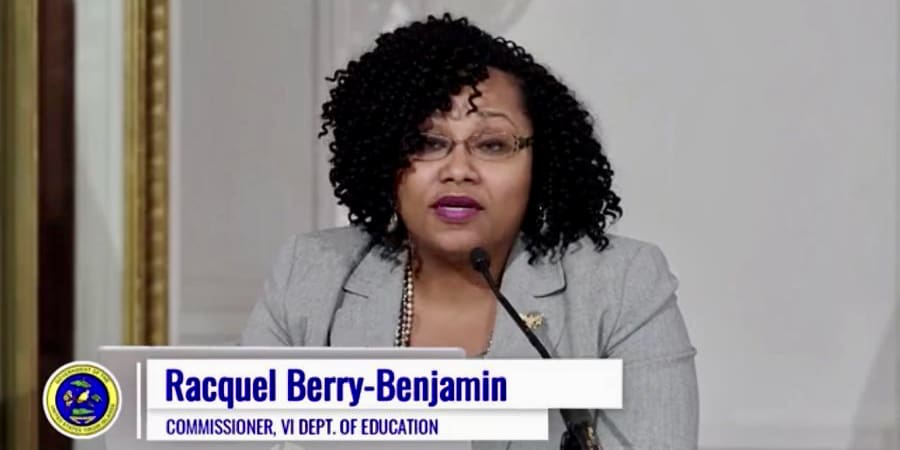 Between February and March, the V.I. Education Department will roll out a hybrid model for students, with some returning in-person and most remaining on virtual learning for the rest of the 2020-2021 school year.
Speaking at a press briefing Thursday, Education Commissioner Racquel Berry-Benjamin said the gradual and staggered rollout has to do with a delay in receiving critical sanitization equipment for the campuses, along with a rise in COVID-19 cases after the holiday season.
"We will always lead with safety first," she said.
The hybrid instructional plan calls for students in prekindergarten through third grade, along with special education and second-year Career and Technical Education students, to return in person, while students in grades four through 12 will remain online.
On St. Croix, in-person students will be on campus full-time, five days a week, with prekindergarten through first grade coming back first and the rest returning the following week to allow students to become more familiar with new routines, such as morning temperature checks, social distancing, mask-wearing and hand washing.
While not mandated by the Centers for Disease Control, partitions and hand washing stations will still be installed on campuses, while protocol signs have already been installed, infrared thermometers and personal protective equipment for those who need it distributed, and isolation rooms identified on each campus, according to Berry-Benjamin.
In the St. Thomas-St. John district, students will be assigned into one of two cohorts that will alternate between two days in person, and three days online.
Fourth through 12th-grade general education students will continue learning from home while the department works on safe options that would allow them to return during the 2021-2022 school year, according to St. Thomas-St. John Insular Superintendent Stefan Jurgen.
All students in need of transportation will be provided with school-bus service, but parents are encouraged to continue picking up and dropping off if possible. In both districts, buses will operate at less than half of their capacity.
For in-person students, breakfast and lunch will be offered. Education's Assistant Commissioner Victor Somme III said Thursday that all kitchens used to prepare food will be completely sanitized by Friday. In-person students will receive food on campus and eat in their classrooms, while the parents or guardians of online students can pick up a consolidated meal package at specified sites. Details will be sent out, and school lunch resumes on Jan. 20, officials said.
Officials added that all students in both districts in need of a laptop or personal hotspot have received them, though the department has ordered 6,000 more new Chromebooks. The biggest order, of 3,000, will arrive on island Jan. 25, while another shipment of 2,110 has already been received.
Reopening orientations will be held for parents in both districts.