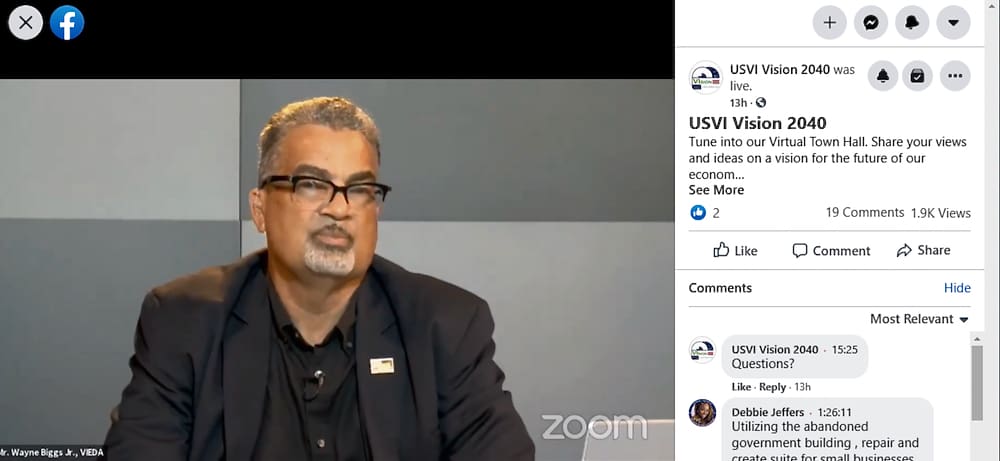 "Thanks for calling Vision 2040," was a familiar refrain as Economic Development Authority CEO Wayne Biggs Jr. fielded phone calls and online comments Monday evening during a virtual town hall aimed at shaping the government's 20-year plan.
The 90-minute session – held via Zoom, Facebook Live and broadcast on WTJX and the government access channel – was broken into three "listening sessions" – what makes the USVI unique, obstacles to growth and prospects for future business opportunities.
The feedback Biggs received offered a glimpse into the challenges facing everyday Virgin Islanders, including the high cost of electricity, the dearth of affordable housing, lack of social services, support for small businesses/startups and developing agriculture, so they can put food on the table and end the reliance on imported everything.
The overriding message seemed to be, build up those resources and embrace renewable energy and the U.S. Virgin Islands will become a better and more prosperous place for all.
Vision 2040, a federally funded plan to create a 20-year economic strategy for the USVI, was announced in October by Gov. Albert Bryan Jr. While initially floated during his first State of the Territory Address in 2019, it took another year to secure funding and for the planning stages to come to fruition.
Biggs hosted Monday's 90-minute interactive town hall with Shanell Petersen, EDA managing director for marketing and Vision 2040 manager, and Dan Gundersen, principal and senior vice president at Camoin 310, the national economic development firm selected to oversee the project.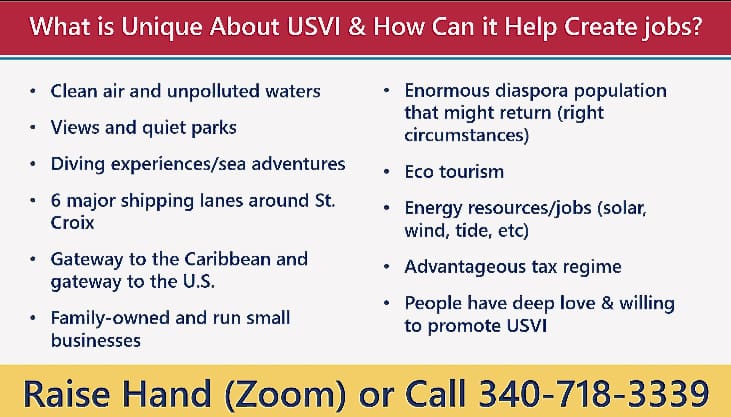 Gundersen faces an "incredibly aggressive" deadline, with a mandate to deliver the final blueprint for economic self-sufficiency and prosperity by the end of February, Gundersen said in October at a webinar introducing the plan. Monday's town hall was just one of several interactive events to gather citizen input. There also are island-specific surveys, another aimed at USVI diaspora, a virtual open house and an invitation for general comments online.
While Monday's participants easily filled two pages of USVI attributes – from beautiful weather, clean air and water and six major shipping lanes around St. Croix to ecotourism, family-owned small businesses and an advantageous tax regime – they were just as quick to point to the high cost of living and lack of social services as major barriers to growth.
"The cost of electricity is entirely too high for small businesses" and it is killing the middle class, one caller told Biggs. "We're really a two-class society – rich and poor – and until we come to that realization, we're not going anywhere," he said.
While the territory should be a prime location for retirees, they don't come because health care services are lacking and the cost of living is too high, he said, a concern echoed by others.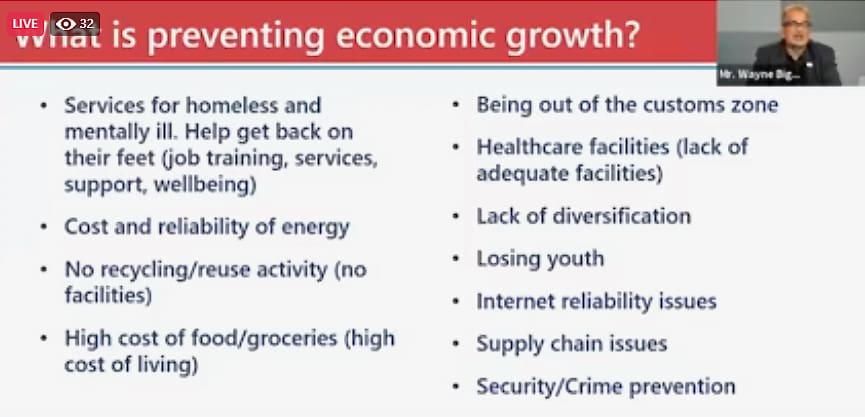 Another caller decried the lack of affordable housing, relaying the plight of a friend who is a single mother. "There's no assistance for them," she told Biggs. "She was so stressed. The rents are so high, it's hard to find housing."
In what was perhaps the saddest call of the evening, a man told Biggs, "We're trying to beautify the islands, but we have a lot of homeless cases" – a concern echoed by other participants. He is caring for a blind friend who has no family left in the territory, "and it's kind of heavy on me," he said.
Another caller noted the lack of help for the "totally discouraged and abandoned individuals who sleep on park benches" and beg for handouts.
"I'm a senior living on St. Croix and I have a fixed income," another caller said, noting how a bag of four fish slices cost her a budget-busting $20. Families can't afford to feed themselves, she said.
"If a plane or boat can't come here, we'll all starve to death," said another. "We need to push agriculture. We're supposed to be able to feed ourselves," said the woman whose friend could not find affordable housing.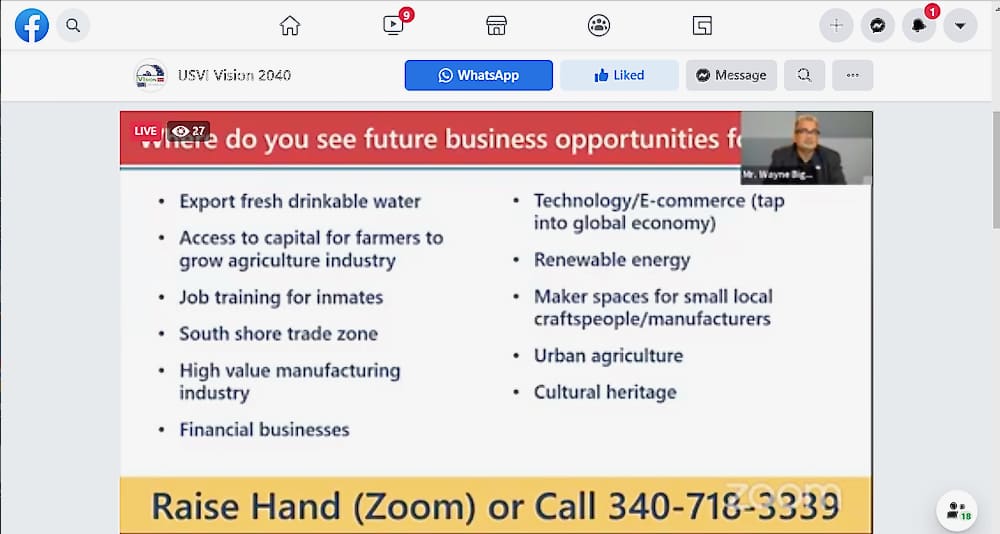 "We're not going to get any kind of economic development unless we reduce the cost of electricity," said another caller, who said he used to work at the Water and Power Authority on St. Thomas. "We need a sustainable revenue stream," he added, such as creating and exporting fresh drinking water. "We have the equipment here in the territory to do that."
Not surprisingly, ideas for future growth and prosperity included developing agriculture and solar, wind and tidal energy, as well as revenue streams from recycling everything from plastics and glass to tires. Financial literacy for youngsters, training in the construction trades, for inmates to keep recovery dollars in the USVI and support for local craftspeople also made the list.
Biggs said there will be additional virtual town halls in December, and urged everyone to go to the Vision 2040 website to find out more, complete the surveys and participate in the virtual open house.
"Please, please, please participate," said Biggs.