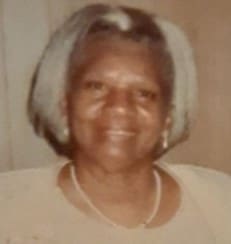 Lelar Ethalia Callwood Sylvester, better known as Lena, died on Oct. 16.  She was 79 years old.
The viewing and funeral service will be at 10 a.m., Monday, Nov. 9, at Turnbull's Funeral Home. Interment will be at Eastern Cemetery.
She is survived by her son, Gerald Sylvester; daughters: Diane Sylvester and Denice Thomas; brothers: Raphael Callwood, Reynaldo Callwood and Rudolph Callwood; sisters: Eulalia Steele and Stephanie Callwood; son-in-law, Wayne Thomas; daughter-in-law, Dianna Faulkner Sylvester;  and grandchildren: Lubin Richards Jr., Tichelle Potter, Lendell Adrien, Shakeel Sylvester, Shequeeda Sylvester, Shemiqua Sylvester, Shekeeda Sylvester, Alayha Sylvester, DeOzzie Sylvester, Kadejah Sylvester, Kamal Sylvester, Kameel Sylvester, Kareem Sylvester, Kyl Sylvester, Gerrine Sylvester, Glenn Sylvester Jr., Makeel Thomas, Makeyba Thomas and DeAndre Pearson.
She is also survived by great-grandchildren: Le'Qiyah Cannings, Le'Qaijah Cannings, Te'Nique Samuel, K'Aysha, K'Shani, K'Shari, K'Ron, Khloe Sylvester, De'misha, De'Mari and D'Nia Otto, Sh'Koi Woods, Sy'Jahnee Sylvester, Tevon Charles, Jordis Merisier, Jahzara Potter, Kamyrah Adrien, Monicka, Mo'Ryah, Makaileah, Ma'Niya, Mohijah, Ma'Hari, Nzila, Dakeem Sylvester, Kareem Sylvester Jr. and Levi Thomas Carter.
Other survivors include nieces: Tameka Coxall, Shantel Rivas, Natalie Thomas, Althea Wenham, Michelle Callwood, Debbie Richards, Lauren Callwood-Slaughter, Jennifer Callwood, Jacquline Cordero and Christa Callwood; nephews: Conrad Dore, Brandon Rivas, Daniel Joseph Jr., Darryl Richards and Keifa Steele; great-nieces: Leiani Dore, Maniaya Toney and Amalei Eleshin; great-great-niece, Morcia Callwood; special cousin, Calvin "Sharp Boy" Callwood; grandson-in-law, Asha Potter; special families: the Chinnery family, the Callwood family and Stephan Myers Callwood; and special friends, Ms. Philbert and Marilyn Michael.