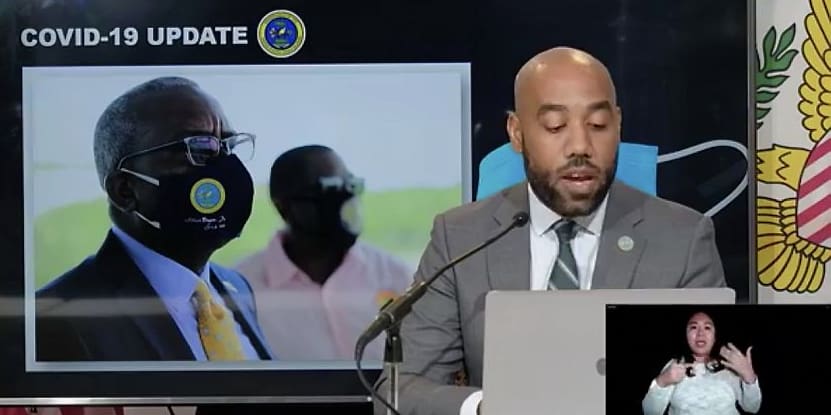 As Gov. Albert Bryan Jr. awaits the results of his COVID-19 test upon returning from travel outside of the territory, he issued a statement on Tuesday strongly condemning U.S. President Donald Trump for creating a potential "security crisis" by hosting what is being described by the national news as a "super spreader event" in the White House Rose Garden.
According to an article on Tuesday in the New York Times, "The White House has decided not to trace the contacts of guests and staff members at the Rose Garden celebration 10 days ago for Judge Amy Coney Barrett, where at least eight people, including the president, may have become infected, according to a White House official familiar with the plans."
Reading Bryan's statement at a news conference, Government House Communications Director Richard Motta Jr. said, "The news this past week of President Donald Trump contracting the virus sent shock waves throughout the leadership of this country."
"The conduct of a poorly planned ceremony in the Rose Garden in the White House has led to the infection of senior White House staffers, U.S. senators and even the First Lady," the governor's statement said. "It has affected financial markets and created a potential national security crisis. The President of the United States has access to the counsel of the most experienced and knowledgeable medical professionals in the country. He has access to the heads of the Centers for Disease Control and the Department of Health and Human Services. He knows all too well how to prevent the spread of the virus."
Bryan's statement repeated the advice medical experts have been calling for since the beginning of the pandemic and called out the president for not doing so.
"Practice social distancing not in your immediate household, avoid mass gatherings, wear a mask to prevent inadvertently spreading the virus to others you come in contact with. Yet, he failed to insist on these measures and downplayed the dangers of the virus. The fact is, we know what we have to do to prevent the spread of this virus."
"Furthermore," he continued, "our government has not been as extreme in restricting our residents as other places have been so it is important those measures we have adopted be fully adhered to. Yet some people continue to find some ways to violate the executive orders or circumvent the requirements. Do not join them."
While "inconvenient," following the guidelines will help keep down the territory's positivity rate, which is now a little more than one percent, Bryan added in his statement.
"This is how we will keep ourselves safe – and prevent further loss of life. This situation won't last forever, everything has a season, and this too shall pass," he wrote.