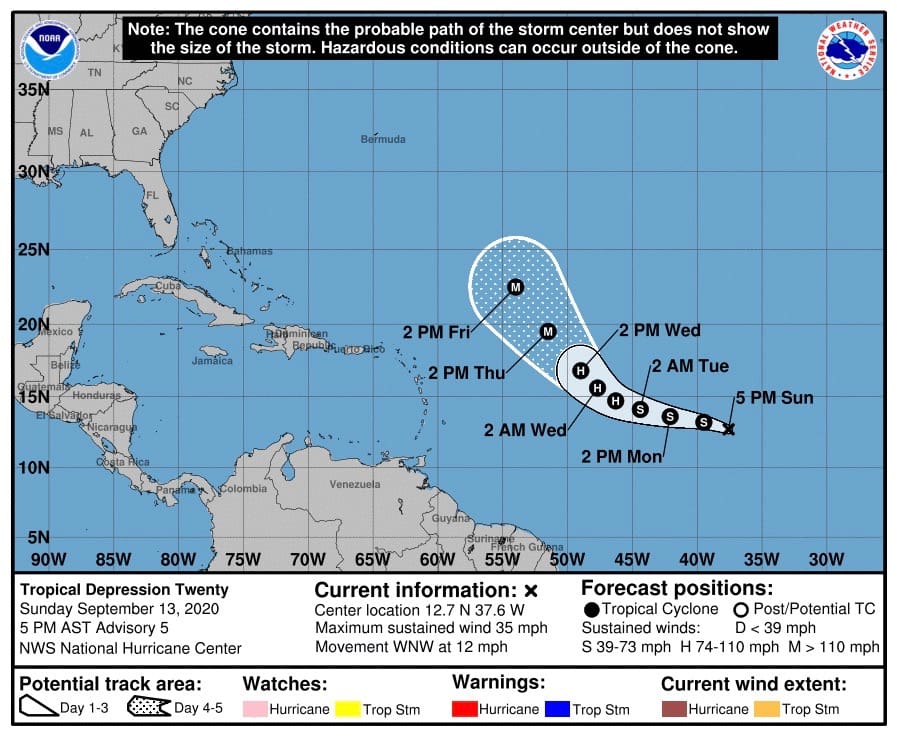 Tropical Depression 20, the weather system about 1,700 miles east of the Lesser Antilles as of 5 p.m. Sunday, is expected to strengthen in the next few days and reach hurricane status within four to five days, the National Hurricane Center reported Sunday evening.
However, on its current projected track, when the storm system makes its closest point of approach to the territory on Friday it will be approximately 870 miles east-northeast of the Virgin Islands as a category two hurricane with top winds of 100 miles per hour, the NHC said in its 5 p.m. update.
The storm is likely to bring life-threatening surf and rip tides to the Lesser Antilles and the coast of South America by Tuesday, the NHC said.
At 5 p.m. AST Sunday, the center of TD 20 was near latitude 12.7 North, longitude 37.6 West. The depression is moving toward the west-northwest near 12 mph. A motion toward the west or west-northwest across the eastern and central tropical Atlantic is expected through Tuesday, followed by a slower northwestward motion Tuesday night and Wednesday, the NHC said.
Maximum sustained winds are near 35 mph with higher gusts.
Hazards Affecting Land
Large swells generated by TD 20 are expected to reach the Lesser Antilles and the northeastern coast of South America on Wednesday. These swells are likely to cause life-threatening surf and rip current conditions.
Two Other Systems
Showers and thunderstorms near and west of the Cape Verde Islands are associated with a broad area of low pressure. Environmental conditions support some additional development, and another tropical depression could form over the far eastern tropical Atlantic during the next couple of days while the system moves slowly west-northwest. By mid-week, however, upper-level winds should become less favorable for development. There is a 70 percent potential for storm system development through five days.
A tropical wave is forecast to move off the west coast of Africa around the middle of the week. Some gradual development will be possible as the disturbance moves slowly westward over the far eastern tropical Atlantic, the NHC said.