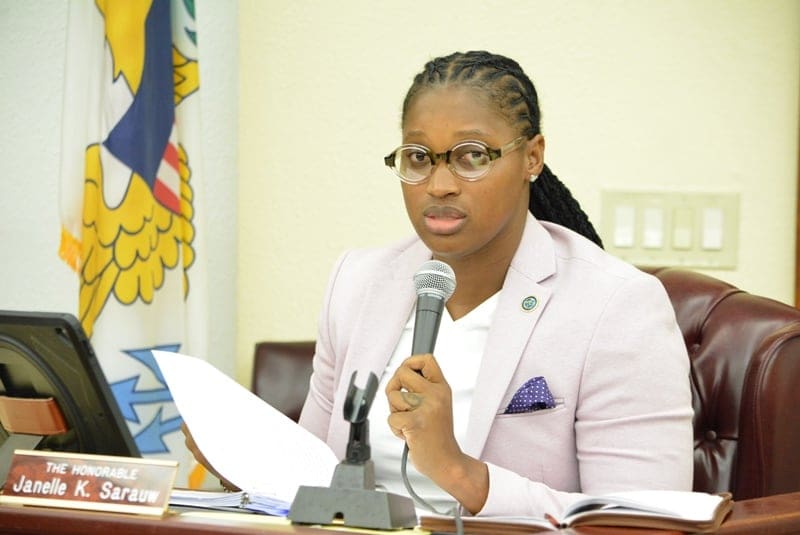 The Committee on Health, Hospitals and Human Services moved forward legislation Wednesday that, among other things, would strictly prohibit corporal punishment in school settings.
Bill No. 33-0103 is sponsored by Sen. Janelle Sarauw, who said it is meant to be a "holistic approach to women, children and families." The bill was largely supported by senators and testifiers from the Department of Education and Bureau of Corrections. The only dissenting senator on Wednesday was Sen. Kenneth Gittens.
Though Gittens called the measure interesting and comprehensive, he said he would not support it because he advocates for the use of physical punishment on children in schools. "We don't use timeouts in the Virgin Islands."
"If this measure wants to see my support going forward, I certainly will not support this measure with section four being in there with regards to the prohibition of corporal punishment. This has been attempted by many legislatures, and I will not be hypocritical now to change my mindset to that end," Gittens said.
Sarauw said she wasn't intending to debate corporal punishment during the hearing, but she said the truth of the matter is that "some people just don't want you banging their children in school, and sometimes we don't know when to stop."
She argued that to physically strike a child at school when they could already come from an abusive home, doesn't help the child if "before we take the time to use emotional intelligence, we go and beat the child."
Sarauw said some people just will not stand for an educator to hit their children.
Department of Education legal counsel Cynthia Moore said the department agrees "with the family law bill; corporal punishment should be prohibited."
"Physical punishment has not been proven to be an effective agent in changing and shaping behavior," Moore said. "The topic of corporal punishment has been talked about back and forth between the VIDE and the V.I. Legislature in past years, with the Department of Education taking the position that it cannot supersede law. And that the law needs to change for any action to take place against corporal punishment."
If adopted, the bill will allow the department to enforce the policy, supported by the law.
But the legislation isn't just about eradicating corporal punishment.
The bill would also establish a new procedure for obtaining a birth certificate, require a psychological and learning evaluation for children, establish paid time off from work so parents may visit their children's schools, allow certain healthcare facilities to hire discharge planners and establish a set of standards for healthcare and postpartum care for incarcerated individuals.
"I think it's unlawful and inhumane to hold someone incarcerated beyond 12 months and not be given basic care. I know the Bureau of Corrections conducts screenings, but we wanted to codify it," Sarauw said.
Bureau of Corrections Director Wynnie Testamark said the bureau is proud to report it is already doing more than what the bill would require of them.
"Currently the bureau provides breast exams, mammograms and pap smears to female inmates and detainees who have been incarcerated for six months or more," as well as prostate exams to men older than 40 who have been incarcerated for at least six months, Testamark said.
Additionally, the committee moved forward four separate bills Wednesday. Bill Nos. 33-0246, 33-0348, 33-0342 and 33-0343 will be forwarded to the Rules and Judiciary Committee, along with Bill No. 33-0103. Bill. No 33-0283 was held in the committee for further discussion.
Sens. Sarauw, Gittens, Donna Frett-Gregory, Kurt Vialet, Marvin Blyden, Oakland Benta and Athneil Thomas were all present for the hearing.