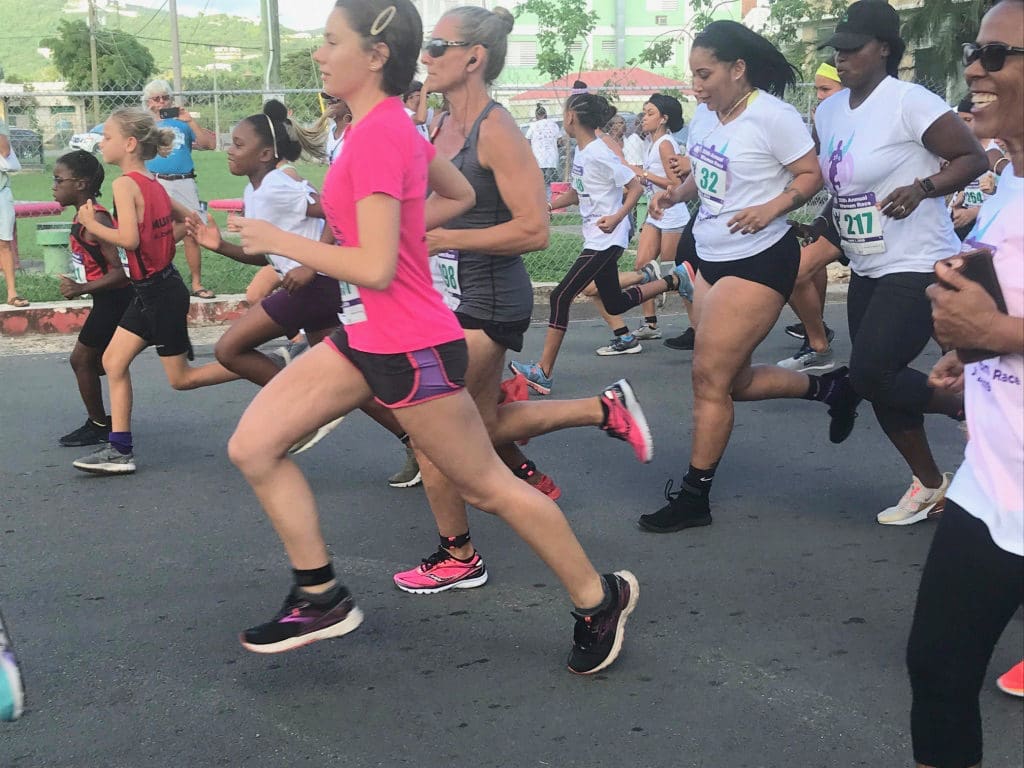 For 35 years, women of all ages and a few men have run the streets of Frederiksted or Christiansted, to raise awareness and money for the Women's Coalition of St. Croix, a local charity focused on stopping all forms of violence. But with group gatherings ill-advised amid a viral pandemic, for the 35th year the Women's Coalition is proudly continuing the tradition of an annual peace race for women and girls, with a few changes. The friendly race will be virtual this year, with women and girls registering online, completing their two miles wherever they are, and posting their time online during the week of Aug. 23 through 30.
"This year you have a whole week to complete the race, so it can be done with less stress, but at the same time show your support for crime victims and survivors. You can still do it with family and friends, but this time they can be anywhere and join you. The Women Race tradition must continue, despite the challenges brought on by the COVID-19 pandemic," Women's Coalition Executive Director Clema Lewis said in a release.
Registration is online-only, starting Aug. 23. Participants have one week to complete two miles – running, walking, jogging – any form of movement, and post their time online.
"Participants with their little ones in strollers can still register. We want our future 'Women Racers' to be a part of this fun event too," Assistant Director Carolyn Forno said.
Women's Coalition of St. Croix is a multicultural, nonprofit organization whose mission is to end all forms of violence. Since 1981 it has addressed the issue of violence against women, men and children in the community through education and advocacy.
The organization said in its release the annual Women Race is always a special event, especially for victims and survivors of violence. Many continue to participate annually, to show their strength, progress and healing from the trauma of domestic abuse, sexual assault and other crimes.
"Wear your favorite T-shirt and make a video to share with friends on social media. Encourage them to join up as a group. We're looking for all of those who would show their support from the sidelines, on the streets of Christiansted and Frederiksted, to take to their devices and cheer on the 'Women Racers' virtually this year, too!" Communications Coordinator Debra Benjamin said.
The link to the Virtual Women Race online registration page will be shared on all of the Women's Coalition's channels closer to the week of the race. Follow WCSC on Facebook, on Instagram – @wcstxvi, Twitter – @WCSTX and YouTube – youtube.com/wcstx.
The registration entry fee is $20.
"We know that these are challenging times financially for many people, so we have included a discounted fee option of $10 for those who cannot afford the standard registration fee," Fundraising Coordinator Lavonne Wise said. "Girls aged 13 and under can still register for $1.00, as well," she said.
Organizations, groups and businesses may enter teams in the Women Race, but each member must register online individually and include the team name on the form. The fastest team (minimum of five members) will receive special recognition. The overall first, second and third place winners and top age-group finishers in several categories will also be recognized.
The St. Croix Women's Coalition's mission is to support and empower people impacted by violence. Contact WCSC at 340-773-9272 or visit their website for more information on the Women Race and no-cost advocacy, programs and services for survivors of violence.