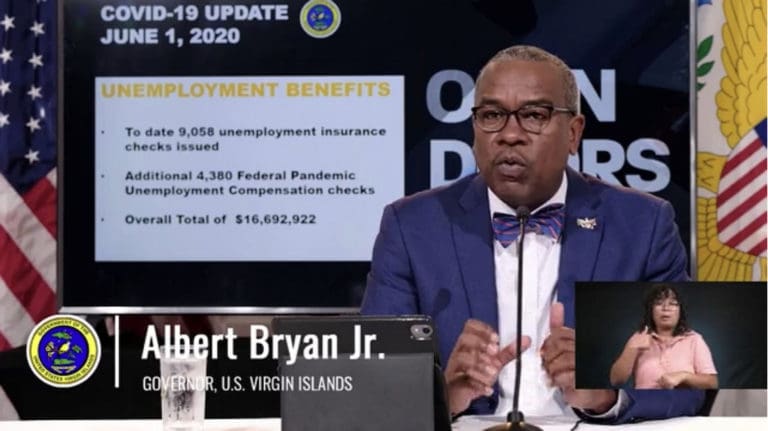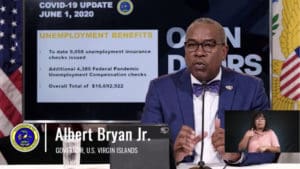 In the wake of protests in cities across the U.S. and even around the world over the death of George Floyd, Gov. Albert Bryan Jr. called on residents to support local police officers as they work to clamp down on a spate of violence that has so far claimed the lives of 14 individuals on St. Thomas and St. Croix since the end of March.
"We are all aware of the systemic issues that have created biased and prejudiced interactions between Americans and people of color," the governor said during a news conference Monday. "Driven by centuries of slavery, state sanctioned segregation and racial inequities, it is exacerbated when officers are asked to police communities that they don't live in."
Bryan said locally, issues of deadly force have been addressed with a "considerable amount of time and training" to ensure that officers don't "go overboard with their policing of our people." A federal consent decree is still in effect for the V.I. Police Department, which has been tasked with creating a policy spelling out how and when force can be used, how to report those instances and how supervisors determine if use of force was appropriate.
Bryan added Monday that officers within the V.I. community do their "utmost best to serve and protect" citizens, "go to bed in the same neighborhoods" in which crimes are committed and know the issues plaguing them. They deserve our "utmost cooperation and respect," he said.
"While I realize slavery and racial inequity have led to what is playing out on the national forefront, the same characteristics have also created a self-hatred within our communities of color that is playing out at home," Bryan said. Racial prejudice doesn't explain why "our young men were running around Oswald Harris Court shooting each other on a Saturday night, and doesn't explain how a young man can be murdered in broad daylight in downtown Christiansted," he added.
"And, most importantly, it doesn't explain why we don't come forward to report these criminals and root out the plague within the young people in our community," Bryan said. "We must have a dual plan of action that motivates young people of color to run for leadership opportunities not here at home alone, but nationwide, and implement policy that curbs police brutality and provides economic access to a better way of life for our citizens."
Bryan added that all citizens are responsible for the communities they live in and should be called to action in the same way to notify police of suspicious behavior and criminal activity, to correct family members and friends when they do something wrong and to support "our civil servants," including police officers.