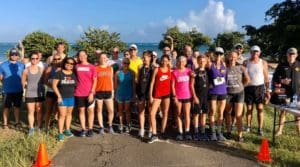 Because of schedules and rough seas, The Virgin Islands Triathlon Federation (VITF) has decided against holding its planned Triple Mini Triathlon but continued with plans to host the Beast of the East 5K. Fifty-five runners and walkers turned up at Cramer's Park on Jan 12, to climb up to Point Udall for a glimpse of Sunday morning's sunrise. As a reward for conquering the hilly, challenging 3.1-mile course, coffee and homemade cinnamon rolls were awaiting the participants at the finish line.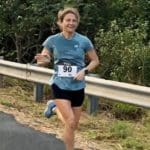 Billy Bohlke was the overall winner in a time of 19:20. Bridget Klein, the first female finisher, was the second overall finisher in 21:08.  Cooper Crowther, while preparing to run on a relay in the upcoming St. Croix Scenic 50, gutted out a time of 22:04 for a second-place male finish.  Good Hope Country Day School (GHCDS) student Mason Lambert was third.  Megan Mault-Lambert, Mason's mom, was the second-place female finisher, with a time of 22:55.  Ursinus College student Rachel Conhoff, who is home for the holidays, earned the third-place position.
Dr. Adrian Villalba, who also participated in the run, and Dr. Josh Caya from Paradise Chiropractic & Wellness Center in Peter's Rest lead warm up stretches and talked with runners about overall wellness.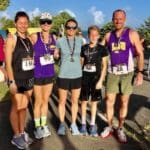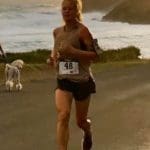 The next running event will be held at 6 a.m., Sunday, Jan 19. The 15.5- mile Martin Luther King Fort-to-Fort Run will start at Christiansted Fort, head west on Northside Road (past GHCDS) to Midland Road, bear left after Annaly Farms, continue through Grove Place into the rain forest on Mahogany Road., then finish at the Frederiksted Fort.  Water will be available about every three miles.  Arrive early on Sunday to fill out the waiver form.
For more information, call Wallace at 643-2557.
**********************
Beast of The East 5K
Sunday, January 12, 2020 at 7 a.m.
Course: Cramer's Park to Point Udall and back
Top 3 Overall Male                        Top 3 Overall Female
Billy Bohlke 19:20          1.  Bridget Klein 21:08
Cooper Crowther 22:04   2.  Megan Lambert 22:55
Mason Lambert 22:05      3.  Rachel Conhoff 23:26
Under 20                                                     Under 20
Dominic Pugliese 22:51                   1.  Candace Felix          33:09
  Carolyn Grimm       34:08
             Kirra Lambert          34:59
  Miko Dizon-Bumann 40:24
20-29                                               20-29
Chris Ray 31:40    1.  Brin Goldman 31:39
Max Deising 31:46          2.  Chelcie Stanton 40:22
30-39                                                30-39
Adrian Villalba 22:11 1.  Alexandra Gutting  24:09
Blake Schluter 24:37 2.  Lena Villalba  30:20
Robb Kuczynski 26:09 3.  Amanda Bauer 37:18
Scott Stanton 34:25
Chad Corbett 37:18
40-49                                      40-49
Amy Roberts                     24:07
Leah Chewning                 29:36
Allison Janusziewicz         32:03
Renee Sweaney                39:37
Lisa Gay                             40:40
50-59                                      50-59
Mike Klein 32:13 1.  Shari Bashaw 26:45
Wendy Humphreys 29:22
Dulcie Crowther 32:03
Louise Stapleton 36:17
Susan Armstrong 36:18
Jamie Schmidt 40:40
Jan Powell 41:26
Lorelie Highfield 42:45
Lorraine Foley 44:54
60-69                                                          60-69
Barry Armstrong 33:51                   1.  Rendy Crosby 31:32
Ned Jacobs 33:56                     2.  Cindy Whitehurst 37:19
Fred Flint 34:44                     3.  Vicki Locke 50:54
           Karen Heckman 54:26
  Deb Aronstein 54:26
  Jackie Holt 54:26
70-79                                                         70-79
Wes Whitehurst 33:18                   1.  Linda Nelson  50:53
Larry Williams 42:37
Win Thomas 45:19
Finishing Order
Billy Bohlke 19:20
Bridget Klein 21:08
Cooper Crowther 22:04
Mason Lambert 22:05
Adrian Villalba 22:11
Dominic Pugliese 22:51
Megan Mault Lambert 22:55
Rachel Conhoff 23:26
Amy Roberts                     24:07
Alexandra Gutting 24:09
Blake Schluter 24:37
Robb Kuczynski 26:09
Shari Bashaw 26:45
Wendy Humphreys 29:22
leah Chewning 29:36
Lena Villalba 30:20
Rendy Crosby 31:32
Brin Goldman 31:39
Chris Ray 31:40
Max Deising 31:46
Dulcie Crowther 32:03
Allison Janusziewicz 32:03
Mike (& Michael) Klein 32:13
Candace Felix 33:09
Wes Whitehurst 33:18
Barry Armstrong 33:51
Ned Jacobs 33:56
Carolyn Grimm 34:08
Scott Stanton 34:25
Fred Flint 34:44
Kirra Lambert 34:59
Louise Stapleton 36:17
Susan Armstrong 36:18
Amanda Bauer 37:18
Chad Corbett 37:18
Cindy Whitehurst 37:19
Renee Sweaney 39:37
Chelcie Stanton 40:22
Miko Dizon-Bumann 40:24
Jamie Schultz 40:40
Lisa Gay 40:40
Jan Powell 41:26
Larry Williams 42:37
Lori Highfield 42:45
Lorraine Foley 44:54
Win Thomas 45:19
Linda Nelson 50:53
Vicki Locke 50:54
Karen Heckman 54:26
Deb Aronstein 54:26
Jackie Holt     54:26
Melanie Conhoff 55:46
Andreas Conhoff 55:46
Rudi Beagles           DNF
Michelle Dizon       DNF