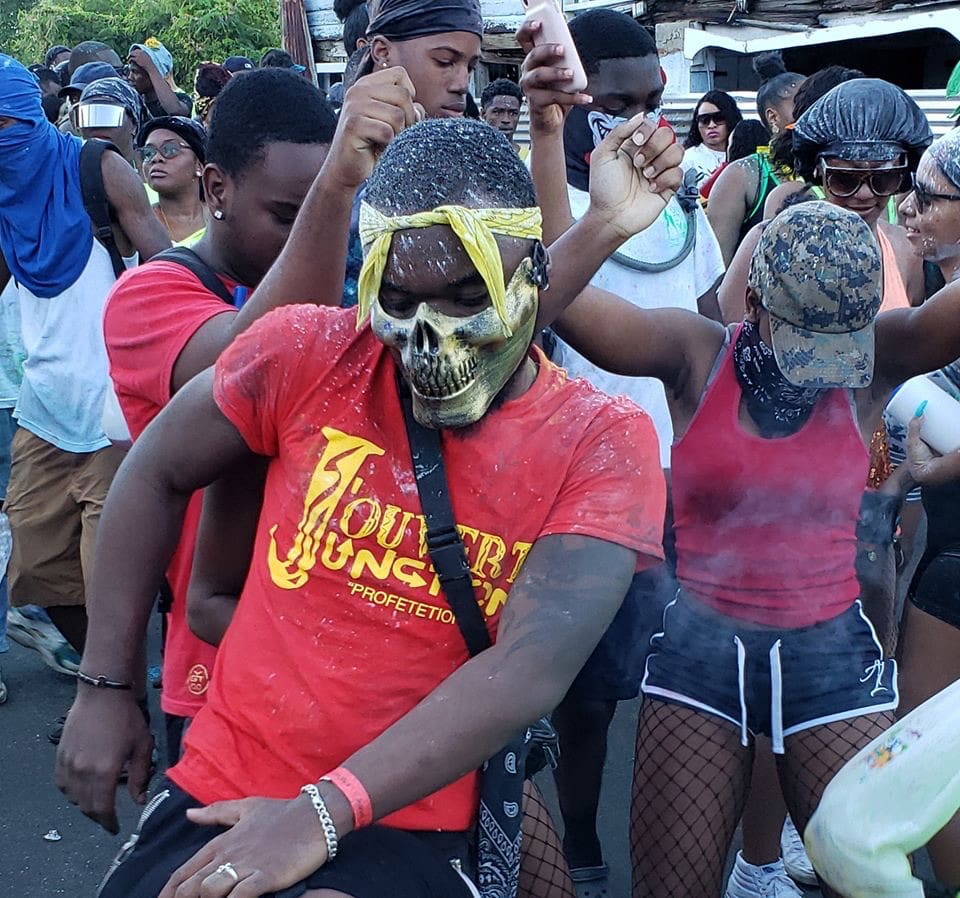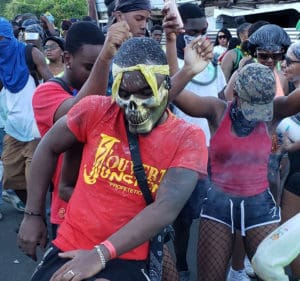 Thousands of people of all ages flocked to Frederiksted for the annual J'ouvert, a huge street party that is one of the most anticipated events of the annual Crucian Christmas Festival.
As the sun broke over the eastern horizon and began climbing into the morning sky, the dedicated revelers were already well into their festivities. It was still dark on the west end of St. Croix, but the streets were filled with thunderous music and throngs of people partying behind at least three bands on flatbeds with huge towers of stacked speakers pumping out the infectious rhythm. The music and singers in the bands incited the crowds to jump, spin, go down low and have a great time as they packed in behind the trucks.
J'ouvert is a traditional event steeped in a culture practiced in many Caribbean islands during their festival and carnival activities. It is held in the early morning hours and usually lasts until noon. J'ouvert is a wild street party, a time to shake off your inhibitions and live "in the moment," dancing with friends with wild abandon in the streets.
Several bands on flatbeds provide the booming music that inspire the dancers to release their inhibitions and have fun. Revelers usually wear pajamas, or interesting original attire that has evolved over time.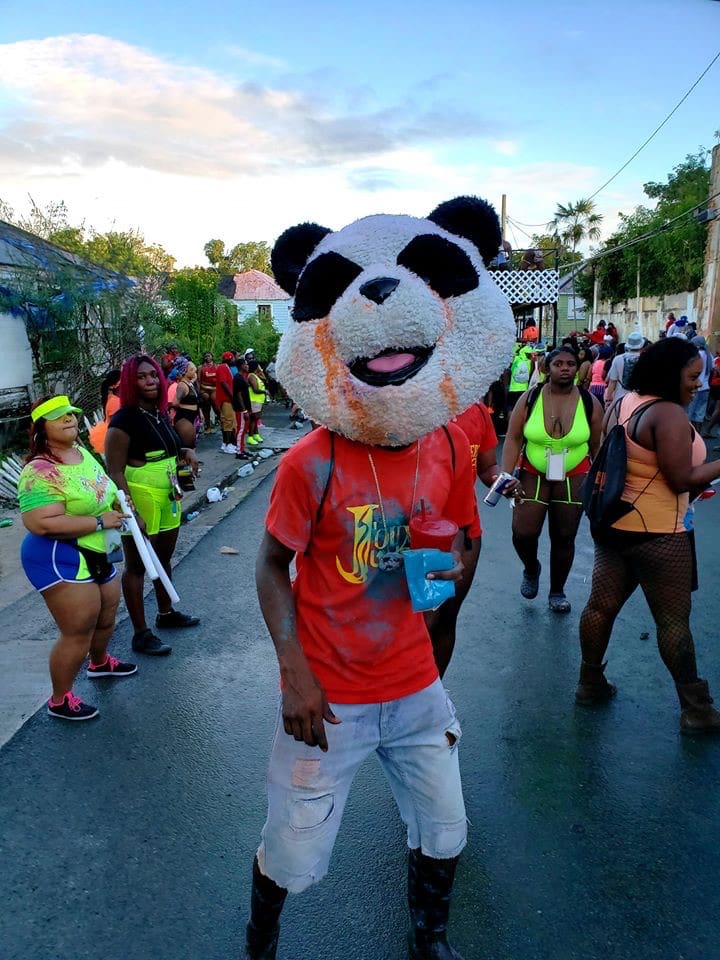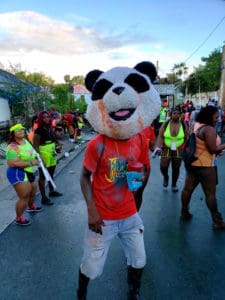 On St. Croix, J'ouvert is time to party in groups of two or three, five or even more. If you are an influencer, you may be able to pull together a large group with matching outfit or similar themes, so everyone knows you are a crew. Or you can go in a J'ouvert troupe like the Insomniacs, or J'ouvert Junction. "Fettin,'" playing mas for J'ouvert is better done with friends. This year the fashion trend was masks. You could spot those soft face masks decorated with jewels, shark teeth, skeletons, zombie or other decorations being worn by many in J'ouvert troupes.
There were ladies in bathing suits and fishnet stockings, leaving their "business" exposed. Lots of oversized false eyelashes were also spotted although it's not known if that fashion accessory was a leftover from the previous nights' party or an added effect for the morning costume. A man was garbed in a three-piece suit topped with a full bunny head, and another with a giant panda head. Yet another was dressed in vegetation from the top of his head to the ground. Two guys "landed" on the J'ouvert route in full astronaut suits. Everywhere you looked, there were more unusual costumes to see. Hey, it's J'ouvert, so anything goes.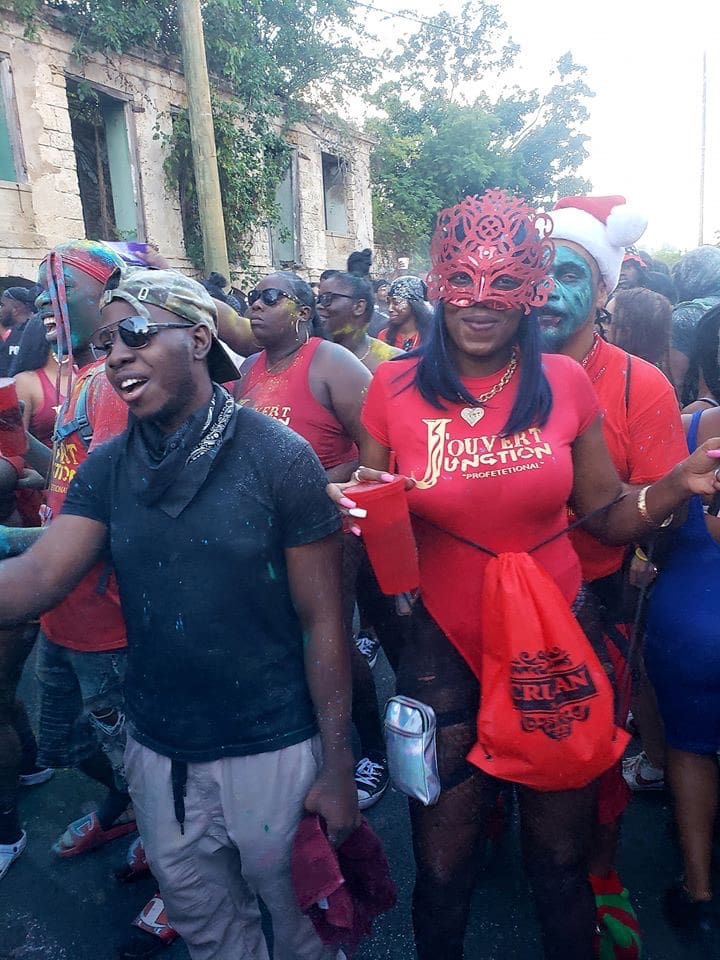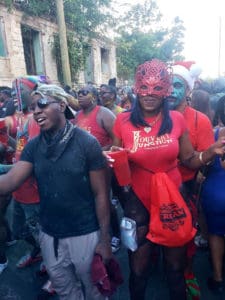 J'ouvert is also a place to meet and greet, exchange hugs and kisses and wish each other a Happy New Year. It's the one day of the year where a spirit of unity, happiness and togetherness permeates the revelers.
The festivities were relatively incident free, there was one scuffle in the crowded streets. When it was all over the weary participants could be seen headed to their respective homes to rest up until the next Crucian Christmas Festival event.
Thursday, Jan. 2, is the Soca Monarch Competition in the Festival Village. The event starts at 8 p.m.
Friday, Jan. 3, the Children's parade is scheduled to kick off in Frederiksted at 10 a.m.
Saturday, Jan. 4, the festival season wraps up with the Adult's parade, also in Frederiksted. It also is scheduled to start at 10 a.m.