Finding qualified men and women to serve as police officers has been a long-standing problem throughout the Virgin Islands.
The V.I. Police Department has always declined to publish the exact number of open positions, but one thing is clear: There is a shortage of St. John residents on the force.
Currently, only two members of the VIPD live on St. John. All other officers who serve on the island commute from St. Thomas.
Sen. Steven Payne Sr., a St. John resident who spent 18 years on the police force before he was elected to the Senate in 2018, is determined to do something about it. For the past several months, he's been talking up the benefits of joining the police department to young people on St. John, and he knows just who to tap.
As the former director of the popular music programs under the territory's Juvenile Delinquency Prevention Program and a former teacher in the public schools, Payne has watched more than a generation of students grow up on St. John and St. Thomas.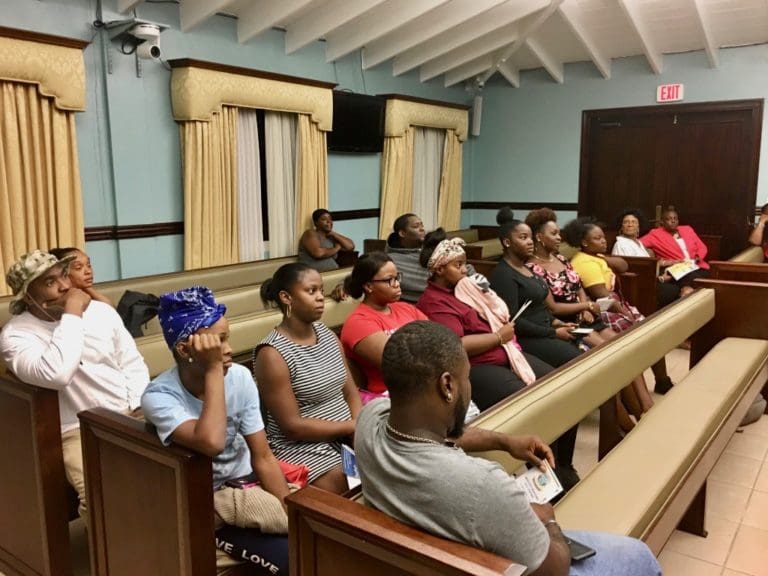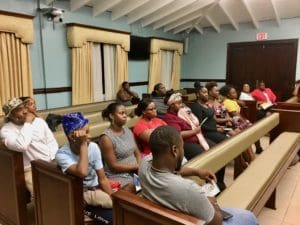 Payne invited 21 potential recruits from St. John to attend a meeting with police officials to learn more about the process of becoming law enforcement officers. On Monday, Dec. 9, more than a dozen young men and women arrived at the meeting at the Legislative Annex in Cruz Bay.
There are certain obstacles unique to St. John residents who want to become cops. Back when he trained to become a police officer, Payne said he had to be at the police academy on St. Thomas for physical training at 5:30 a.m. With no ferry service available from St. John at that hour, Payne told the audience that he often slept in his car or stayed at a friend's house on St. Thomas in order to be ready before dawn.
Things could be different, however, if a cohort of 10 or more St. John residents sign up as recruits. Special provisions could be made for group physical training.
"I'm in a position to make a change," said Deputy Police Commissioner Celvin Walwyn. Walwyn, who happened to be serving as acting commissioner that day, had traveled from St. Croix to attend the meeting.
"Yes, you still have to go to the academy on St. Thomas, but you can do your physical training on St. John."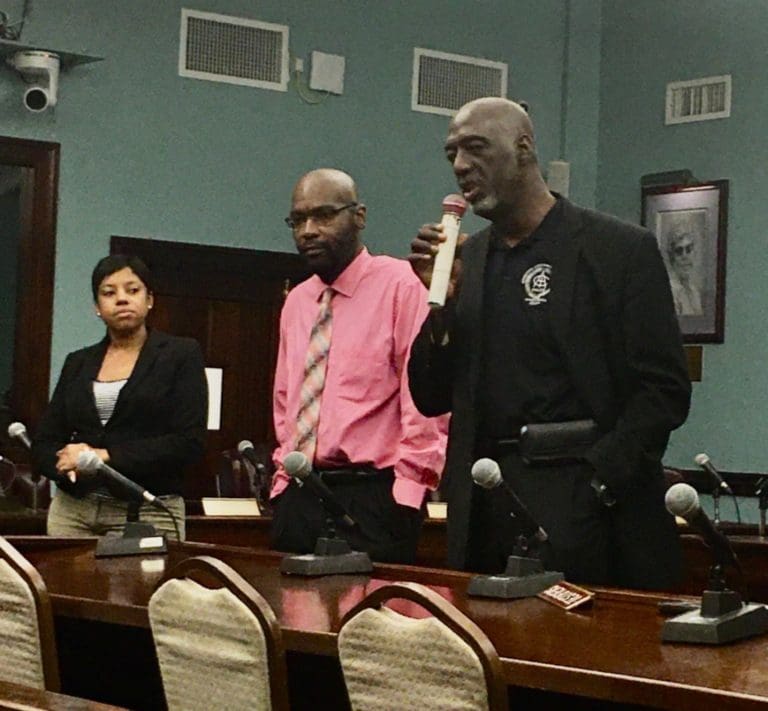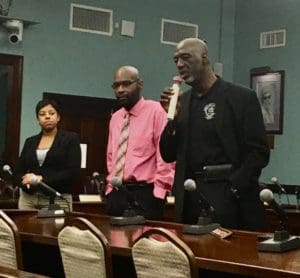 Walwyn described his path from being a Law Enforcement Explorer in 1973 to "running the department." He leaned forward on the railing to address the potential recruits. "You can do the same thing," he said. "St. John needs officers from St. John. You know the back roads. You know the people."
Deputy Chief for St. John David Cannonier told the audience that after 23 years on the force, he still considers it "the greatest job in the world. I've taken less than four or five days of sick leave in my career. I still enjoy waking up and putting on my gun and my badge," he said.
Cannonier joined the VIPD with a bachelor's degree in psychology and now teaches part-time at University of the Virgin Islands; he will receive his doctorate from there this spring. He used his own experience to illustrate the career possibilities.
"You can really do some good in the community," he said.
In order to be admitted to the police academy, recruits have to pass a background check and a drug test. One official was only semi-joking when he suggested that some of the audience members might want to stop hanging out on corners and start abstaining from certain behaviors now.
Dwayne Richards, human resources director for the VIPD, urged listeners to apply now in order to be ready for admission for the next academy session, which starts in July. He directed them to begin the application process by logging on to the website www.jointhevipd.com.
Training at the police academy takes six months, but upon matriculation, trainees start off at a yearly salary of $35,000.
"Look at it this way; we pay you at the rate of $35,000 a year to get in the best shape of your life," said one official.
At a recent Senate hearing on St. John, Payne decried the lack of development on the island and said that St. John residents ask him daily if he can help find them jobs. He scheduled this meeting as a way to show them that plenty of jobs are available in law enforcement.
"The VIPD has jobs galore," Richards said. "Don't say 'There are no jobs out there.'" He spoke of the starting salary of over $40,000, available to those without a college degree. "And that's not including extra for working night shift or in a specialized unit. People don't know how many opportunities [there are if you] stick with the process."
As he spoke about other job benefits, recruiter Sgt. Jamal Griffin looked out over the group and said, "I'm glad to see so many of you out there. We know that officers burn out if they have to do double shifts. That's why you're so important."
Griffin observed that there were far more females in the audience than males and said that a recent group going through the academy on St. Croix was made up of 20 females and only one male.
"We need more diversity," he said.
Payne cheered on the potential recruits at the end of the meeting. As they stood up to take a group photo he said, "You all make me proud. You give me goosebumps."
Since the meeting, Payne said, four St. Johnians have contacted him about becoming police officers. He invited others on St. John who have an interest to call his office at 340-693-8061. Similar recruitment meetings will be held on St. Croix in January and St. Thomas in February. Payne said he hopes to see as many as 200 new applicants throughout the territory.
Editor's note: This story has been edited since its original posting to add the information in the final paragraph.