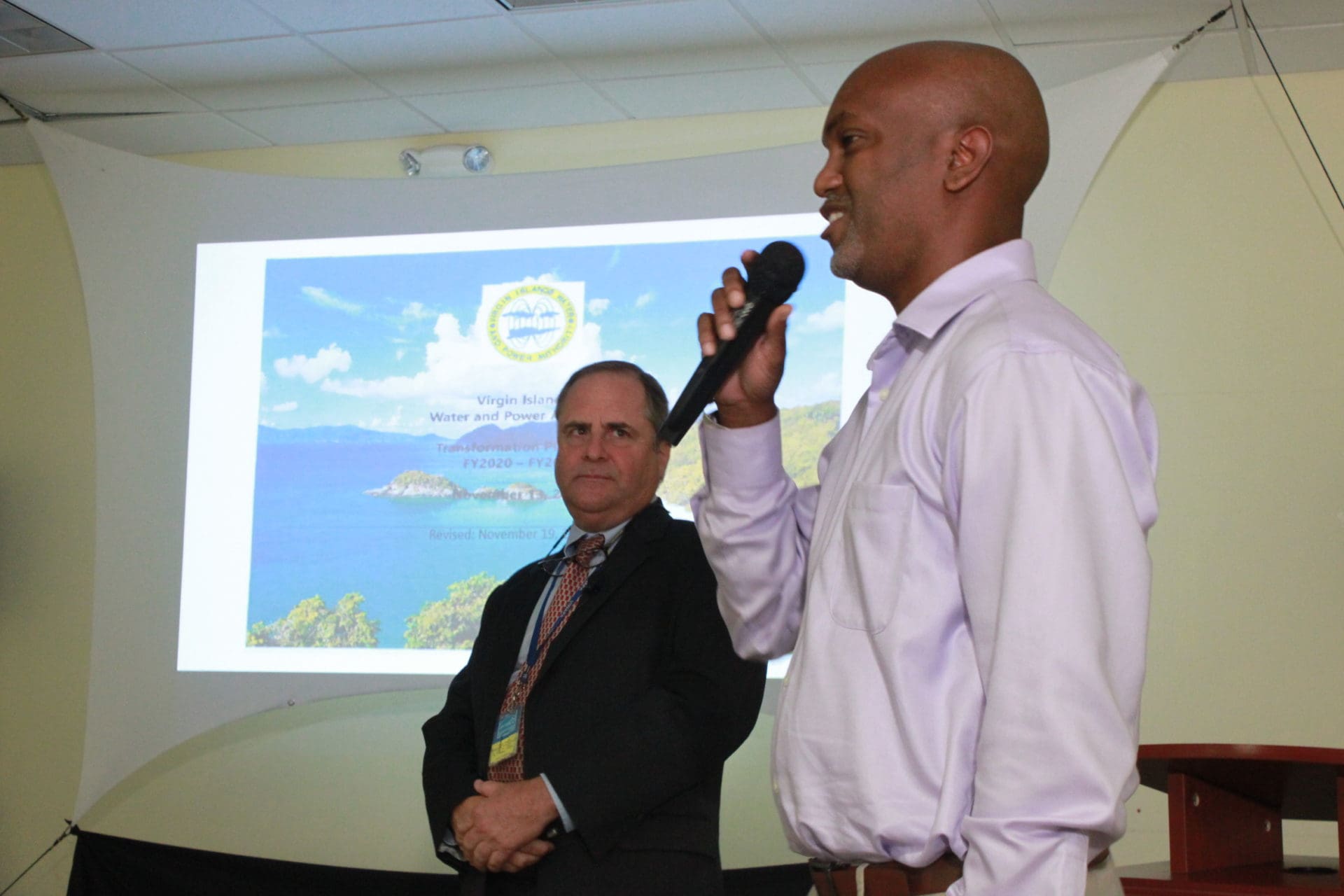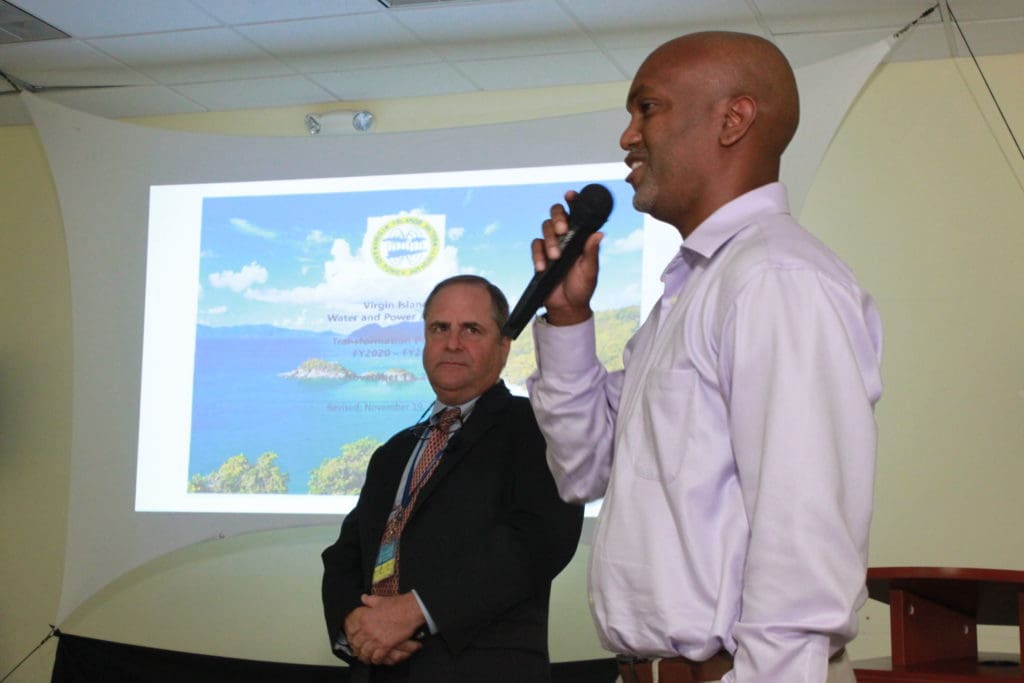 The Virgin Islands Water and Power Authority promised improved efficiency, resiliency and greater renewable penetration, as part of a five-year transformation plan presented by WAPA Executive Director Lawrence Kupfer at the Revenue Estimating Conference.
About 75 of the territory's government and business leaders took part in the Revenue Estimating Conference held Wednesday in Yacht Haven Grande, evaluating the territory's fiscal trends. The Virgin Islands Code requires a Revenue Estimating Conference be held twice a year to establish a forecast of anticipated recurring and non-recurring territorial revenues that will impact the following fiscal year.
WAPA's plan, which has already begun with the installation of composite poles throughout the territory, was broken up into fiscal years and will be completed by 2024. Once completed, Kupfer said the territory can expect 50 percent of customers to have underground power, 25 percent renewable penetration, upgraded generators, emergency generators for St. John, undersea cables and a reduction in their energy bill with an estimated 10 to 15 cents decrease per kilowatt-hour.
"We believe all the federal monies that are coming into the territory and are available to WAPA will help transform the authority from a utility that is very much exposed to severe weather events, that doesn't utilize renewable energy and has old unreliable, inefficient generation. That is what we are transforming from to what we want to create," Kupfer said.
WAPA Chief Operating Officer Clinton Hedrington Jr. said to see reliable energy is a difficult thing but "the priority is to correct the fuel system on the two APR units which share the same fuel supply skids. We have directed APR to separate the fuel skids on the two units, which will improve reliability. Secondly, we are enhancing the power system. Since it is an island system it is very difficult to coordinate between the transmission distribution system with the generation system as they are coupled together as one. That makes protection really difficult. So, we found an adaptive way of enhancing the wind system response to unstable events."
The first "pillar" of WAPA's three-pillar plan is resiliency, which Kupfer said will largely be done using funding acquired through FEMA and HUD, roughly $600 million in mitigation projects. For fiscal year 2020, which ends in June of next year, WAPA aims to complete the East End Substation construction, the Water Island Composite Pole Project, begin the installation of emergency generators for St. John and start underground construction of St. John transmission lines.
Kupfer said by the end of fiscal year 2021 composite poles should be completed territory-wide, energy self-generation and battery storage capabilities for St. John will be commissioned and the majority of underground construction in Cruz Bay will be complete. Construction contracts for the remaining underground work needed on St. Thomas and St. Croix will also be entered into.
Hedrington said while not all power lines will move underground, 50 percent will, especially near critical facilities like shelters, schools and hospitals.
The second "pillar" of the plan, Kupfer said, is to maximize renewable energy sources with battery storage and the erecting of solar farms. By June 2020, Kupfer said, WAPA will have begun to procure and start construction of 31 megawatts of solar energy with battery storage for St. Croix and St. John, a figure that breaks down into 28 megawatts for St. Croix and three megawatts for St. John. WAPA also signed an amended contract for five megawatts of energy from the Donoe Solar Farm.
"The battery systems are actually a longer term solution," Hedrington said. He explained to the conference attendees that generators will have battery systems and "will bridge the gap," making it possible to sustain power in the event a generator goes down and before WAPA is able to restart it. "Combing the two of them [generators and batteries] you have a much more reliable system," he said.
By June of 2021, Kupfer said, solar along with battery storage will have been commissioned in Coral Bay, along with Estate Pearl and the airport on St. Croix. He added WAPA would rebuild the Donoe Solar Farm on St. Thomas and would create a renewable penetration of 13.2 percent overall.
Kupfer also outlined improved efficiency. WAPA's plan dictates the refinancing of WAPA's Vitol debt with a private investor, the procurement of 40 megawatts of owned propane-fired generation and battery storage for St. Thomas and St. Croix, and upgrades for the current generators, which will be smaller and compatible with renewable generators. Kupfer said this would be completed by 2022.
Gov. Albert Bryan Jr. said the ideas implemented today will not be completed until years in the future. "It's going to take time," he said.
"People ask me all the time 'why do you stand behind WAPA?'" Bryan said. "The thing that is the most valuable in this whole plan that we cannot account for is time. No matter what we do today, it is going to take us a year to get those four generators."
Bryan continued, "We can declare emergencies, we could get another billion dollars allocated, we could scream to the top of our lungs, but it is still going to take a year to put in the generators. So what we are asking for is your patience. I understand the public doesn't have confidence in WAPA … but the alternative is to sit at home and pray … no one has put together a plan that is more solid than the one that you saw today."