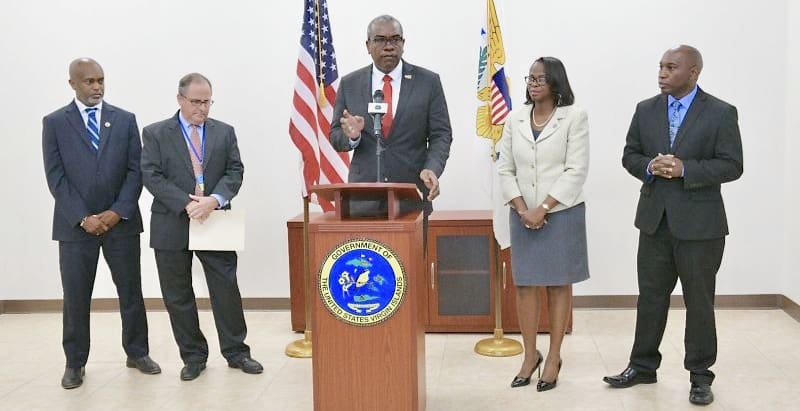 Within about a year and a half, 85 percent of the power in the territory could be produced by smaller, more efficient propane-fired generators, saving the V.I. Water and Power Authority – and customers – five-cents per kilowatt hour, WAPA Executive Director Larry Kupfer announced Monday.
Kupfer, along with Gov. Albert Bryan Jr. and V.I Housing Finance Authority Executive Director Daryl Griffith made the announcement during a morning news conference, adding that this is the first major project to come out of the $272 million in federal Housing and Urban Development Community Development Block Grant funding already received by the territory.
Bryan said the territory hasn't lost any of the money yet and expects another "tranche" by Sept. 4, but progress still needs to be made in getting projects off the ground. He explained that WAPA's decision to commission smaller, more efficient units, coupled by the government's recent efforts to pay down the authority's outstanding debts, has kept the rates at about 43-cents per kilowatt hour.
To achieve the additional savings, WAPA will soon put out a request for proposals for another 41 megawatts of generation on St. Thomas, which will cost approximately $60 million for the purchase of four more generators. Speaking Monday, Bryan said the project touches all of the areas his administration has said are critical for stabilizing the government.
"There is no recovery without a reliable and affordable power grid," he said.
Kupfer said the initiative also falls into WAPA's greater "transformation plan," which includes projects tied to improving the resiliency of the transmission and distribution system, increasing the amount of renewables on the grid and upgrading the reliability and efficiency of the plants.
Additional projects are in the pipeline for each of the three components and will also be covered by federal recovery dollars.
Speaking on a broader level, Office of Disaster Recovery Executive Director Adrienne L. Williams-Octalien said her agency has $8 billion under its purview: $5.5 billion in Federal Emergency Management dollars, another $1.8 billion in Community Development Block Grant funds (not all have been received yet) and approximately $700 from other federal resources.
The government has identified its list of top 100 recovery projects, which were chosen based on their critical necessity, their cost, and the amount of effort needed for completion. Projects relating to health and hospitals topped the list followed by those related to the public schools. Power and infrastructure are on the third tier, and Williams-Octalien said Monday that it's important the government is digging into the disaster funding with such a critical project.