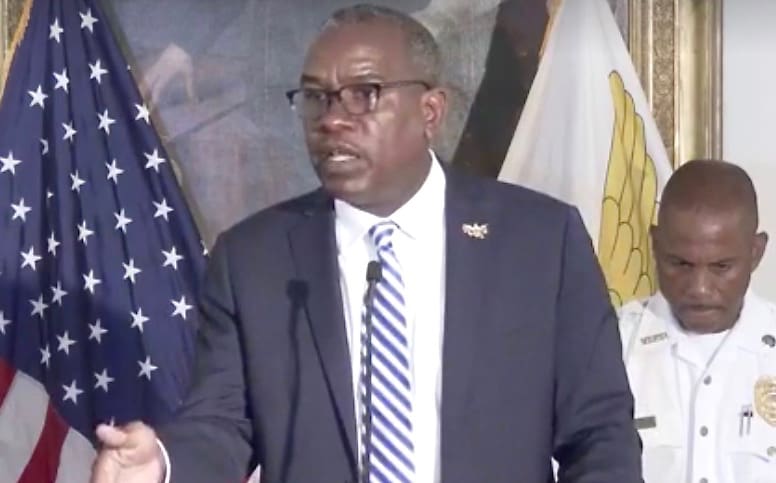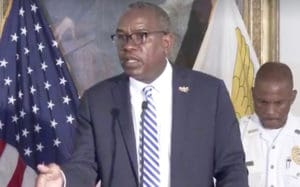 The V.I. Police Department will step up enforcement of all laws big and small in an effort to curb violence in the territory, and Gov. Albert Bryan urged changes to permitting rules, passage of a loitering law and stricter bail rules.
The officials spoke at a news conference Monday, held to reassure the community that the V.I. government was taking action in the wake of several recent St. Croix murders and a mass shooting in Frederiksted that injured seven people Saturday.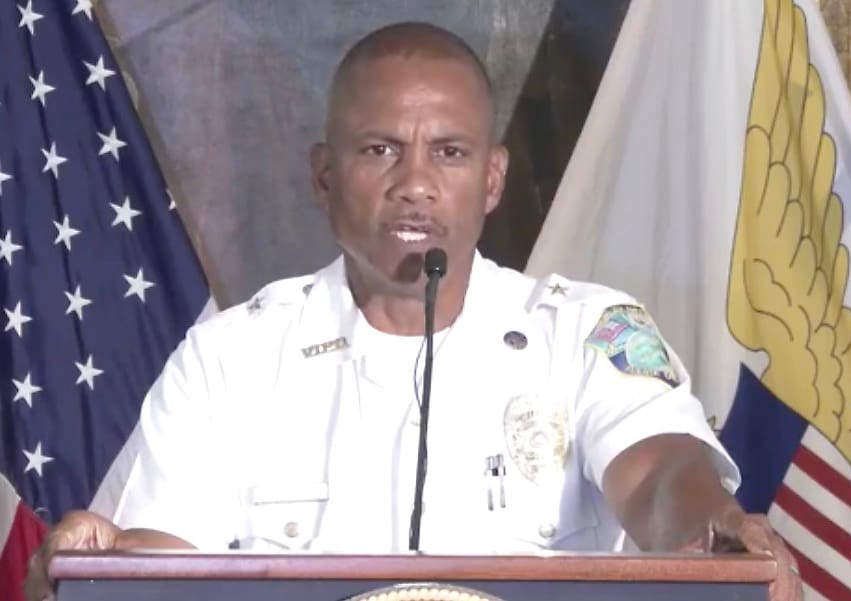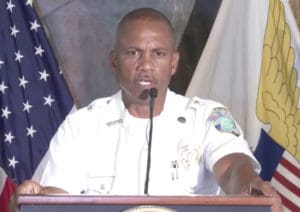 St. Croix Chief of Police William Harvey outlined several recent shooting events, starting with the mass shooting in Frederiksted Sunday night at "Floatopia," a big beach party at Frederiksted Beach. Harvey said seven people were injured. Initial police reports said six people were shot, with one person sent off island for treatment. Apparently there was also an injury related to trampling in the midst of the panic.
On Saturday, Taheem "Debo" Samuel, 21, was shot and killed in Mutual Homes in Grove Place.
A week ago, Rabbhi D. Mouqette, 28, was murdered in Estate Castle Coakley.
Two weeks ago, a shootout at Cool Out Bar in Peter's Rest left a couple people with minor injuries.
Those are just the past few weeks on St. Croix. St. Thomas has also seen its share of violence, including an armed robbery Saturday.
Harvey said the police are responding "very aggressively."
Acting Police Commissioner Trevor Velinor said "we have to send a message as a community that we will no longer accept this type of behavior."
Gov. Bryan said the USVI is not the only community with gun violence, "but we are a community that has not taken a strong stance and done something about it."
He laid out several policy changes he hopes will have an impact.
For one, Bryan said there are loopholes in the permitting system and there could be stricter rules for throwing large events. He suggested if an event is likely to have 300 or more people, the organizer should be required to get a permit signed off by the chief of police. The permit should require adequate lighting, say whether alcohol will be served, and allow police to create controlled points of entry and exit, he said.
"We need to have random monitoring to make sure weapons are not on their persons," Bryan said.
"Violence can happen anywhere. But we have a responsibility to look to see how we can mitigate it. Because the number one job of our law enforcement is to keep Virgin Islanders and the people who come here safe. Not to arrest criminals. Not to get guns off the street. But to keep individuals safe," he said.
Bryan also said there are changes to local and federal law that could help.
"One such is the requirement of bail unless there is a charge of murder or violent rape," he said. If police catch the people responsible for Sunday's shootings, they would have mandatory bail, he said.
"This allows for more violence, retaliations and shootings to go on in our community. We must have a system that allows for us to take people off the streets and curtail further retaliation and further shootings," he said.
Bryan also endorsed a controversial anti-loitering law before the Senate. The measure, sponsored by Sen. Novelle Francis, a retired career police officer and police commissioner, would make loitering a misdemeanor subject to arrest and potential imprisonment for up to a year.
Some have raised concerns about the constitutionality of the bill, as currently written.
"We can't break down doors. But what we can do is when we have laws that support the police like the loitering law proposed by Sen. Novelle Francis, the community doesn't come up with silly excuses not to support the law," he said.
"The loitering law is not to harass people. (It) is to take criminals off the street; to stop the assembly of gangs and warring factions in places where our good children go to have a good time. So we have to step up and pour money where our mouth is," Bryan continued.
"Yes, everybody is afraid if their sons go to jail. Keep the guns out their pockets," he said.
Bryan added that he believes the VIPD is not being over aggressive but is "often erring on the side of extreme caution because of the consent decree." The VIPD is under a court consent decree to reduce police violence.
"We have to give them the tools to work with and if you are not loitering on the corner you can't get shot on the corner," Bryan said.
He also said his administration "will appoint judges that don't care if you are an honors student or a hardened criminal. If you are found with a gun or weapons you will be prosecuted to the fullest extent of the law."
Bryan went on to say there are enough opportunities for young men in the territory, from apprenticeships to job training, to employers looking to hire, that "this random violence cannot be excused as anything else but a wanton disregard for the safety of Virgin Islands' residents and a wanton disregard to the law."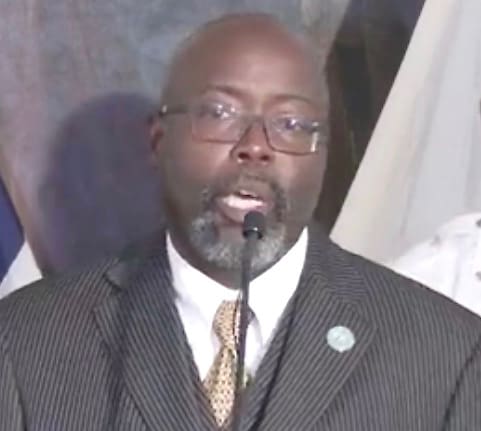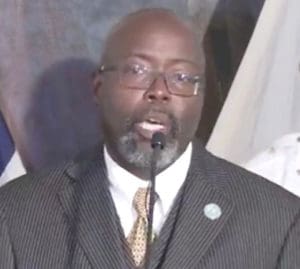 He also hopes to invest $1.5 million on cameras for downtown areas, tracking cars coming in and out to make it easier to identify and apprehend criminals.
Asked about residents' concerns that calling the police can lead to leaks where the caller's name is given to criminals, Bryan said to call Crime Stoppers USVI, which guarantees anonymity. He also said the territory can provide witness protection.
Velinor said if police have broken the people's trust over the years they will rebuild it.
"It doesn't happen overnight. But try us. Give us an opportunity to best serve you. Where you find there is impropriety and law enforcement is not doing the right thing, we are going to hold them accountable. But we are also saying, 'Give us a chance to make it work,'" Velinor said. He said residents can call him directly with any information on this specific crime at 719-291-3642.
"I want to make sure we get the individuals responsible for this heinous act," Velinor said in reference to Sunday's "Floatopia" shooting. People were just having a nice time and they interrupted that with gunfire," Velinor said.
Velinor said the V.I. Police Department is "also stepping up to be a lot more assertive on crime, not just when there is a shooting, but on everything" whether it be folks driving down the highway and not stopping at intersections, seatbelts, drinking and driving, or whatever.
"We are going to be stepping it up and issuing tickets," he said. When people are found with firearms, they plan to work with federal officials and choose whether federal or local charges are where "we can get the best bang for the buck" and get people off the streets for the longest time, he added.
Velinor said he would be out in the community and appearing on talk shows to talk about crime and law enforcement.
"I say to the community we need your help," he said. He added that Crime Stoppers USVI has a $15,000 reward out for information leading to the arrest of those involved in Sunday's mass shooting.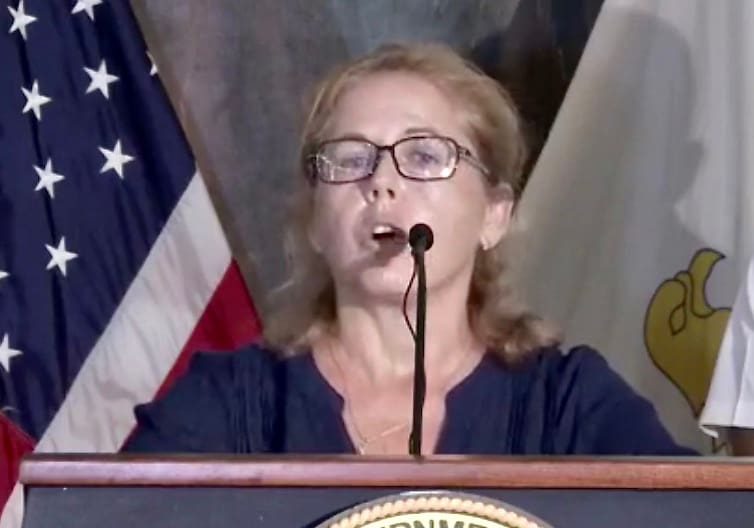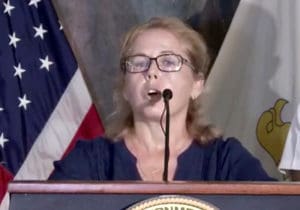 Laurie Dunton of Crimestoppers USVI said every time she speaks at a press conference like this she hopes it will be the last time.
"How many more guns must come ashore, hit the streets and end up in the hands of criminals before somebody says something? Somebody knows where these guns are coming in. They know where they are being stored. Please, say something. Help us prevent this incident from happening again," Dunton said.
Dunton emphasized that Crime Stopper's tip line is anonymous and cannot be traced or identified. People do not need to testify, though some do. And any information may help, from seeing a car to knowing about a weapon; not just identifying a shooter.
Anyone with information on the Sunday mass shooting or any other crime can call Crime Stoppers USVI at 1-800-222-8477 (1-800-222-TIPS) or submit a tip online at www.P3tips.com or www.crimestoppersvi.org. Callers will be issued a confidential PIN and are encouraged to check back frequently for reward eligibility. There is also a smartphone app called P3tips, she said.
Press conferences like this have become a regular ritual in the U.S. Virgin Islands in the wake of decades of near weekly murders. The territory has averaged 40 murders per year since the Source began publication in 1999 and has seen well over 800 murders since 1999.
Halfway through 2019, the USVI has seen 22 homicides so far, putting it on track to have a normal, extremely tragic and bloody year.
Officials in the administrations of Govs. Charles Turnbull, John deJongh Jr., Kenneth Mapp and now Albert Bryan, have held press conferences urging more cooperation with police and pledging increased law enforcement efforts. This is Bryan's second such conference.