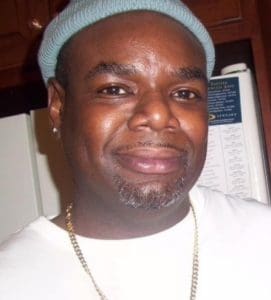 Clarence A. Sealey Sr., also known as "Chief Sealey," died on July 7.
He was preceded in death by his father, Henry "Inches" Sealey; aunts: Elita Smith and Naomi Payne; uncles: Lorn Payne, Reinhold John, Jerome, Camille and Winston Sealey.
He is survived by his mother, Marilyn Sealey; companion, Katina Walker-Sealey; daughter, Shayla S. Sealey; sons: Clarence A. Sealey Jr, Francisco, Zaviah and Dalmare Sealey; sisters: Helen and Shirley Sealey, Allyson Sealey-Matthews and Sharmaine Sealey-Lynch; brothers: Edwin, Henry Jr, Kareem, Akeem Sealey and Delroy Tonge; nieces: C-Mone Lynch, Zyonnie Sealey, O'Shanna Edney and Deja Matthews; nephews: Roberts Epps, Othnie Edney, Dwayne and James Turnbull, and D'ante Matthews; great niece: Tiana Calloway and Journey Turnbull; and great nephew, D'Nahre A. Turnbull.
He is also survived by aunts: Helen and Joan Sealey, Rita Varlard and Doreen Riviere (Fla.), Delores Henry, Monica Ferrance (Va.), Jacqueline Johnson (Fla.), Delarie, Sharon Payne and Bridget Sealey; uncles: Lauritz (Ill.) and Ruel (Calif.) Sealey, Roy Christian, Raymond (N.J.); brothers-in-law: Herman R. Lynch Jr., (Bro Lobs) and Daryl Matthews; godparent, Orin Arnold; godchild, K'Yana Tonge; and special friends: Lynch Mob and family, Warren Ferrance, Karen Blake and family, Carmen Blake-Ferdinand and family, Chevron Felix and family, Timothy Rodney, Kenny Elcock and family, Fitz St. Rose, Theresa Brown, Shelet Greenidge, Debra Mason and family and Judith Charles and family.
More special friends are Judith Farrelly and family, Anesta Gore, Slocombe family, Trevor Straker and family, Roselyn and family, King Family, Carmen Bird and family, Morton family, Jene Lett and family, Maka (Selmo), Walker family, Radix family, Hendricks family, Carr family, Theresa Charles and family, Kelly Family Kelroy Lewis, Ses, Chief McFarlande and family, and St. Croix Central High School Class of 1989.
Other survivors include cousins and other relatives: Anna (Reds) Wesselhoft and family, Christian family, Ferrance family, Edney family, John family, McIntosh family, Germaine McFarlane, Jennifer and Glenty Brown and family, Payne family, Miller family, Roy Henry and family, Melvin Williams and family, Henderson family, as well as many more too numerous to mention.
The viewing will begin at 10 a.m. followed by a funeral service at 11 a.m., Thursday, July 25, at Kingshill Lutheran Church. Interment will be at Kingshill Cemetery.