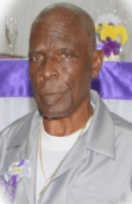 Lenus Ricardo Graham, also known as "Cardo," of Estate Castle Burke died on June 4. He was 84 years old.
He is survived by his wife: Leola E. Leycock-Graham; daughters: Laverne A. Hodge, Marcia J. Johnson and Eugene Graham; sons: Mario Graham Sr., Norman Graham and Dennis Graham Sr.; adopted daughters: Sylvia Archibald, Althea Simmonds, Carol Barnes and Vanetta Dickenson; and grandchildren: Trisha Denis, Joseph Hodge III, Kareem Hodge, Latisha Pinney, Shanika Cornelius, Tywon Thomas, Latarsha Graham, Lakeishan Graham, Latania Graham, Laphia Graham, Mario Graham Jr., Debango Graham, Larissa Graham, Lateefah Graham, Blakeishan Graham, Lakeshan Graham, Jahkeishan Graham, Naeem Johnson Sr., Akil Johnson, Jamila Lettsome, Javier Graham, Omari Graham, Destiny Graham, Trinity Graham, Gabriel Graham, Dennis Graham Jr., Akeem Graham Sr., Dennisia Graham, Laticia Felix, Asha Felix, Dashaun Graham, Dashawnna Graham, Dashaunne Graham, Ashanne Graham, Akeema Graham, and Spaniesia Anderson.
He is also survived by great-grandchildren: Taheim, TeKoi and Taheira Denis, Keshyra, Keniya, Tatiana, Tamia and Kareem Hodge Jr., Naeem Jr. and Nazaria Johnson, Leshawn Jr. and Kezia Lettsome, Kareem Jr. and Kadaizah Pinney, Y'Mani Thomas, Selwyn Jr. and Laniqua Gonzalez, Taheem and Tajahre Jarvis, J'Neiquah, La'Kaisah, Ly'Zanique and Lanaizah Graham, Akaizah Smith, Azinirah Libert, Q' Jihra and Q'Jahra Benjamin, Jezlanique Bachelor, Lawten Forbes, Jahkimo, Re'Kai, Omega, Demoy and Demoya Graham, E'syjah and A'jyhri Graham, Majesty, Montel Jr. and Mateo Dixon, Alice Ingram, Ariel Dejesus, Darryus Perry Jr., Dennis Graham Jr., Adeja, O'Mayrah, Akeem and Ah'jarie Graham, Jnira and Jzahria Osorio, Kezani Inniss, A'maya, Amarie, Amead Jr. and Ameer Williams, Anyra and Ahijah Lang, Darian and Derrick Jr. Mcfarlande, and Kareem Felix.
More survivors include great-great-grandchild, Saniyah Gonzalez; brother: Joseph Graham Sr.; sister, Ethlyn Browne: sons-in-law: Joseph Hodge Sr. and Larry A. Johnson; nieces: Rhenita Llanos, Nadia Thomas, Pauline Holst, Linda Barnes, Janice Gumbs, Alexis and Monique Leycock, Andrea Moorhead, June Dampier, Jean Platt, Pastor Mona L. Barnes, Cherry-Ann Gaskin, Yvette, Brendalee, Sandra and Ramona Graham; nephews: Warren Sealey Sr., Elmo Barnes, Kevin Jones, Myron Leycock Jr., Ovaldo, Iril, Joseph II, Joseph III and Michael Graham; sisters-in-law: Asta D. Moorhead, Apostle Eleanor A. Estrada and Rachel Graham; brother-in-law, James Leycock; and 59 great nieces and nephews.
Other survivors include special friends and family: Raymond "Heckie" Hector, Teresa Taylor and family, Leroy and Joan Hanley, Sherry Hendricks, Henry "Jopo" Knight Sr., Valemor Jackson, Ricky Petersen, Daryl Bartley, Ivan Oliver, Alfredo "HelpOut" Gaskin, Avilda Branch and family, Akeem "Shadow" Gumbs, Antonio "Antong" and Ramon "Buck" Sanchez, Elminio, The Lagoon Domino Crew, Raymond "Beaver" Farrelly, Debbie Cartier, Cockpit family, Acoy family, Taylor family, Johnson family, Leycock family, Codrington family, Dickenson family and the LBJ family.
There will be a viewing held at 9 a.m. followed by a funeral service at 10 a.m., Monday, June 17, at the City of Refuge Worship Center. Interment will be at Kingshill Cemetery.