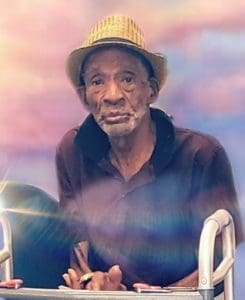 Jules Martin Vincent, also known as "John" or "Uncle John," of Estate Sion Farm died on May 22. He was 73 years old.
He is survived by his sister, Bernadine Vincent; brothers: Ernest Vincent and Joseph Vincent; niece: Bernadine "Fiona" Vincent, Winifred "Rosey" Quarterman, Claudina "Cotto" Vincent, Rosanna E. Lafond, Kathleen Norbert, Irene Alexander, Miranda Vincent, Ruth Jeremy, Josephine Jeremy and Geraldine Jeremy; and nephews: Eustace Thomas, Anthony F. Lafond, Nigel Remy, Thomas Vincent, Kayden Vincent, Johnson Jeremy, John Davidson Selé and Averton Daniel.
He is also survived by great nieces: Jessica and Jasmine Lafond, Tisha Burgess, Hilrianna T.E. Chooran, Hilsanna R.J. Chooran, Darlene Joseph, Savannah Alexander, Latoya Lafond and Kaymaiser Eigabill; great nephews: Noah and Isiah Remy, Quentin Gray, Miles West, Pierce West, Delroy Thomas Jr., Anthony F. Lafond Jr., James "Raco" Williams, Jamal Lafond, Hudovic, Geovanni and Joshua Daniel; special friends: Merlyn Massicott and family, Hectory Alexander and family, Luna Williams, Continuum Care Inc. Family, Kishma Weeks and family, John Bully and family, and Leslie Benoit; as well as other friends and relatives too numerous to mention.
The viewing will take place at 9 a.m. and the funeral service at 10 a.m., Tuesday, June 18, at Hope Seventh-day Adventist Church. Interment will follow in the Kingshill Cemetery.