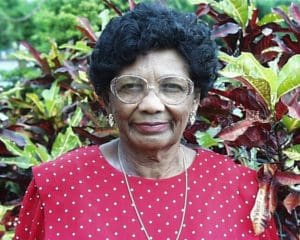 Desiree BeGraff, affectionately known as "Manchy," "Sister" and "Aunt Sister," of Estate Strawberry died on March 27 in Snellesville, Georgia. She was 93 years old.
She was predeceased by her parents: Christian BeGraff Sr. and Theresa BeGraff; brothers: Christian BeGraff Jr. and Jerome James; sisters: Edna Boston, Valderia James and Viola Holley; and daughter-in-law, Jean Phaire.
She is survived by her sisters: Marie BeGraff and Ilma Adams; sons: Rodell Phaire Sr. and Ernest Phaire; daughter, Laverne Phaire Golden; grandchildren: Ronni Moorehead Sr., Rodell Phaire Jr., Altina Phaire Bernikow MD, Mario Golden, LaMar Golden Sr., Daren Golden, Desiree Golden and Siobhan Phaire; great-grandchildren: Ronni Moorehead Jr., Danielle Moorehead, Ashley Moorehead, Deja Moorehead, Alysha Moorehead, DéAnna Moorehead, J'nae Moorehead, Nia Moorehead, Caleb Phaire, Elias Phaire, Jaylen Bernikow, Jasmine Bernikow, Brandon Golden, N'Quelle Golden, Aaliyah Golden, LaMar Golden Jr., Jayce Golden, Lé Marie Henry and Eli Henry.
She is also survived by nephews: Raymond "Bobby" James, Lowell Dyer, and Kevin Adams; nieces: Sylvia Brady, Louise James, Pauline BeGraff, Florette BeGraff, Coleen Hodge, Irma Adams, Emlyn Adams and Ada Adams; great nephews: Raymond James, Kevin James, Bernard Dyer Sr., Gregory Dyer, Kevin Petersen, Michael Brady, Dwight "Chucky" Brady, Neal Carrington, Jamaal Carrington, Jared Carrington, Inslee Carroll Jr., Michael Benjamin and Joseph Benjamin Jr.; great nieces: Desiree James, Shonda James, Christine Dyer Stanfill, Elizabeth Petersen Thurland, Erin Carrington Brathwaithe, Irmalee Carroll, and Yvonne, Marjorie, Gloria and Linda Benjamin; and in-laws: Mario Golden Sr., Jason Bernikow, Cytena Phaire, Shana Golden, Kathleen Dyer, Elaine Brady and Sylvia S. Brady.
Also left to mourn are special family and friends: Theresa Descartes and family, Arnold Helenese and family, Clovie Fearon and family, Lucinda Benjamin and family, Ingrid Gilbert and family, Lisa Rose Bough, Marilyn Bartlett, Jean Berkeley, Deanna Cornelius, Gwendolyn Simmons, Maria Valmond, Theresa Drigo, Doreen Hay, Adelma Harrigan, Veronica Jeffrey and Christine Gilmore; as well as many other relatives and friends too numerous to mention.
Tributes will begin at 10 a.m. followed by the funeral service at 10:30 a.m., Tuesday, April 23, at Holy Cross Catholic Church in Christiansted. Interment will be at Christiansted Cemetery.