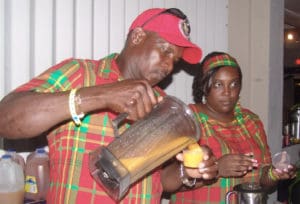 A Taste of St. Croix will return to Christiansted on April 11, bringing the Big Island's annual culinary extravaganza back just five months after the last one.
Traditionally, a Taste of St. Croix is anticipated each spring by food lovers who look forward to flocking to the Divi Carina Bay Hotel for food, drinks, music and friends.
This year, the movable feast focuses on women in the culinary world.
"Women play a huge role in business, agriculture and the culinary scene on St. Croix," Taste of St. Croix President Collin Hodge said in a statement.
"Our event has a long history of celebrating women. In 2011, our celebrity guest chefs were all women (Liza Shaw, Anita Lo and Ana Sortun). For 2019, we wanted to bring back the emphasis on women, especially with the worldwide focus on females in many areas impacting our lives. In addition to the poster featuring a female farmer, we will be donating a portion of our proceeds to The Women's Coalition of St. Croix, a local non-profit," he said.
When two Category 5 hurricanes severely damaged Divi Carina Bay in September 2017, the iconic event rescheduled with a new ambience and new setting in November in downtown Christiansted.
The event will be held from 6 to 9 p.m. Thursday, April 11, on Queen Cross Street from Riddims Gift Store at the corner of Company Street to the boardwalk. More than 40 restaurants, caterers and farms will participate in the fundraising event, competing for prizes in appetizers, soups and stews, fine entrees, vegetarian, local dishes, desserts and drinks categories. There will be parties after the main event.
A ticket is needed. Tickets are $95 per person and can be purchased at Eventbrite beginning Thursday, March 14 and on St. Croix from Thursday March 21.
Since 2001, the collectable posters have been painted by local artist Luca Gasperi. The artist and his wife Christina, also a talented artist, own and operate ArtFarm, an organic farm located on the South Shore. The 2019 poster features Christina harvesting locally grown produce from the farm.
The 2019 Taste of St. Croix is sponsored by VIGL Operations, Caravelle Hotel and Casino, V.I. Department of Tourism, Viya, Tropical Shipping, Subway, Doug and Jenine Schock, Law Offices Of Lee J Rohn, Jim and Connie Arena, Reliable Rentals, Leeward Islands Management and more. For a full list of sponsors and more information, follow this link.
Taste of St. Croix is a non-profit organization that supports culinary and agriculture based programs and other non-profits. The event was started in 2001 by Hodge, Katherine Pugliese and Kelly Odom to highlight the talents of the island's chefs and promote hospitality and culinary careers in schools.
In 2018, after storms damaged it's original location at the beachfront Divi Resort, the event moved to downtown Christiansted. Taste of St. Croix has donated more than $350,000 to community programs and local organizations since its inception. The organization has supported the USVI Culinary Team's participation in Caribbean Hotel Association's annual Taste of the Caribbean competition and has supported other non-profit organizations, including the St. Croix Foundation. For more information visit www.tasteofstcroix.com.