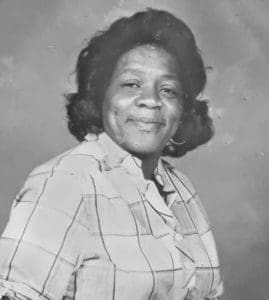 Maude Evangeline Akins, also known as "Ma," of Estate Sion Farm died on Oct. 12, in South Carolina. She was 78 years old
She was preceded in death by her parents: Anita Ferris and Ovaldo Akins.
She is survived by her daughters: Karen Byden, Celestine Blyden, Lynncia Blyden and Liana Claxton; sons: Ovaldo Graham, Joseph Graham, Anthony Graham and Eugene Blyden; adopted mother, Eileen Martin; and grandchildren: Kenneth Lewis, Kareem, Jahman, Jelani Small, Dena Graham, Rasheed, Malik Graham, Akeem Graham, Rashide Graham, Nakitta, Tamar, Tanyeka Graham, Omari, Akiel, Shanoya Hendrickson, Joseph Gramham Jr., Nadisha, Nahdeem, Nadirah Nieves, Jelonn James, Melvin Rolle Jr., Shyana, Moriah, Clarissia Claxton, Shantel, Shenelle, Raheem, RahGene and Eugene Blyden Jr.
She is also survived by great-grandchildren: Maliyah, Azirah, Ashawn, Anisha, Anyrah, Jamari, Jaedan, Shanalize, Raenalize, G'Nia, G'Shawn, Azmari, Elijah, Amiya, G'Mari, G'Mani, Akiel Jr., Lei'Lani, Azaylea, Azriel, Javarious, Jalayah, Jaylin, Acaiy, Au'J, Zamor, Kevayla, Kevin Jr., Elijah, Avery, Melique and Rasheed Jr.; sisters: Asta Lang, Melsades Cornelius and Ivorene Williams; brothers: Anselmo Ballantine and Milton Clarke; nieces: Velette, Desirae, DeAnna, Daria, Jahshana, Vanessa, Kiara, Cathy, Cynthia, Jacintha, Verna, Leona and Leila; nephews: Dennis, Ulric Jr., Jesse, Oneal, Emile, Jeff, Danny, Jacobi, Vernon and Lionel; and great niece, Kimora Lang.
Other survivors include great nephews: Wayne, Aubrey, Shane Alleyne and Kaori Lang; daughters-in-law: Claudia Graham and Maria Blyden; son-in-law, Charles Claxton; brother-in-law, Marcel Scotland; godchildren: Shearn Crawford and Cindy Francis; special friends: Nelly Camacho, Petra Mendes, Sitnah Yarwood, Sylvanita Harrigan, Janice Schrader, Ten Sleepless Knights, Crusaders Club, St. John's Anglican Church ECW Choir, Larissa Prince, Sheila Smith, Rotary West Bingo, Julia Claxton, Jewel Ross and Edwin Hendrickson; cousins and other relatives: the Hewitt, Mapp, Clarke, Sackey, Cornelius, Graham, Battiste and Warner families; as well as other relatives and friends too numerous to mention.
The family requests that those in attendance wear festive colors.
A viewing will begin at 9 a.m. followed by the funeral service at 10 a.m., Tuesday, Nov. 6, at St. John's Anglican Church. Interment will be at Kingshill Cemetery.