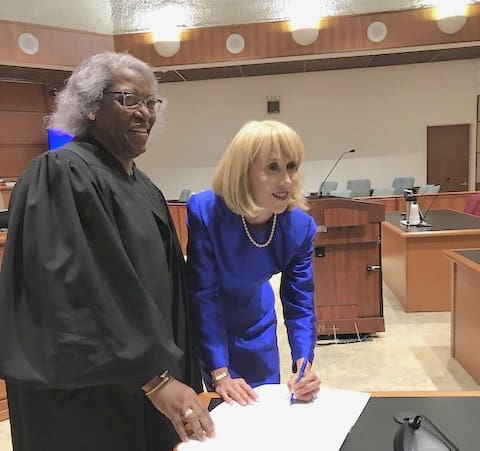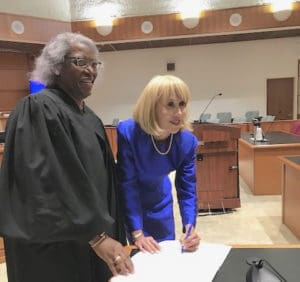 Before she was tapped to be U.S. Attorney for the Virgin Islands, Gretchen C. F. Shappert had never even visited the territory. She did have a little knowledge of it, stemming from her work as a steel-enforced prosecutor trying a stateside narcotics case with links to the islands as a transshipment point.
That association didn't make her flinch from the appointment. And since she started the job in January, she's met with local government and community leaders to deepen her knowledge and broaden her view.
In a recent interview with the Source, Shappert said she took on the job as the primary federal law enforcement presence in the territory because "the attorney general (Jeff Sessions) asked me to accept the assignment."
Her top priority, she said, is Session's top priority: public safety. That's a broad category that includes violent crime, gang activity and illegal drug trafficking, as well as money laundering and white-collar crime.
Additionally, in the next few years, approximately $1.5 billion in federal funds tied to disaster recovery and mitigation is expected to flow into the territory, Shappert noted. She has a mandate to help ensure the money is not misspent.
While U.S. attorneys serve at the pleasure of the U.S. president, that doesn't always mean the president appoints them and that they need congressional confirmation.
Shappert's initial appointment was for a 120-day interim term. As the term neared its end at the close of April, the U.S. District Court in the Virgin Islands made it a full appointment, and Chief Judge Wilma Lewis presided at her April 23 swearing-in ceremony.
The process is not that unusual, according to Shappert. The new chief federal prosecutor for the eastern district of New York, also a Sessions interim appointee, was just similarly installed by the court in that jurisdiction. And Shappert noted her immediate predecessor in the V.I., Ronald Sharpe, initially served without Senate confirmation, although he later was confirmed.
"I'm a career person so I do not expect to be Senate-confirmed," she explained. "I was appointed by the attorney general, not the president."
She has history that supports her non-political stance. She is mentioned in a 2007 story by the McClatchy Newspapers about the balancing act for U.S. attorneys who are political appointees and yet are expected to be blind to political considerations as they do their jobs. The story suggests that while she was a prosecutor in North Carolina, Shappert, a Republican, ran afoul of some GOP leaders. The story points out that she had been involved in the successful prosecution of a prominent state party leader on tax fraud conspiracy charges.
Shappert worked in the U.S. Attorney's Office for the Western District of North Carolina from 1990 to 2009, first as an assistant and the last five years as head of the office. She also worked with the Organized Crime Drug Enforcement Task Force. She took on outlaw motorcycle gangs and drug dealers. Most recently, she was the assistant director for the Indian, Violent and Cyber Crime Staff in the Executive Office for U.S. Attorneys, a division of the U.S. Department of Justice. She's also noted for tackling domestic violence cases.
Before she became a prosecutor, she worked in the private practice and she served a stint as an assistant public defender.
"I've seen it from both sides," she said. The time as a public defender "was a transformative experience for me."
In the four months she's been in the job, Shappert has made a point to get to know many of the local players. Shortly after she arrived in the territory, she attended Gov. Kenneth Mapp's State of the Territory Address and took the opportunity to meet officials there. She is in regular contact with V.I. Attorney General Claude Walker, and she and her staff coordinate with his staff. She also has consulted with Sharpe. She met Police Commissioner Delroy Richards and keeps in contact with Deputy Commissioner Curtis Griffin. She's had discussions with Omodare Jupiter, the Federal Public Defender in the Virgin Islands.
She said she also has met with members of the clergy who are concerned about crime in the territory.
"I see myself as a convener," she said, adding that statistics show that only 15 percent of law enforcement is federal. Law enforcement agents on the local level handle the lion's share of the burden.
Asked about V.I. gang activity, Shappert said, "What I see is a lot of small, local gangs." An individual gang may be led by as few as one or two criminals. But while some gangs are relatively small, their corrupting influence is large in the communities where they operate.
"They are impactful," she said.
As for drugs, Shappert said law enforcement efforts should focus on the most serious threats, the people with a history of criminal activity, and on interdiction of drug shipments.
She is also well aware of the high potential for money-laundering and described it as "corrosive." Not only does it allow criminals to hide their illegal gains, it allows businesses to compete unfairly with legitimate concerns.
V.I. residents may notice a shift in policy regarding border issues which is reflective of the immigration philosophy of President Donald Trump's administration. In the Obama era, the office tended to prosecute illegal immigrants only for crimes not related to their status. Shappert said the office now prosecutes them for the crime of illegal entry, especially if it is a second offense. She said Sessions "made it very plain" that immigration is a priority issue.
There may be few other changes, however, if Shappert continues to hold the confidence in the veteran members of the office that she expressed last week.
"This is a mission-driven office," she said. Staff are dedicated to securing and improving the Virgin Islands community where they and their families live.
"It is such a privilege to come down here" and be part of that effort, she said.
Shappert said she grew up in a rural area of northern Illinois. She earned her bachelor of art degree from Duke University in 1977 and her juris doctorate from Washington Lee University School of Law in 1980. She has "no spouse, no kids and no living houseplants" – but obviously a sense of humor. And, it would seem, a sense of mission.