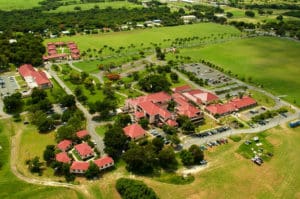 UVI STEM Students Win National Awards at the 2018 ERN Conference Three University of the Virgin Islands undergraduate students emerged victorious after their presentations were judged at the Annual Emerging Researchers National (ERN) Conference in STEM, Feb. 22 – 24, at the Marriott Wardman Park Hotel in Washington, D.C. Nineteen UVI students were among the over 800 students that attended from colleges and universities across the country.
The three students from UVI's College of Science and Mathematics were Torhera Durand, Genique Nicholas and Quianah Joyce.
Durand won first prize in the category of Cancer Biology for her poster presentation titled "T-Cell Immunoglobulin and Mucin Protein 3 Involvement in Galectin-9 Induced Apoptosis of Exhausted T-Cells."
Nicholas won first prize in Chemistry for her poster presentation titled
"Promoting Transition Metal Hydride Formation with Visible Light."
Joyce won first prize in Nanotechnology and Physics for her poster presentation titled "To Be or Not to Be: Identifying an Ultralong Gamma Ray Burst During Early Instrument Observation."
Genique Nicholas, senior chemistry major and UVI MARC Program research trainee, presented research that she conducted as part of an extramural summer research internship. Nicholas interned at the University of North Carolina at Chapel Hill under the mentorship of Dr. Jillian L. Dempsey. She is mentored by Dr. Yakini Brandy at UVI.
"At the Emerging Researchers National Conference I got to present my research to a large group of people from different universities. It was a great way to get exposure and practice on how to relay scientific information," said Nicholas. "This conference is a great place for networking which is important… At this conference not only do I get to network, but the conference also hosts great workshops with information on topics such as finding funding for graduate school or how to apply to graduate school."
More information is available in a news release on the Media Section of the UVI website – http://www.uvi.edu/
UVI Student Government Association (SGA) Queen's Committee Hosts Fashion Show on April 1 The Student Government Association (SGA), Queen's Committee presents a Fashion Show to be held on Sunday, April 1, at UVI Sports and Fitness Center. The event will begin with a cocktail hour at 4:30 p.m. and flow into the main event, which starts at 5:30 p.m.
Admission is $15 dollars for UVI students, $20 dollars for UVI faculty and staff, and $25 dollars for all others. Tickets are available at UVI Bookstore, UVI Activities Center, Soul Creation Inc. and Men's Corner in Yacht Haven.
For more information, contact Jessica Wispe, co-advisor of SGA Queen's Committee, at 693-1640.
UVI Today Blog Feature: UVI Alumni Pays It Forward and Wins Trip Two decades ago, Julie Arter attended UVI, and she still gives back to her alma mater. "I believe that UVI gave me the foundation that I needed to achieve the things that I now have," Arter said. "To be able to utilize, up to this day, some of what I have learned while attending UVI proves that the academic structure was and still is well designed and delivered to enable students to succeed."
Arter was one of two alumni of the university to win the "55 for 55": The Great Alumni Challenge hosted by UVI's Alumni Affairs Office in commemoration of the university's 55th anniversary.
Julie Arter, who now resides in Flint, Michigan, is a graduate of the Class of 1988; Vernice Rogers, a resident of St. Kitts, is a graduate of the Class of 2011.
"Over the years, I have contributed to UVI, so it was not hard for me to donate to the challenge," Arter said. My giving is to know that I am helping the university to meet its goal in providing a great educational experience to students."
"It gives me great pleasure and satisfaction to have the opportunity to give back to my alma mater and in so doing assist current and future students achieve their academic goals," Arter said. "I strongly believe that giving back or helping others to achieve is very important for the growth of our society. UVI has shaped my higher education and I enjoy having the chance to play a part in shaping current and future students' higher education."
See this link to read the entire story. To see other stories on UVI, visit our UVI Today Blog. The UVI community is invited to submit stories or story ideas to the blog. Please use this link to our easy to use eform: UVI Today Blog Submittal eform: https://uvitoday.blogspot.com/
UVI 'President for a Day' Program Accepting Applications; Deadline Set for March 30 The "UVI President for A Day" program is currently accepting applications from eligible undergraduate students interested in participating in a President for a Day role reversal. The successful student will have the opportunity to swap roles with UVI President Dr. David Hall. In turn, President Hall will attend the student's classes and take part in events in the student's current schedule.
Here's your chance to:
Gain first-hand insight into running a university.
Exchange roles with President Hall for one day.
Show President Hall what it's like to be a student at UVI.
Have a unique professional development experience.
Implement one of your ideas for real, lasting change at UVI.
Eligible applicants must be a full-time, undergraduate UVI student with a GPA of 2.5 or above and must be enrolled in classes on the Albert A. Sheen Campus on St. Croix. The application deadline is Friday, March 30.
"The President for A Day" role reversal day will take place Friday, April 13. Both Dr. Hall and the chosen student will give a public presentation of their experiences.
Applications are available on the UVI website www.uvi.edu. This annual event affords the president the chance to experience student academic and social life first-hand. Also, it provides UVI students, insight into the roles and responsibilities of a university president. The student chosen for this honor receives a $1,000 scholarship.
For additional information, please see this link or visit www.uvi.edu. You may also contact Jose Raul Carrillo at 693-1043 or at jcarril@uv.edu.
UVI Research Day Committee Issue Call for Papers The University of the Virgin Islands (UVI) issues a call for abstracts for the 7th annual UVI Research Day, which is scheduled to be held on Friday, April 20. UVI faculty, students and staff are invited to submit abstracts of approximately 200 words or less for research papers and presentations.
We strongly urge teaching and research faculty to encourage the participation of students engaged in all levels of research. Undergraduate student poster entries will be judged on several research criteria and given a chance to win an award of $500 based on the merits of their judged poster presentation.
This year, with the strong support of President Hall and Provost McKayle, a faculty research award will be conferred on the best faculty research poster presentation. Faculty presentations should be focused on successful communication to the public of the kind that would reach "a grandmother." Research should be useful and have applied value.
The faculty research award is in the amount of $1,000 — one on each campus. We welcome research projects from all areas and on all topics to demonstrate the research talent at UVI.
The formats (posters and round-tables) are intended to encourage presentations and discussion of projects at different stages of development, as well as to foster intellectual exchange and collaboration. Demonstrations that will be of interest to high school seniors are encouraged as well.
UVI students, high school students and the public at large will be attending the event.
Register at https://www.surveymonkey.com/r/UVI-Research-Day2018 Format Description conferred
POSTER sessions allow participants to present their research and have informal discussions with attendees.
ROUND-TABLE Round-tables will allow a group of participants along with general attendees to assemble with the goal of generating discussion around a shared research interest
DEMONSTRATION Demonstrations will allow attendees to see or experience something related to one of the STEM fields.
Please register at https://www.surveymonkey.com/r/UVI-Research-Day2018.
Abstracts received after the deadline will not be printed in the abstract booklet. E-mail questions to uviresearchday@uvi.edu
The Caribbean Writer Announces Release of their Latest Volume The Caribbean Writer is pleased to announce that its latest Volume – "A Tibute to Nobel Laureate Derek A. Walcott" is on the bookshelves.
Order a copy today from The Caribbean Writer at thecaribbeanwriter@uvi.edu or call 692-4122 or purchase from University of the Virgin Island Bookstore. Pick-up the latest edition of The Caribbean Writer today!
For more information, contact Alscess Lewis Brown at 692-4152 or email: abrown@uvi.edu.
Youth Ocean Explorers Summer Program Registration is Now Open Applications for the four-week marine science-based Youth Ocean Explorers Summer Program are now available. Students in grades 7-12 are eligible to apply. Students in grades 11-12, undergraduate and graduate levels are encouraged to apply to be a mentor.
Log on to http://vimas.uvi.edu and register today!
For additional information, contact Howard Forbes Jr. at 693-1672 or send an e-mail to Howard.forbes@live.uvi.edu.