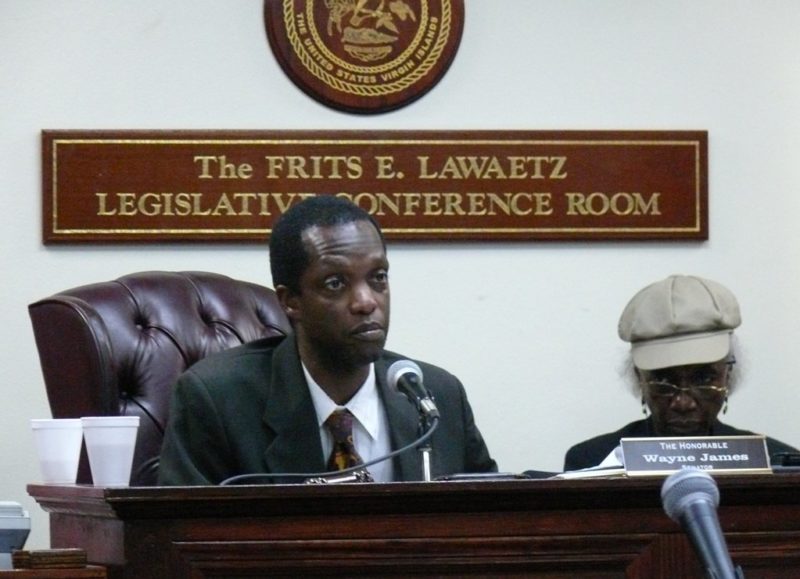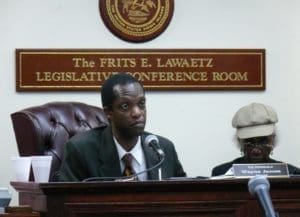 Both the prosecution and defense in the criminal case against former Sen. Wayne James on federal corruption charges filed a joint motion Monday asking the trial be postponed to July 16 or later, making it very likely the court will again postpone the trial.
Both sides are hoping the U.S. Third Circuit will issue its ruling on James' appeal of the courts' rejection of his motion to dismiss the charges by then.
James is charged with several felonies related to federal claims he pocketed taxpayer money by falsifying and faking reports and receipts. The charges carry penalties of as long as 20 years in prison.
Through his attorneys, James has asked the court to dismiss the charges, arguing that if he asked for money for a legitimate legislative reason he is immune from prosecution for pocketing taxpayer money by falsifying the documents and either not doing the tasks he billed the government for, or in other cases, billing the Legislature for things he did on his own before he was elected.
In October, District Court Judge Curtis Gomez rejected James' motion to dismiss the charges and James filed an appeal of the ruling.
A panel of the U.S. Third Circuit Court of Appeals heard the appeal Dec.12.
Trial has been postponed several times awaiting the ruling and is currently scheduled to begin Feb. 26.
Both sides filed the joint motion to delay until after July 16, saying that will "provide the best opportunity" to have a certain, unchanging date for the trial, if the appeal fails. They said the Third Circuit took five months to release its final opinion in a comparable recent case, so a trial in July should give enough time to be confident the ruling will occur before the trial date.
They also said the government "intends to call foreign witnesses who are not subject to service and require sufficient notice to arrange their schedules and make travel plans before they are willing to appear." Those witnesses have said even 30 days notice of a final trial date may not be enough time for them to arrange their schedules, according to the motion.
In the appeal, James' attorneys argue that as some of what James did can be construed as a legitimate legislative action, that confers an immunity broad enough that the government may not question whether he submitted fake invoices and pocketed government cash.
Elected to one term in 2008, James was a V.I. senator on St. Croix from January 2009 to January 2011.
A 2011 joint federal and local audit of the V.I. Legislature found widespread misuse of taxpayer funds. Several of the most egregious incidents involved an unnamed senator, later revealed to be James. James reportedly received 12 cash advance checks totaling $93,914 in 2009 as payment to the Danish National Archives for research, scanning, reproduction and translation of historic documents. While the report did not mention James by name, James held a press conference in 2009 announcing his research findings from that trip.
Auditors found James never submitted any receipts or invoices. When asked about the advances, James said some of the cash is in safe deposit boxes outside of the territory. (See "Wayne James Claims Court Cannot Ask if He Pocketed Taxpayer Money," in Related Links below.)
"We interviewed the senator, who told us that he rescheduled the trip and was keeping the cash advance in an off-island safety deposit box. We later determined that the trip was never taken and the money was never returned. After our repeated inquiries and a meeting with the senate president, the senator returned the money in June 2010," auditors wrote in a 2011 report signed by V.I. Inspector General Steven van Beverhoudt and U.S. Interior Department acting Inspector General Mary Kendall.
Soon afterwards, James vanished and a federal warrant was issued. He turned up in Italy, where he was arrested and extradited in 2016. James has been on house arrest for two years now while he awaits trial.
James' attorney say federal and V.I. law make James immune for arrest for activities during his term of office that are connected to his legislative activities. They argue James sponsored legislation commemorating V.I. historical events and used his research in Denmark in that legislation.
Gomez rejected that argument, citing cases that distinguished legislative acts from acts that were ordinarily criminal like theft and fraud.
"Here, James is alleged to have double-billed for expenses, filed sham invoices, and converted government funds," Gomez wrote in a memorandum opinion issued Oct. 26. "The court finds that obtaining cash advances or reimbursements and depositing them into a personal account, double-billing the legislature, or submitting invoices for work either completed prior to his senatorial term or not at all do not qualify as legislative acts," he concluded, denying the motion.
James appealed Oct. 27, again asserting that the research he did constitutes legislative acts which are protected by immunity.
In a new brief filed Nov. 30, his attorney's responded directly to Gomez' ruling that pocketing cash advances and double billing are not legislative acts protected by immunity.
The brief does not address whether double billing, pocketing funds or submitting sham invoices are legitimate legislative acts. Instead they argue if James's stated reason for getting government money is a legitimate legislative act then he is immune regardless of what he actually did with the money or what documents he may have falsified and the court cannot look into the matter.
"The government's case rests on the contention that Mr. James lied to the Legislature when he sought funds for Fireburn-related legislation during "in or about" that time period – not merely on those few occasions cited by the lower court above," his attorneys argue in the Nov. 30 brief.
"The government ignores that its case hinges upon the jury's evaluation of whether Mr. James' stated intentions for seeking the funds at issue was true. Since that stated purpose was unambiguously legislative, as evidenced by the testimony of his staff, debates on the senate floor, correspondence with legislative officials, and bills themselves, the government's case should be dismissed," they conclude.