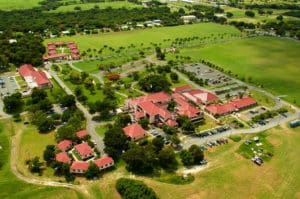 The University of the Virgin Islands' Office of Institutional Advancement announced the winner of the "55 for 55" Great Alumni Challenge on Nov. 28 at a Pizza on the Lawn – Social and Fun Day. The winners for 2017 are Julie Arter, class of 1992, and Vernice Rogers, class of 2011.
Arter and Rogers won two round-trip tickets to Washington, D.C., two nights and three days stay in a downtown hotel, and two tickets to the newly opened Smithsonian's National Museum of African American History and Culture. In celebration of the university's 55th Anniversary, alumni and friends who contributed $55 or greater were automatically entered into the drawing.
Arter currently lives in Flint, Mich., and Rogers resides on St. Kitts. Ian Tomlinson '88 and Reginald Vigilante '88, UVI alumni and owners of OmniSystems, sponsored this prize.
The "55 for 55" campaign empowered alumni chapters in the Virgin Islands and other Caribbean nations to directly fund their own academic scholarships. Alumni chapters on St. Kitts, Nevis, St. Maarten, the British Virgin Islands, Anguilla, St. Eustatius, Saba, St. Maarten, St. Lucia, Dominica as well as others have formalized scholarships that will directly benefit students from their countries. In honor of their institutional pride, all funds raised for each country will be awarded to a prospective or current student.
For more information, contact Linda Smith at 692-4023 or at lsmith@uvi.edu.