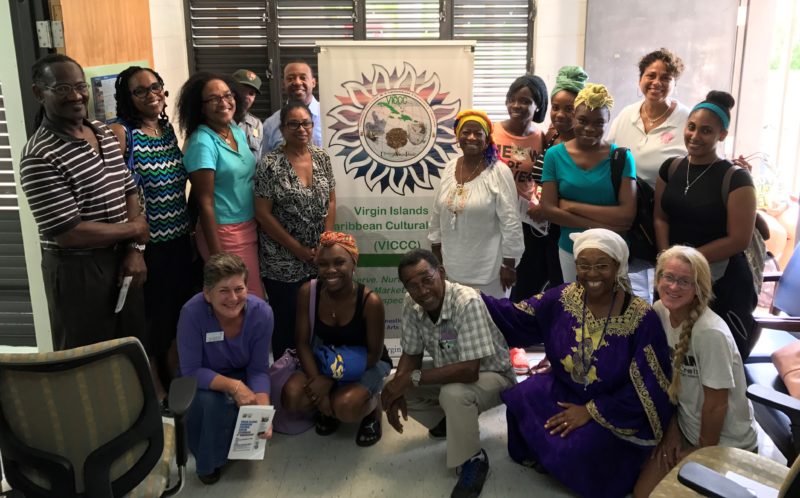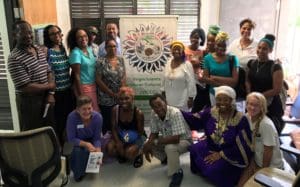 Despite the two recent hurricanes causing so much damage to the Albert A. Sheen Campus, the Virgin Islands Caribbean Cultural Center (VICCC) celebrated its 5th anniversary on Nov. 9 in the VICCC Administrative Conference Suite in the Delta Jackson Dorsch Residential Complex. The anniversary celebration had an interactive multi-cultural and multi-generational audience composed of the UVI and wider St. Croix community.
Giving opening remarks, UVI President Dr. David Hall said, "I want to congratulate VICCC for its consistent cultivation and promotion of Virgin Islands and Caribbean culture through numerous programs, publications, courses, internships and collaborations with various local and national partners."
"The original vision for the center is still unfolding and still needs the support of the UVI and broader community," said Dr. Hall. "If we do not celebrate our culture, it will be lost; if we do not house the artifacts of our culture, they will be scattered; and if we do not support the institutions that are the caretakers of our culture, we will continue to repeat the mistakes of the past."
Bidding the organization congratulations, Hall said, "May this five-year anniversary of VICCC remind us all that we have made tremendous progress down the pathway to greatness, but we still have a long way to go. With your support and participation, we will make the next five years even more successful than the first five years."


An ice-breaking discussion on "What Is Culture to You?" engaged all the attendees and added to the creative, digital educational video that displayed VICCC's progress from 2012 to the present. This served as the background for many inspirational and congratulatory remarks, cultural heritage reflections and presentations shared during this 5th anniversary celebration from UVI students, administration, faculty and staff, partners, community supporters and advocates for VICCC.
ChenziRa Davis Kahina, VICCC director, extended acknowledgments and thanks to the communities throughout the V.I., Caribbean and Americas that have contributed, supported, financed, prayed for and holistically donated time and resources to help the VICCC celebrate its anniversary.
VICCC is nestled within the College of Liberal Arts and Social Sciences (CLASS) at UVI. The center produces, develops and institutes state-of-the-art research; publications; multi-platform media; regional, national and international conferences; academic exchanges; collaborative initiatives; student, faculty and community partnerships; interdisciplinary resources for cultural exchanges; educational institutions and eco-heritage tourism developments.
It also serves as an academic, technological and cultural heritage education and artistic cultural research center for CLASS courses, seminars and academia embracing UVI's innovative mission, vision and strategic goals as the only Historically Black Colleges and Universities (HBCU) in the Caribbean and a land grant institution.