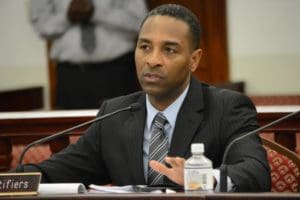 Hurricanes Irma and Maria caused a temporary lull in child support payments, but Attorney General Claude Walker and his staff said over the weekend that checks have been going out for at least the past week.
But parents who haven't reported a change in circumstances – a move to the states, a loss of income or increase in income – could start to experience problems down the line, Walker said.
Speaking over the phone this weekend, Walker said there has been an uptick in parents calling in about payments, particularly those who have either moved or sent their children to the states.
Walker and Kathryn Jensen De Lugo, program administrator for Justice's Paternity and Child Support Division, said that any movement should be reported to their office.
At least two sets of checks have gone out in the past week, and direct deposits will continue to go through. The office's staff is working to process pending electronic payments with local banks.
Walker added, however, that if custodial parents – those receiving payments – have not reported they have moved, there could be issues with receiving checks. De Lugo also said that if a child has moved off island and is no longer living with the custodial parent and there is a change in guardianship/custody, then the check should be going to the person in charge of the child.
Any non-custodial parents – those paying the child support – who have moved should also report a change of address. Otherwise, De Lugo said, they can be tracked by investigators in the office.
Any parent experiencing a change in income, either because of a job loss or an increase income because of extra work (first responders, for example, who are being paid overtime,) must also report their change in circumstances with the office and have their payment modified.
Many changes have to be submitted to the office by notarized letter and can either be hand delivered or mailed to: Paternity and Child Support Division, 800 Nisky Center, Suite 500, St. Thomas, V.I., 00802.
Walker said the division's office on St. Croix was not affected by the storms and is functioning. Child support payments on St. Thomas-St. John will still be handled at the division's office at Nisky Center, but because of hurricane damage to the building, all other services have moved to Justice's main office at the Government Employees Retirement System Complex on Veterans Drive.
Operating hours in both locations are from 9:30 a.m. to 3 p.m. The Nisky Center office is currently operating without phone or internet, so parents can call the main line at 340-774-5666 and ask to speak with a Child Support customer service representative.