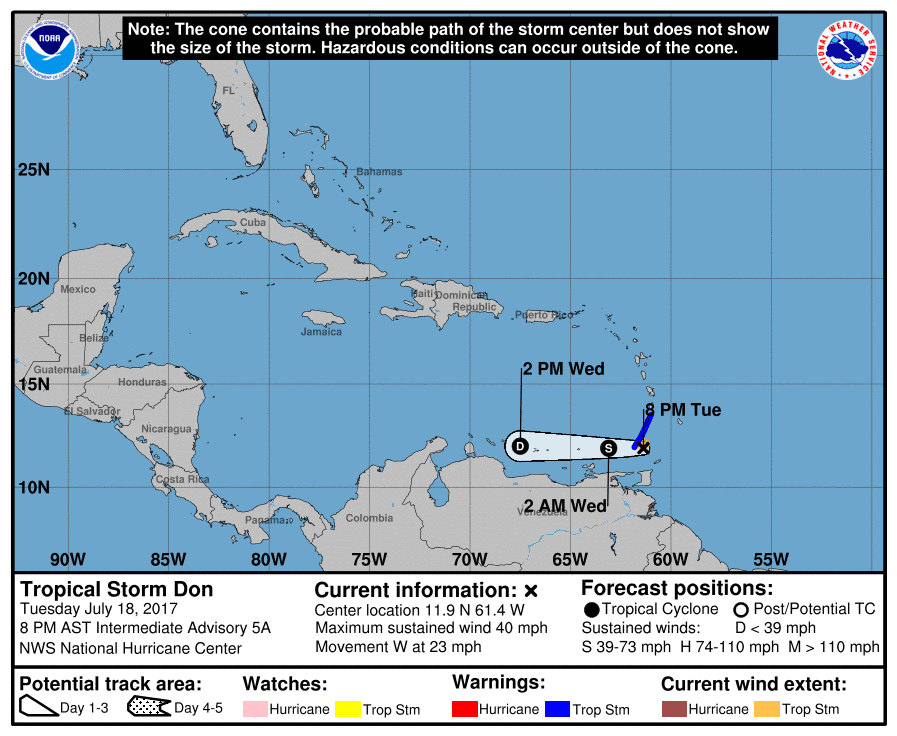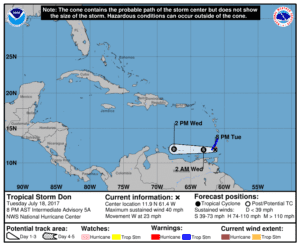 While Tropical Storm Don continued to churn slowly across the southern Caribbean Tuesday evening, expected to pass the Windward Islands late at night and barely maintaining wind velocity to retain its status as a tropical storm, meteorologists are keeping their eyes on another tropical out in the Atlantic.
In its 8:05 p.m. Tuesday tropical weather discussion the National Hurricane Center noted that Don's maximum sustained winds are still holding at 35 knots, about where it was most of the day, with gusts up to 45 knots.
The NHC said Don is expected to move across the southern Caribbean producing total rain accumulations of three to six inches, with isolated higher amounts across Barbados, Trinidad and Tobago, and the southern Windward Islands through Wednesday.
The center noted this brings a high potential for life-threatening flash floods and mudslides, especially in mountainous areas.
Meanwhile, a tropical wave associated with a center of low pressure is in the central Atlantic, more than 1,000 miles west-southwest of the Cabo Verde Islands. The system has a 30 percent chance of further development in the next two days.
Showers and thunderstorms associated with the low pressure system."
"Some slow development of this system is possible during the next day or two while it moves toward the west-northwest or northwest at 10 to 15 mph," the NHC wrote. "After that time, environmental conditions are forecast to become unfavorable for development.