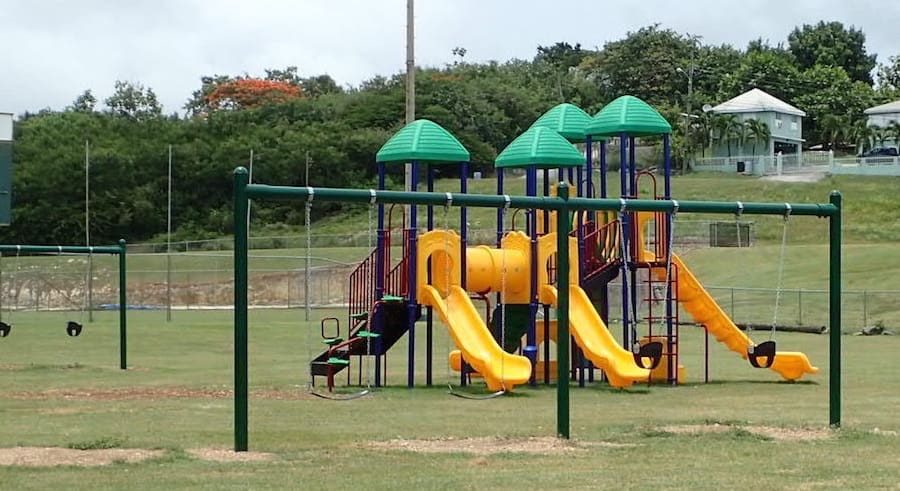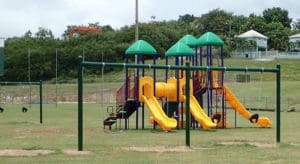 Youngsters in and around Estate Profit have a bright new toddler gym for climbing, sliding, swinging, hanging upside down and playing hide-and-seek, and other youth in the territory have a variety of summer camps to choose from, sponsored by the V.I. Department of Sports, Parks and Recreation.
The recently installed playground equipment is a step to improve park and recreation experiences territory-wide.
"We are touching all the parks in the territory as we move on with diverse programs. This project was a worthy challenge due to the fact that kids in this area had no toddler's gym for the past seven years," Commissioner Pedro Cruz said in a news release.
In addition to the toddler gym at Estate Profit, Cruz said several recreation rooms, with games such as dominos and cards, have been built at ballparks on St. Thomas and St. Croix. So far, Joseph Aubain Ball Park and Playground and the Renholdt Jackson Recreation Complex are sporting new game rooms for young participants.
Beginning July 5, six-week summer programs for elementary-age students will begin at 10 locations on St. Croix and most of the Sports, Parks and Recreation locations on St. Thomas and St. John. Instructors and coaches, earning a stipend or wage from the V.I Labor Department, will provide classes on baseball, tennis, basketball and other sports.
Additionally, campers at the Altona Lagoon Park can learn to swim in the sea and Castle Burke (Arlette Hodge Center) youth can practice cheerleading in addition to the usual sports. Grove Place (Isaac Boynes Park) summer students can play tennis and Estate Profit residents can learn boxing.
On St. Croix's West End, youth enrolled at the Vincent Mason Pool program can fish, kayak and snorkel. A newly constructed Horace Clarke Baseball Park will allow teens to practice and utilize new dugouts and bleachers as well as practice their sport.
Sports, Park and Recreation programs on St. Thomas will provide instruction in sports such as baseball, softball and basketball. Drama, dance, cheerleading and golf will be offered at the University of the Virgin Islands.
St. John participants can join summer camp to learn steel pan, music and Virgin Islands Culture as well as the usual sports, Cruz said.
New programs are being planned throughout the school system for next year, Cruz said, and on St. Croix there will be eight after-school programs instead of three.
In an effort to fight crime, the department has been hosting monthly community events called "Unity in the Community," for residents to meet officials and interact with their neighbors. Games for the children and refreshments for all will be offered.
"Neighbors have to be more interactive and respectful. Crime can be controlled that way," the commissioner said.
Parents can enroll their children by filling out an application and paying a small fee. More information is available online at dspr.vi.gov or by calling 340-773-0160 on St. Croix or 340-774-0255 on St. Thomas/St. John.
"We don't leave any child behind. If parents cant pay, we will look for any way to bring that child in," Cruz said.