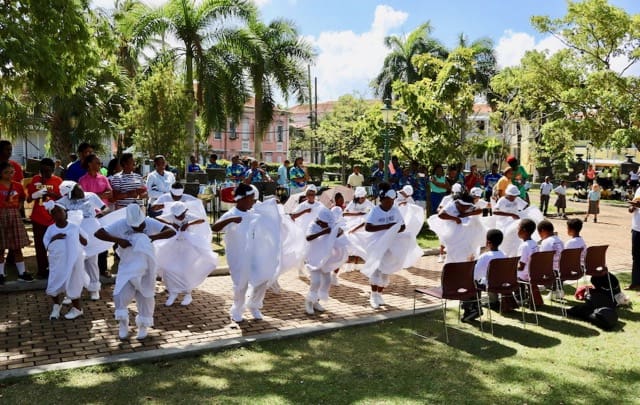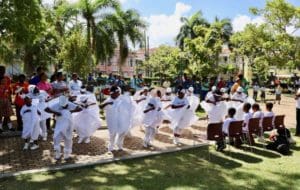 As the days count down to the 100th anniversary of the transfer of the Virgin Islands from Denmark to the United States on March 31, schools all over the U.S. Virgin Islands are commemorating the landmark in myriad ways, from cultural fairs to foods sales, music performances and more.
On Friday, the V.I. Department of Education focused on the centennial at its annual St. Thomas-St. John social studies fair in the Franklin D. Roosevelt Memorial Park. The fair aims to recognize students' knowledge and understanding of lessons taught in their social studies and history classes. The theme for this year's fair was "One Hundred Years under the Stars and Stripes."
Charlotte Amalie High School, Bertha C. Boschulte Middle School, Addelita Cancryn Junior High School, Julius E. Sprauve School and Ulla F. Muller Elementary participated this year.
There were steel band performances, skits, monologues, vocal and instrumental performances and artistic displays. After the Charlotte Amalie JROTC Color Guard posted the colors, district social studies coordinator Annie Smith welcomed the students.
"It's rewarding to see that the students truly know and understand the history and what they learn in class and through their individual research," Smith said.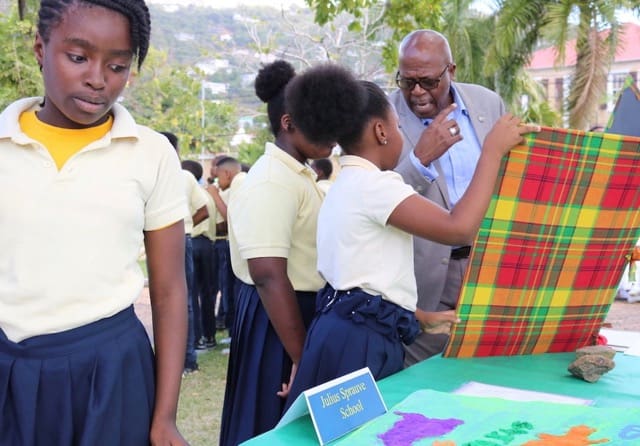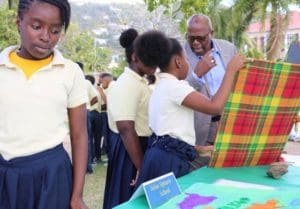 "This year in particular, with the centennial, students are truly understanding and learning more about V.I. history because that is what this commemoration is all about, a reflection of the past 100 plus years," she said.
Lt. Gov. Osbert Potter spoke after Charlotte Amalie's ninth-grade V.I. History class's reenactment of the 1848 Fire Burn on St. Croix. Potter said, "It feels good to come down to the park and see our talented students doings things that keep our culture alive through education and ultimately brings back memories."
The steel bands from both Cancryn and BCB performed a range of local calypso, reggae and R&B hits to entertain the audience while Muller's Bamboula dancers, dressed in all white, amazed the crowd with the traditional Afro-Caribbean dance performed by their own Bamboula drummers.
Cancryn's social studies department presented several works displaying their knowledge of African, African-American and V.I. history in the forms of dance, poetry, art and music.
Julius E. Sprauve School's fourth-grade class presented poems that represented life in the Virgin Islands then and now and its fifth-grade class displayed 100 facts about Transfer Day.
The Social Studies Fair allows students to present their ideas and knowledge gained in the classroom in their own unique and artistic way in efforts to further teach and engage their peers. It is held on the first Friday in March, usually to kick off Virgin Islands history month.
Many individual schools are holding commemorative celebrations.
On March 15 in the St. Thomas/St. John district, the Jane E. Tuitt and Moravian schools have special functions, along with Juanita Gardine Elementary on St. Croix. March 16, it's Joseph Gomez Elementary on St.Thomas. On March 17, Charlotte Amalie High School on St.Thomas and St. Croix Central High School have their programs. On March 28, E. Benjamin Oliver Elementary School on St. Thomas and the Gifft Hill School on St. John take their turns. Then March 29, St. Thomas's Lockhart Elementary rounds out the month.