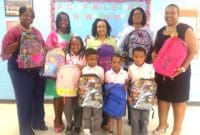 Members of the local graduate chapter of the Mu Gamma Omega Sorority on St. Croix recently donated 20 backpacks to Alfredo Andrews Elementary School students in grades K-6.
The backpacks were collected as a community service project during the sorority's annual Cluster Conference in November, according to Cluster Conference Chairperson Alicia George, who said the backpack initiative is a part of the Mu Gamma Omega's educational enrichment program that ends in 2018.
Alfredo Andrews Principal Joan Claxton expressed gratitude to the sorority for contributing to the educational development of students.