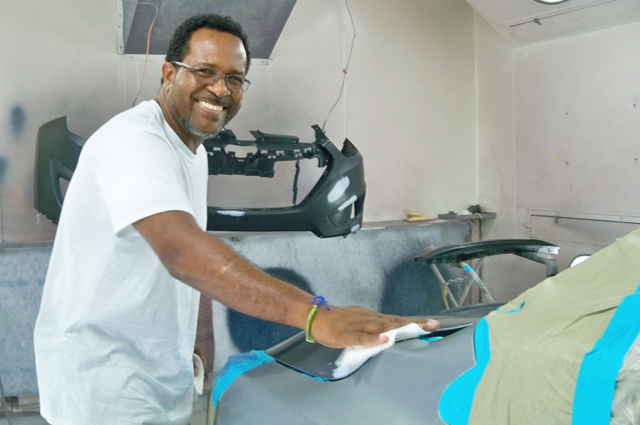 At 180 Auto Body in Five Corners, business is a real family affair, and even customers are treated like family.
Four guys in the Laudat family work side-by-side, combining their auto body and mechanical repair skills to get wrecked cars back on the road quickly.
Almost three years ago Lincoln Laudat bought the well-established body shop from Dan Barron, with whom he had worked. Barron had to leave island and Laudat, who wanted to own and operate a business, decided to save 180 Auto Body and buy it so Barron's employees wouldn't be unemployed.
The brothers all contribute specific skills in the body shop and they all work together and get along well, Lincoln said.
Lincoln Laudat is certified to do everything related to repairing collision work. Vincent Laudat does the frame and body work. Larry Laudat does mechanical and body work, and Dwayne Laudat does body work.
Lincoln started working on cars while in his teens. He worked at Caribbean Auto Mart and was trained and certified in Trinidad and Puerto Rico.
Monica Laudat, Lincoln's wife, is the office manager and bookkeeper. Elvis Presley Roper, who said he feels like an adopted brother, does the estimates and general office duties.
Mary Mingus, a local resident, said she recently had work done on her vehicle at 180 and she was very pleased and happy with the results. She said the brothers do fantastic work, give excellent service and are very friendly. And she has been known to drop in with breakfast for the guys to show her appreciation.
Lincoln said when cars come in on a tow truck the owners are generally distraught. He said he has a way of calming people down and letting them know it's not as bad as it seems or looks. He said he reassures them that the vehicle will look like new.
The biggest challenge Lincoln faces is getting parts to St. Croix on time. When he orders new and after market parts from Atlanta and Miami he requests rush orders, but is at the mercy of the shipping companies.
"It would be nice if we could get parts right here or just drive a short distance to get them," Lincoln said. He has deadlines with the insurance companies and he wants to keep customers happy and get cars back on the road within a week. "If it's a really big smash it could take two weeks. We know it's a problem for people to get rides, borrow or rent a car."
He said 180 is the only certified USAA, military insurance, body shop on St. Croix. He personally inspects every inch of a car when it is finished. Roper added Lincoln is like a doctor examining cars.
Lincoln said the best part about doing business is when he sees the smile on people's faces when they pick up their car.
"I get the best feeling when the customer picks up their car and they are happy," Lincoln said.
He said he doesn't say anything to them and he lets them say what they feel about the end result.
The shop is at 3001H Little Princess and the phone number is 340-718-5464.