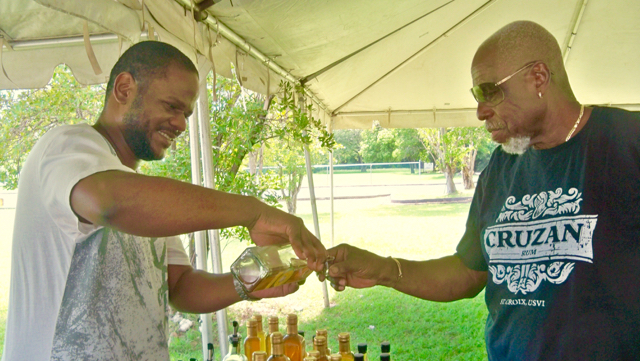 The honeybee population on St. Croix is thriving and healthy, according to Errol Chichester, honey producer and Department of Agriculture assistant commissioner.
"Bees are in a better place in the territory than other areas," Chichester said Saturday at the 5th Annual DOA Virgin Fresh Bee Bazaar, held at the Sunshine Mall.
Local bees work hard, he said, travel long distances and will defend their territory. And they adapt to any situation. Last year's drought made the situation tough on the bees for a while, he added.
There are definitely enough bees on St. Croix for people to start their own honey production, Chichester said. There are a lot of wild hives found everywhere, from abandoned cars to abandoned buildings. He said it's easy to collect the bees and put them in a box.
The number of beekeepers is increasing as more people become aware of the benefits of honey and the importance of having bees around for pollination, he continued. There are about 15 beekeepers producing products for sale, and more who produce honey for personal consumption.
The Department of Agriculture held a beekeepers workshop in 2010 and trained 130 participants in beekeeping.
Chichester, said the local beekeepers help train people interested in trying their hand at apiculture – beekeeping – whether for personal use or for production and sale of bee products.
The beekeepers encourage people interested in beekeeping to accompany them when they capture a hive. The DOA has a list of beekeepers to call to remove a hive for a fee.
Wooden bee hives can be ordered, and the assembly is very easy, Chichester said. The DOA has other supplies on hand for beginners.
Ed Milligan, who is fairly new at beekeeping, said he had a hive removed from his property and he became interested in apiculture. Milligan accompanied Chichester to get experience in removing hives and he found it was easy and he could do it.
"Beekeeping is a wonderful activity to get involved in," Milligan said. "It's good for the environment and the bees. I just love it. It's a great hobby for me since I'm retired."
Milligan lives on eight acres with a lot of fruit trees, and he loves hearing the bees buzz when the trees are in blossom. He tends four hives. He said he has researched making wine and mead and would like to try his hand at making mead. Mead is an alcoholic drink made of fermented honey and water with various fruit.
Kareem Francis, from the W-Right Apiary, was pouring samples of mead made by Wanda Wright. The flavors included carambola, guava, mango and Surinam cherry, all made from fruit in Wright's orchard and honey produced there.
Local bee products, including honey, soaps, pollen, bees wax, honey vinegar, mustard and salsa, were available for the public to purchase at Saturday's event.
The annual activity is aimed at heightening consumer awareness of the importance and benefits of bees and to promote the apiculture industry in the territory. More information on apiculture is available by calling the Department of Agriculture at 340-778-0997.