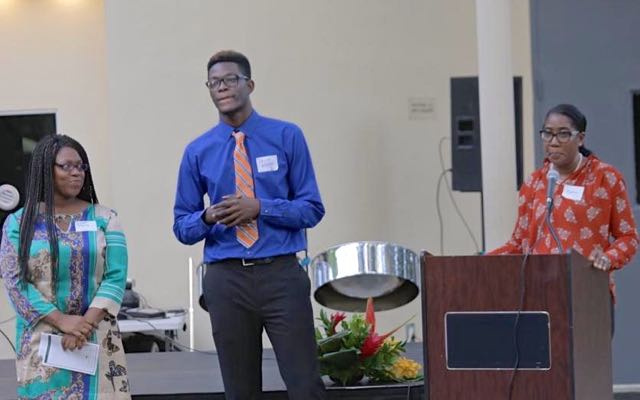 The Community Foundation of the Virgin Islands hosted its annual awards reception July 21 at Antilles School, awarding $140,000 in scholarships to students, scholars and teachers and honoring its donors and volunteers.
This year, CFVI awarded $100,000 in academic scholarships to 58 students. Undergraduate and graduate students will have the opportunity to attend schools such as the University of the Virgin Islands, American University and University of South Florida.
CFVI scholarships range from $500-$4,000. Scholarships such as the Isaac & Rebecca Paiewonsky Scholarship and the Milan & Aliki Glumidge Memorial Scholars Award will provide funding for students for up to four consecutive years. Firstbank VI sponsored the reception.
"In addition to the preservation of our precious natural resources, the greatest gift we can offer to our youth is the ability to access and pursue their higher education," Marie Thomas-Griffith, CFVI's scholarship committee chair, said in a statement. "No more noble pursuit is there than ensuring that when one generation passes the torch to another that its light will be sustained for future generations to come."
CFVI also awarded $40,000 in grants to 43 individuals. Students throughout the territory were able to attend college preparatory programs and dance, music and marine-related camps this summer thanks to CFVI's generous donors.
At the reception, the winners of the 2016 Laws of Life Essay contest were presented with monetary prizes. The Laws of Life Essay contest is an initiative of the John Templeton Foundation and was first introduced to the Virgin Islands in 2001 by the Peter and Patricia Gruber Foundation.
Laws of Life is a character education program to motivate students to think and write about their personal values. Students of the territory's four public high schools are invited to participate. Students who were honored this year wrote essays containing themes of self-acceptance, forgiveness, learning from mistakes, and treating others with respect. To date, the Gruber Foundation has invested about $450,000 in grants to provide student and teacher prizes and recognition.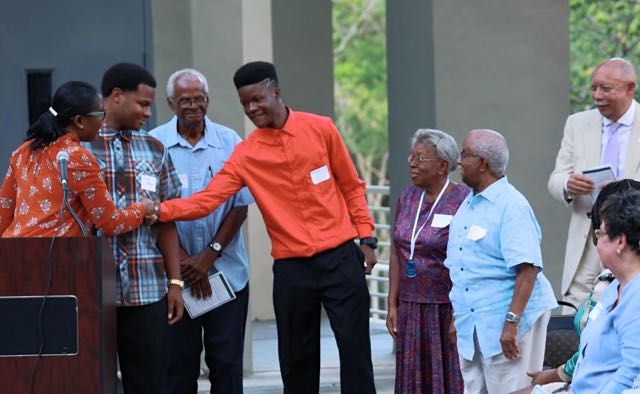 CFVI has awarded scholarships to Virgin Islands students since 1996. In a statement released from the foundation, CFVI emphasizes it is looking to get in touch with as many past scholarship recipients as possible and asks that "scholarship alumni" contact them at 774-6031 or visit the website at http://www.cfvi.net/ to fill out the scholarship recipient questionnaire. Questionnaires can also be submitted by email to general.info@cfvi.net.
Award Recipients:
Kissa Williams, Alexander Farrelly Scholarship, St. Thomas
Alexander Athanase, Anna Green Walsh Scholarship, St. Thomas
Sh'Nae Cayla Carr, Anna Green Walsh Scholarship, St. Croix
Louisa Fredey, Anna Green, Walsh Scholarship, St. Thomas
Chanae Ottley, Anna Green Walsh Scholarship, St. Croix
Irvin Mason Jr., Anna Green Walsh Scholarship, St. Thomas
Ajayi Pickering-Haynes, Anna Green Walsh Scholarship, St. Thomas
Chasen Richards, Anna Green Walsh Scholarship, St. Croix
Shaedaya Varlack, Anna Green Walsh Scholarship, St. Thomas
Nirisha Commodore, Artrelle M. Wheatley, St. Thomas
Jovier Adams, CAHS Class of 1951 Scholarship, St. Thomas
Jamal Adrien, CAHS Class of 1951 Scholarship, St. Thomas
Briault Atemazem, CAHS Class of 1951 Scholarship, St. Thomas
Nathan Meersman, Coral World Scholarship, St. Thomas
Andrea R. Burgess, Heavy Materials Scholarship, St. Thomas
Alex Cintron, Heavy Materials Scholarship, St. Croix
Karen Dascent, Heavy Materials Scholarship, St. Croix
Shaquanee Fenton, Heavy Materials Scholarship, St. Croix
Rudel Hodge Jr., Heavy Materials Scholarship, St. Thomas
Aliyah John, Heavy Materials Scholarship, St. Thomas
Estelle E. Jules, Heavy Materials Scholarship, St. Croix
Hadiyah Shabazz, Heavy Materials Scholarship, St. Croix
Jeanna Sujanani, Heavy Materials Scholarship, St. Thomas
Janelle Hodge (2013), Isaac & Rebecca Paiewonsky Scholarship, St. Thomas
Tori Huyghue (2014), Isaac & Rebecca Paiewonsky Scholarship, St. Thomas
Joash Lake (2015), Isaac & Rebecca Paiewonsky Scholarship, St. Thomas
Tommy Wise (2016), Isaac & Rebecca Paiewonsky Scholarship, St. Thomas
Jemica Gumbs, J. Raymond Jones Scholarship, St. Thomas
Yash Bajaj, Kimberly Brin Scholarship, St. Thomas
Jan-Alexis Barry (Graduate), Lana Vento Scholarship, St. Thomas
Antonio Farchette, Lana Vento Scholarship, St. Croix
Brianna Hairston, Lana Vento Scholarship, St. Thomas
Amali Krigger, Lana Vento Scholarship, St. Croix
Jenisha Stapleton, Lana Vento Scholarship, St. Thomas
Muhammad Ali, Marvin A. Blyden Scholarship, St. Thomas
Felicea Fontenelle, Marvin A. Blyden Scholarship
St. Thomas, Jemoi Gibbs, Marvin A. Blyden Scholarship, St. Thomas
Peter Jean-Baptiste, Marvin A. Blyden Scholarship, St. Thomas
Takia Joseph, Marvin A. Blyden Scholarship, St. Thomas
Joan Merrifield, Marvin A. Blyden Scholarship, St. Thomas
Kayla Webster, Marvin A. Blyden Scholarship, St. Thomas
Shani Cook, Milan & Aliki Glumidge Memorial Scholars, St. Croix
Alliyah Desout, Milan & Aliki Glumidge Memorial Scholars, St. Thomas
Alvante Frett, Milan & Aliki Glumidge Memorial Scholars, St. Thomas
Aron Gumbs, Milan & Aliki Glumidge Memorial Scholars, St. Thomas
Sherise Gumbs, Milan & Aliki Glumidge Memorial Scholars, St. Thomas
Kushakiniah Maduro, Milan & Aliki Glumidge Memorial Scholars, St. Thomas
Sarah Sookraj, Milan & Aliki Glumidge Memorial Scholars, St. Croix
Raeniqua Kierra Victorine, Next Generation Scholars Scholarship, St. Thomas
Karena Roberts-Lavinier, NSL Graduate Studies Scholarship, St. Thomas
Jean Devera, Theodore E. Sharp Scholar Award, St. Croix
Lester Frett, Tunick Family Fund Scholarship, St. Thomas
Ella Barr, Prior Family Interlochen Scholarship, St. Thomas
Lidell Hanley, Prior Family Interlochen Scholarship, St. Croix
Vivia Webster, Prior Family Interlochen Scholarship, St. Croix
– UVI "Math Behind the Science" program, J. Raymond Jones Summer Enrichment Grant, St. Thomas
Keshawn Hardy, Jerry Silverberg Trumpet Award, St. Croix
– Queen Louise Home for Children, Summer Enrichment Grants, St. Croix
World Ocean School, Summer Enrichment Grants, St. Croix
Laws of Life Essay Contest Winners
Jonisha Aubain, CAHS, St. Thomas
Tianna Belcher, CAHS, St. Thomas
K'vonte' Dowe, CAHS, St. Thomas
Ashley Fernandez, CAHS, St. Thomas
Shania Grell, CAHS, St. Thomas
Latisha Liburd, CAHS, St. Thomas
Mary-Alice Prosper, CAHS, St. Thomas
Myles Todman, CAHS, St. Thomas
Deh'Shaniece Colon, IEKHS, St. Thomas
Keyrah Gumbs, IEKHS, St. Thomas
Keari Parris, IEKHS, St. Thomas
Arianna Watson, IEKHS, St. Thomas
Ellaina Wyllis, IEKHS, St. Thomas
Karian Acevedo, St. Croix Central High School, St. Croix
Martisha Charles, St. Croix Central High School, St. Croix
Tikory Felix, St. Croix Central High School, St. Croix
Richel A. Ince, St. Croix Central High School, St. Croix
Angelina Lang, St. Croix Central High School, St. Croix
Angeline Lacdao, St. Croix Educational Complex High School, St. Croix
Reinella Labadie, St. Croix Educational Complex High School, St. Croix
Habeeda O'Neill, St. Croix Educational Complex High School, St. Croix
Laws of Life Essay Contest Winners
Aimee Galtes, CAHS, St. Thomas
Sharon Martin, CAHS, St. Thomas
Antis Birmingham, CAHS, St. Thomas
Saraan Arnold, IEKHS, St. Thomas
Kendra Vickers, IEKHS, St. Croix
Reed Hapke, St. Croix Central High School, St. Croix
Dinah Browne, St. Croix Central High School, St. Croix
Lizette Llanos, St. Croix Central High School, St. Croix
Charlene Spencer, St. Croix Educational Complex High School, St. Croix
Natasha Liburd, St. Croix Educational Complex High School, St. Croix