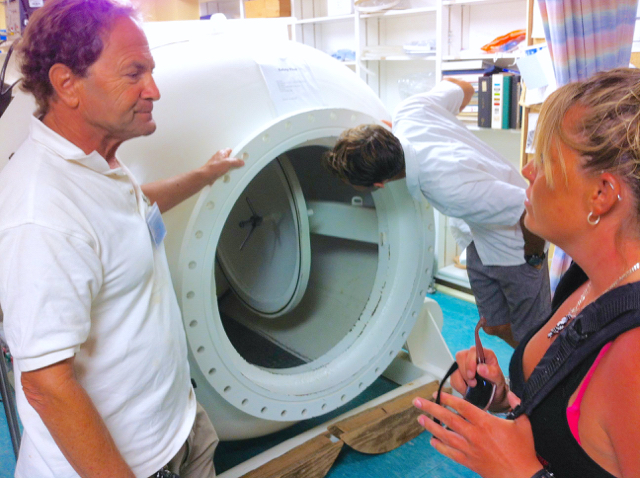 If a diver is forced to surface from a serious depth too fast, the best news she could hear is that a hyperbaric chamber is nearby. Virgin Islanders are fortunate to have one at the Schneider Regional Medical Center on St. Thomas.
On Friday, 18 residents – mostly dive shop employees – heard Steve Prosterman, hyperbaric chamber operator at the hospital, tell how the decompression chamber worked.
They also heard that the six to 10 divers treated annually for decompression sickness (DCS) were not the prime beneficiaries of the chamber. Prosterman said more than 90 percent of the treatment in the chamber is for diabetics, people with skin-eating bacteria and patients with certain infections.
"It has saved a lot of limbs and lives," he said.
The machine is in almost constant service treating diabetics. Since 2000, about 10 patients with skin-eating bacteria have been treated in the chamber, and, according to Prosterman, all but one of those treatments succeeded. The name for this condition is Necrotizing Fasciitis. It is a fairly rare as indicated by the number of cases treated in the Virgin Islands; only 600 to 700 cases a year occur in the United States. The bacteria can enter the body through minor cuts, insect bites, abrasions or surgery.
Prosterman, who is also dive safety officer at the University of the Virgin Islands, gave a short history of the chamber before he detailed how the chamber was used to treat divers.
"This chamber is an oldie but still a goodie," he said, "very effective in doing the job it is designed for."
The decompression chamber was brought to St. John in 1969 to support NASA and NOAA research at the Tektite project – one of the first underwater habitats. In 1984 the hospital refurbished the discarded chamber and put it back into service.
The chamber has two compartments, allowing a tender to assist a diver under treatment. Treatments for DCS can last from five to 12 hours. Prosterman pointed out that precautions are taken so the tender does suffer DCS (commonly referred to as the bends) when going in and out the pressurized compartments. DCS is the condition when dissolved gases in the body, after depressurization (rising to the surface) turn into bubbles. The condition can be very painful and result in paralysis or death.
Friday's education of the divers did not end at the hospital. After Prosterman's talk the group went to Dr. David Weisher's home in Limetree where Dr. Neil Pollock, the director of research at Divers Alert Network, gave a presentation on diver safety. Weisher oversees the operation of the chamber at the hospital, is a diver, and is the author of Mysteries of Consciousness: In defense of the mysteries.
"I am happy to host this event; we can have fun and it will be worthwhile if we just avert one injury," Weisher said.
He is certified in neurology, hyperbaric and sleep medicine.
Pollock has done extensive research for NASA concerning astronauts and space walks. He has worked extensively with dive computers and studies how decompression bubbles form. He is a member of the University of Virgin Islands Dive Control Board. Pollock was in the Virgin Islands on university business. Prosterman had met Pollock when Prosterman was operating a dive camp more than a decade ago on St. John for people suffering from diabetes. He said he saw with Pollock's visit the opportunity for an educational outreach into the community. He said about Pollock, "He knows more about diving than anybody else I know."
Pollock covered an array of factors contributing to whether or not a diver will get DCS. His basic message was, "Divers have choices, no one can say I got the bends and it was not my fault." He urged caution and conservatism when using dive tables and dive computers. He said he has often heard, "My computer said it was OK; I answer, computers don't get DCS, divers do."
He said individual's susceptibility to DCS differs. Some factors include physical fitness, recent exercise, state of hydration, temperature changes, sex and age. As far as sex, he said, in his opinion, males wanted to push the limits more than females and that was not a good thing.
Some questions he received at the end of his talk were:
– Is it necessary to do the deepest dive first on a vacation trip? Answer, not necessarily.
– Are deep safety stops worthwhile? Answer, probably not.
– Will urinating in your wet suit be beneficial on your ascent because it will warm body temperature? Answer, inconclusive.
Five staff members from the St. Thomas Diving Club attended the events.
"It was intriguing," Cassie Botnick said. "This is our job to know and understand the chamber. We should be in the know in case of the worst scenario."
Courtnie Robenolt, also from the diving club, said, "This will help me be a better instructor by making sure I stay within my limits, protecting myself as well as my guests."
Diver's Alert Network is a dive safety association providing medical advice for underwater injuries, emergencies, and insurance.