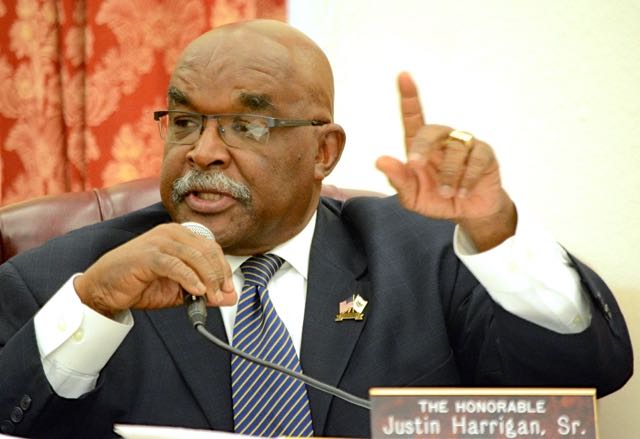 It may become a felony to wear body armor while committing a crime if a bill sent on for a final vote Thursday is enacted into law. The Rules and Judiciary Committee approved the measure unanimously, but senators differed on whether the penalties should include a mandatory minimum or should leave discretion in the hands of judges, prosecutors and juries.
The measure [Bill 31-0159] sponsored by Sen. Justin Harrigan would add up to five years onto whatever sentence the person received, along with a mandatory $5,000 fine.
When it was heard in committee, Police and Justice Department officials strongly supported the bill, saying police needed an edge against heavily armed criminals. But Chief Public Defender Samuel Joseph said he was concerned about criminalizing simply having armor, which is defensive and not itself dangerous or criminal.
Joseph also said it concerned him that the bill did not specify only violent crimes, but applied to any crime, so that a person could face a felony and serious prison time for a minor crime, such as littering, for wearing defensive armor.
Senators amended the bill at the time to specify it applied to only a violent crime.
Harrigan said the Rules Committee heard the bill in November but had held it to clarify if the penalties conflicted with other existing laws banning felons from owning body armor. He said the Legislature's legal counsel found it does not, and that any sentences imposed for both, separate, offenses would be served consecutively, one after the other.
All the committee members agreed the bill might help deter or at least punish criminals who think of using body armor to protect themselves while planning violent crime. But Senate President Neville James said he objected that the bill did not include a mandatory minimum sentence and that it should be amended on the Senate floor to include one.
"I think we're getting away from our purpose here," James said. "We're putting all this discretion in the hands of the judges. We need some minimum language."
"I know we do not want to be filling up our jails with our young people. … But I think we need some kind of minimum language to send the right kind of message," he said.
Sens. Janette Millin Young and Nereida "Nellie" Rivera-O'Reilly both said they supported the option of an increased sentence but objected to mandatory sentencing.
"Give the judge discretion to sentence the individual to anything from probation through the full sentence. … I believe the judges should have discretion," Millin Young said.
"It should not escape us that this would be one of many charges against the individual," Rivera-O'Reilly said.
"I personally do not support minimum mandatory sentencing," Rivera-O'Reilly added. "All across the country legislatures are moving away from minimum mandatory sentences and judges and the American Bar Association have pled with policy makers not to remove the discretion out of the judges hands. That is why we have very intelligent and educated lawyers and judges and they present a case and the best case wins. And judges should have the discretion to determine what the best punishment should be – and juries. So I will support the bill as it is and not support an amendment," Rivera-O'Reilly said..
Gittens said he disagreed, saying that as a former police officer, he saw cases where "when these go to court, you may have 15 or 16 of these charges before you, and because of laziness and lack of resources, you may plea bargain them all down, and give probation and no months (in prison) despite all the charges."
James said he would support the bill either way, but wanted a minimum.
"If we are not in the business of tying judges' hands, then let's eliminate maximum sentences," James said.
The committee voted unanimously to send the bill on. Voting to send the bill on to the Senate floor for a final vote and possible amendment were: Gittens, Harrigan, James, Rivera-O'Reilly, Millin Young, Sens. Novelle Francis and Jean Forde. All members were present.