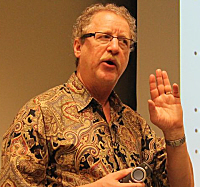 Surviving cancer means more than beating back the disease, but improving the patient's quality of life as well, said oncologist Dr. Larry Altshuler in a lecture at the Charlotte Kimelman Cancer Institute on St. Thomas Wednesday.
Altshuler, director of oncology intake at Cancer Treatment Centers of America, is one of a series of speakers invited by the Kimelman Institute to give free lectures to cancer patients and survivors. His talk, attended by 10 people, focused on "complementary adjunctive medicine," a combination of treatments that engages the mind and spirit, not just the body, in a holistic approach to healing.
Altshuler said patients normally come in focused on treating the disease itself, but pay less attention to other issues relevant to cancer, including heart disease, diabetes, smoking, alcohol abuse and sleeping problems.
"These other diseases affect how well they do in cancer," said Altshuler. "If you want to fight cancer, you need to feel as good as you can and be in good health as possible."
According to Altshuler, designing research on cancer survival is difficult because there are simply too many factors that go into a patient's survival. Still, he said, recent studies are showing that quality of life is significant for survival among cancer patients.
"At Cancer Treatment Centers, we see people survive a lot longer than they're expected to survive, and we think it's partially because of what we do with quality of life," he shared.
Altshuler said the reality is that cancer patients are likely to encounter pain in one form or another. In the United States alone, 30 to 50 percent of the 1.5 million diagnosed cancer patients experience unrelieved suffering, he estimated, due to the disease or the treatments themselves, which can sometimes feel worse than the disease.
Cancer patients undergoing aggressive treatment are usually subject to unchecked physical pain, nausea, fatigue, anorexia and depression, he said. Sleep apnea is also a serious quality of life issue that can hike mortality rates among cancer patients.
Part of the problem, according to Altshuler, is that only a small fraction of oncologists – perhaps as few as one-third – a trained in quality of life issues. Most are trained and focused on conventional treatments, a disparity that results in only about one-tenth of cancer patients receiving treatment for quality of life issues.
"That shouldn't happen in today's world," he said. "There are things out there that could control that."
Altshuler enumerated a variety of non-cancer medications that help in killing cancer and coping with treatments, including melatonin, which improves sleep but also helps kill cancer cells; metformin, a diabetes drug with also works against tumors; strontium, a bone-strengthener; and even over-the-counter aspirin, which can prevent the cancer from recurring and metastasizing.
He also recommended mind-and-body treatments, including tai chi, relaxation, prayer and support groups. An acupuncturist for 20 years, he urged patients and survivors to try acupuncture for addressing stress, anxiety and even problems with producing saliva, prevalent among patients going through radiation treatments.
"Chinese herbs are also very, very good," he added. "Most of these are combinations of herbs that work synergistically, developed over thousands of years, and they work amazingly well."
Altshuler cited studies that showed how patients taking Chinese herbs, such as coriolus, ginseng, reishi and ganoderma mushrooms, experience fewer complications during surgeries and treatments that those who do not. He cautioned, however, that any intake of any type of herb supplement must stop two weeks before surgery or treatment.
After introducing a host of complementary adjunctive methods, Altshuler emphasized that he does not advocate using these methods alone to cure cancer.
"That does not work," he said flatly, adding that no study has ever shown otherwise.
He does, however, advocate using both approaches: conventional medicine to fight the disease and complementary methods that address quality of life issues.
"Get treatments that are documented to kill cancer, but then use the complementary with that," he said. "Use the best of both worlds, and you'll go a lot further."