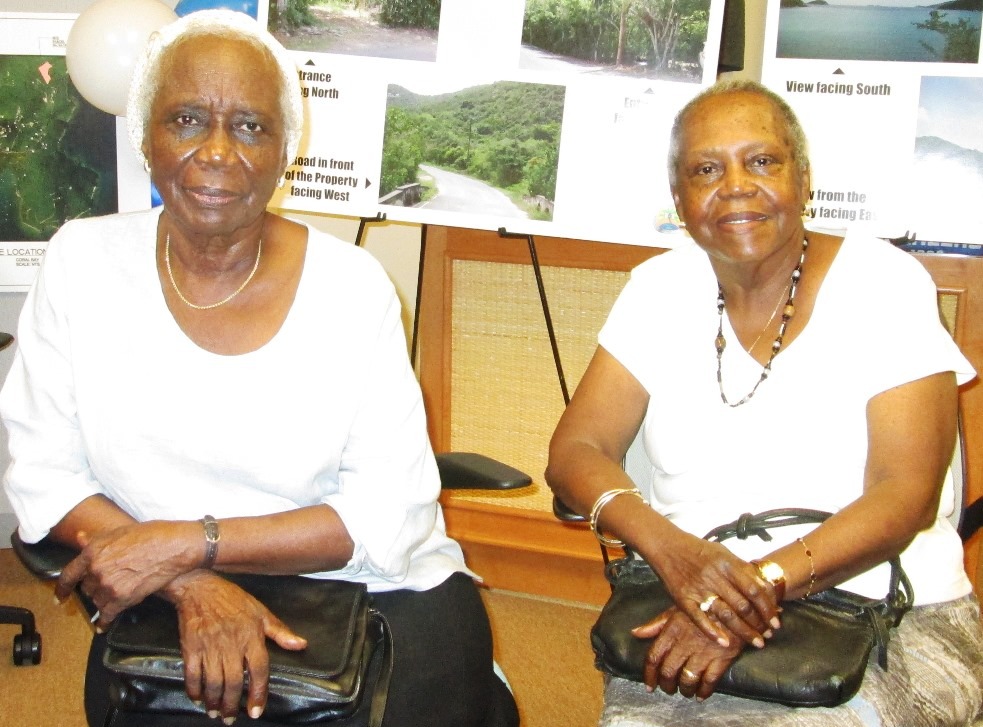 With a lifelong love of education, retired teachers and sisters Gloria Samuel and Marva Applewhite donated four acres of land at Estate Zootevaal on St. John to the University of the Virgin Islands. Samuel and Applewhite were honored Wednesday at a reception held at UVI's Academic Center in the Marketplace shopping center.
"Education is the number one priority in our family," Applewhite said to the more than two dozen people, many of them Samuel family members, gathered at the reception.
Applewhite taught school in New York City before returning home to the Virgin Islands to teach at Charlotte Amalie High School. Samuel taught at both Charlotte Amalie and Ivanna Eudora Kean High School.
The four-acre donation is adjacent to two acres the sisters donated to UVI several years ago. The land sits on the inland side of Centerline Road near the Estate Zootenvaal cottage resort. According to a UVI press release, the four acres are valued at $740,000.
UVI President David Hall said that the university plans to build a cultural center on the site to honor Samuel and Applewhite's father, James Alfonso "Harry" Samuel.
Attorney Sam Hall, who represented the sisters, said that elder Samuel was a mason who built Guy Benjamin School and the original Cruz Bay pier. He purchased extensive land in Coral Bay.
David Hall noted that most people who make donations to the university are "folks of great wealth," but Samuel and Applewhite were people of the "soil."
"They are people who love and care for education," David Hall said.
The university's vice-president for institutional advancement, Dionne Jackson, called them humble people who didn't want public recognition for their generosity.
"The made the gift because they wanted to be part of UVI's next 50 years," she said.
While the university's president envisioned that the cultural center will bring researchers and others to learn about the richness of the island's community, he said it will take money to get it built. Hall estimated the price tag to run a minimum of $2 million.
"The university doesn't have the resources right now," Hall said, adding that the quest for funding will include the Virgin Islands community as well as the nation.
He urged those at the reception to lobby members of the Legislature to come up with the money.