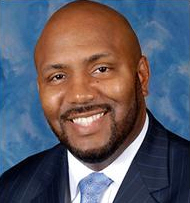 A federal jury convicted Rodney Miller Sr., former chief executive officer of Schneider Regional Medical Center, of tax fraud on Wednesday after a two-day trial in district court on St. Thomas, according to the U.S. Attorney's Office for the District of the Virgin Islands.
The jury found Miller willfully filed his 2006 income tax return in 2007, falsely reporting total income of $265,198 while knowing his true total income was $510,947, according to the U.S. Attorney's Office
Miller faces a maximum penalty of three years in prison, a maximum fine of $250,000 and a special assessment of $100. Sentencing is scheduled Dec. 5.
The case was prosecuted by Assistant U.S. Attorney Kim Chisholm.
After the verdict, U.S. Magistrate Judge Ruth Miller issued an order modifying Miller's conditions of release prior to sentencing. In April, Rodney Miller was released pending trial, under certain conditions. On Wednesday, the judge ordered Miller released until sentencing, on condition he be subject to GPS monitoring and a home curfew from 9 p.m. to 7 a.m. daily.
In the indictment [Rodney Miller Tax Indictment], the government alleges Miller filed 2006 and 2007 tax returns with the V.I. Internal Revenue Bureau that he knew were false. He reported total 2006 income of $265,000 and 2007 income of $256,000 but knew it was "substantially more," according to the indictment.
The court record indicates the court severed the 2007 tax return charge for prosecution in Florida, where Miller was living at the time.
The federal tax charges relate to local charges that Miller and top hospital executives Amos Carty Jr. and Peter Najawicz defrauded Schneider Regional Medical Center of millions of dollars. Both previous trials ended in mistrials and the three parties are scheduled for a third V.I. corruption trial in October.
Prosecutors alleged Miller racked up almost $3.8 million by the end of his five years at the hospital, while Carty and Najawicz, who are accused of approving and making the payments, regularly received thousands more than the $80,000 salaries listed in their government payroll documents.
Miller's tax fraud conviction stems from his not reporting all of that extra income to the Internal Revenue Service.