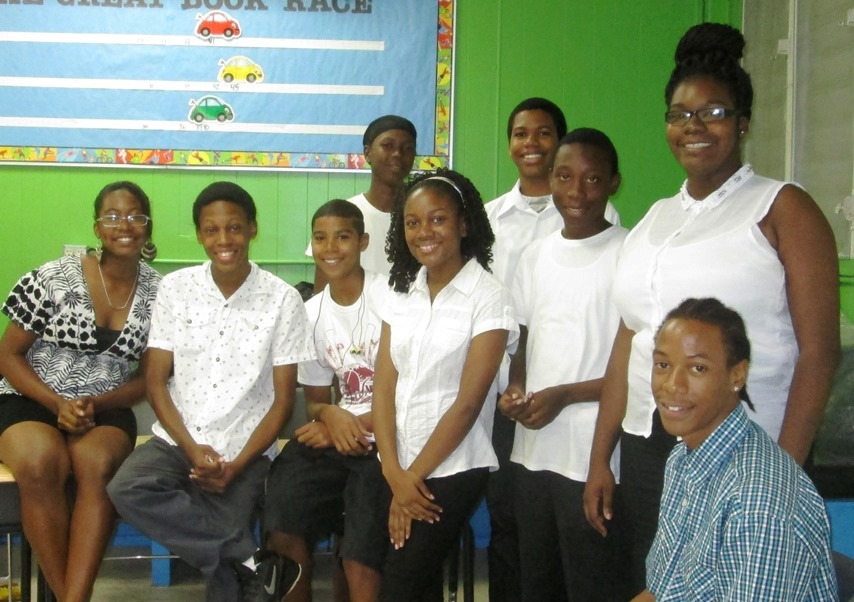 Looking sharp wearing white and black – it looks professional, the students said – the nearly dozen youths proudly explained what they learned at the Coral Bay Job Club summer program.
"I'm looking for a job as a waiter, and I'm looking forward to learning new things at your restaurant," 14-year-old Jah-Haile Bruce said as he showed off his job hunting skills.
Bruce and Marc Durand, 15, performed a skit that showed the right and the wrong way to behave at a job interview. Durand played the business owner and Bruce the applicant.
Demonstrating the wrong way, Bruce, on his cell phone, barges in to Durand's office without knocking because he said the door was unlocked. Durand took issue with that, and the encounter ended up with voices raised.
"Hello, security," Durand said into his cell phone as he called for assistance.
As for the right way, Bruce knocks, shakes hands, presents his resume, and thanks Durand for the interview when it's over.
Some of the students learned so much when they participated last summer they returned for a second go round. Raven Phillips was a repeater who, at 14, got a job working as a restaurant hostess. She said that experience plus what she learned at the Job Club taught her how to interact with her coworkers. That's a skill that will serve her well with her planned career as a child psychologist.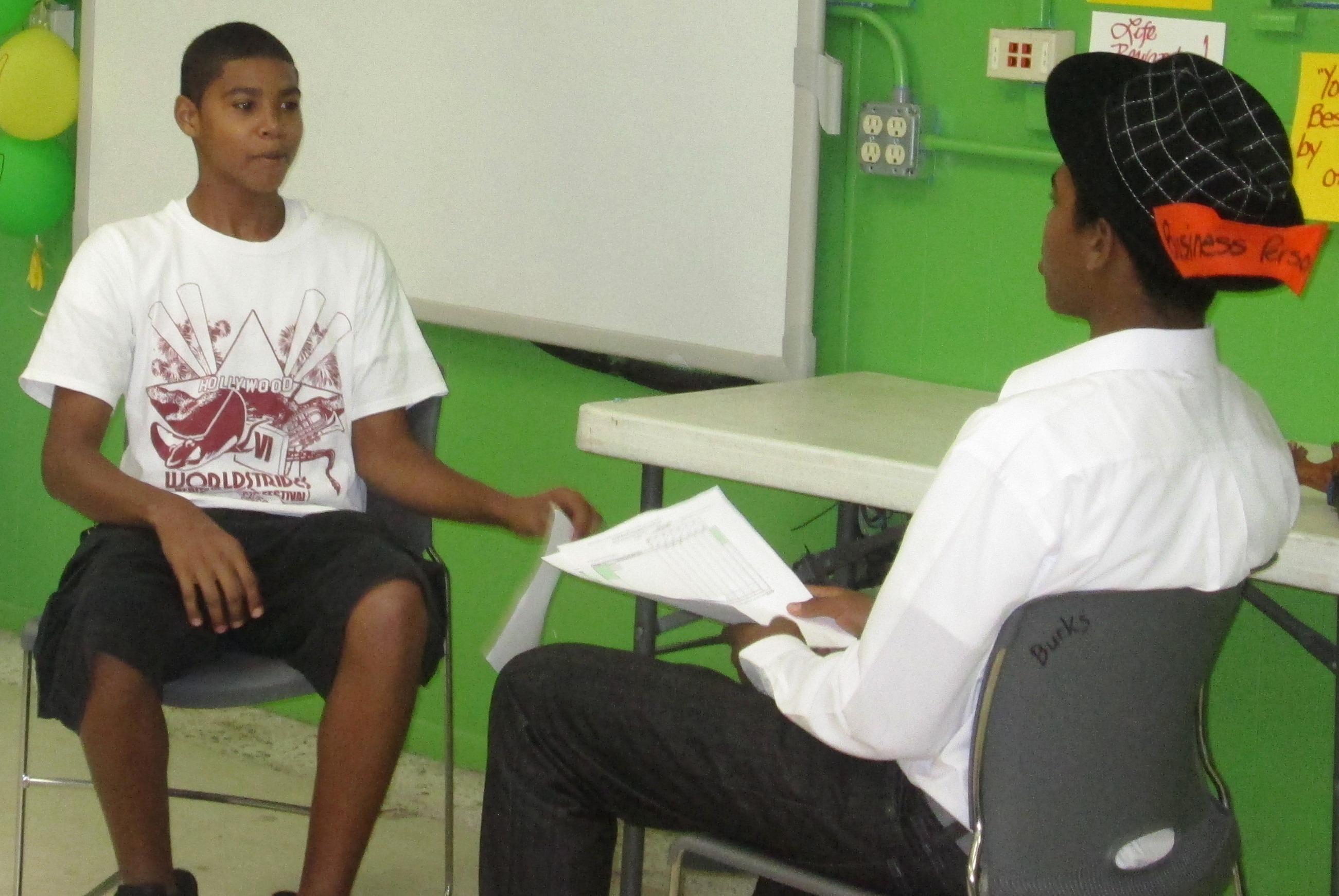 Loran Jackson, 18, signed on this year as an assistant to program director Bonny Corbeil after being in the program last year, but said he learned additional tips this year. For starters, he said that this year, the students explored the local job market. He wants to be an architect but has already had jobs cleaning vacation villas and working at a restaurant doing prep work and washing dishes.
Throughout the three weeks of the class, the students learned from several St. John professionals who trekked out to the Job Club held at Guy Benjamin School to share what they knew.
Luciah Polius, who works in guest services at Caribbean Villas vacation villa management agency on St. John, said it was important for the students to learn the importance of tourism in the island's economy.
"And I think it's important those kids know what they want to do and how to achieve it," she said.
The students learned many skills that those with more working experience take for granted – returning phone calls and making eye contact, for example.
"How to be on time," said Conrad Matthias, a 15-year-old would-be professional basketball player.
The students treated each day at the Job Club as a real job. Corbeil said that when they were going to be late, they called to let her know. She said some students had transportation challenges because the VITRAN bus was unreliable.
For their efforts, they got $15 a day out of a $4,500 grant from the Labor Department.
The on-time lesson was one also learned by Cekhoi Scatliffe, 16, and another would-be basketball player.
"And always have a good smile," he said.
T'Shawn Carty, 18, is looking for a job as an office assistant. A St. Thomas resident, he wanted to take the class so he found a place to stay in Coral Bay so he could attend. In speaking about what he learned, he put communication skills on the list.
"Always greet people. You never know who they are," he said.
Asha Williams, 16, wants to be a chef when she's done with school. She said she learned to keep a positive attitude, a skill that will serve her well in her chosen field.
Bruce said as a budding musician he tends to be a bit hyper. He said he learned at the Job Club to calm down a bit. He said he's thinking about going into the military so he can get a free college education and play in the military band.
Dallas Phillips, 18, also mentioned that a positive attitude is important. He's headed for art school after he graduates next year from Ivanna Eudora Kean High School.
Durand also plans a career in the restaurant business. "I learned about team work," he said.
Alliyah Henry, 14, who wants to be a cosmetologist, said she learned how to keep positive behavior on the job, to have a good work ethic and to provide good customer service.
Latiah Jackson, 15 and headed for medical school to prepare for a career as a pediatrician, described herself as shy. "I learned courage. I've learned to sell myself," she said, summing up with the Job Corps was all about.