Students and supporters held a grand opening Saturday for a student-run eco-store at the V.I. Montessori School & International Academy.
"Eco-Desires" debuted at the school's annual Fall Festival on the St. Thomas East End campus.
Initially funded with a $7,291community enrichment grant administered through the Waste Management Authority, the store is a working lesson in ecology and business. It offers a wide variety of environmentally friendly products, including sunscreen, lunch kits, sandwich bags, stationery, baseball caps, water bottles, sponges, and insulated coffee tumblers.
Helen Sidiropoulos, the faculty advisor for the project, said students will staff the store and run the business.
"They're learning all the aspects of business and retail sales" including inventory control, advertising and accounting.
Tenth graders Harsha Ramchand and Keon Hendrickson and ninth grader Nika Pearl-Edwards comprise the project's set-up committee, Sidiropoulos said. But many other students have been involved, donating community service hours.
The store is just one of a long line of ecological initiatives at VIMSIA.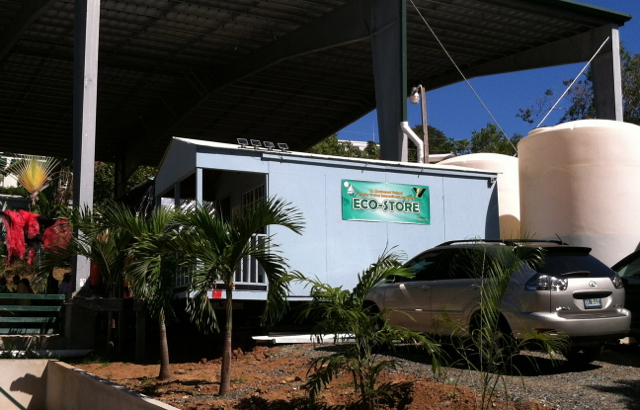 "We've been environmentally sensitive forever, long before it was politically correct," said Michael Bornn, head of school and former chair of the Board of Trustees. Among the school's efforts is a longstanding recycling program, high efficiency air conditioning, installing energy efficient lighting and solar energy.
"We reduced our WAPA (Water and Power Authority) bill by 20 percent over the last year," Bornn said.
Eco-Desires is located in the small building by the Playscape, under the Solarium. Beginning in mid-November, it will be open to students, teachers and the public from 3:30 to 5 p.m. Monday through Friday, Sidiropoulos said. It may open for an hour before school also, but that is to be announced.
The goal of the Community Enrichment Grant program "was to provide opportunities for youth groups, schools and non-profit organizations to take an active role in the improvement of the environment of the Virgin Islands by utilizing funds that were made available by the VIWMA for environmental improvement programs," according to a Waste Management Authority press release. The school's proposal, "Mission: Green Student" garnered one of the 2011 grants. The program has been suspended due to government austerity measures, the press release noted.