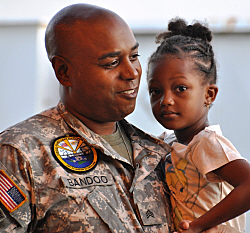 Dozens of teary-eyed family members gathered at the Charles F. Blair hangar on Saturday to say farewell to seven soldiers of the V.I. National Guard, heading to Iraq for a year-long deployment.
After disembarking at Fort Benning, Ga., for training, Delta Company 126th Aviation, Detachment 2, will head to Iraq to fly transport missions in the twin-engine C-23 Sherpa to support Operation New Dawn. In total, nine members will be deployed, but two of them will meet up with the unit after they complete some last-minute training.
"I'm confident the pilots and crew will do a splendid job over there – they've been training for a year and always do outstanding work," said Maj. Gen. Renaldo Rivera, adjutant general for VING.
Some of the members have deployed several times, like Sgt. Junior Garcia, who is heading onto his fifth since the war began, but he's still proud to serve.
"I am proud to be chosen for this mission, but of course I'm ready to get it over with," he said.
His wife, Sherrayn Garcia, is prepared to do what she has to for her and their two young children, but she says it's the first time he'll be leaving for an entire year and that it will be extremely hard. One thing that makes it easier for her is the knowledge that Garcia's team is very competent, and she said, they are like a family so will look out for one another.
One father, Peter Ghirawoo, struggled to hold back tears as his only son, PFC Benjamin Ghirawoo, heads off for the first time. The two live together and share a very tight bond. The elder Ghirawoo said he will miss their camaraderie.
"He's my only son, and such a sweet boy," he said. "I am going to miss him terribly and don't want him in harm's way."
However, a special surprise kept Ghirawoo's spirits up when he was called to a closed-door meeting before boarding the plane, where Benjamin was promoted from PV2 to PFC, earning him more responsibility and better pay.
James Gaston III leaned against a wall, his sadness evident, as he waited for his father, Sgt. 1st Class James Gaston, to leave.
"I am sad, I don't know if he's coming back," he said. Then he added quickly, "I'm sure God will make sure that he comes home safely to his family, and that the other members will come home too."
Acknowledging the difficulties for families, the commander, Capt. Ayo Olanipekun, was confident of his unit's abilities to stay strong throughout the deployment.
"I feel really good about this mission because we are going to be doing incredible things to help out the Iraqi people," he said.
After the unit gathered in a huddle formation for a long emotional prayer, they said their goodbyes, hugged their loved ones, and marched toward the Sherpa, while family members cried softly.
Also leaving on the deployment was Chief Warrant Officer Joshua Maillard, Sgt. Peter Bandoo, and PFC Adrian Ramsden. The other two guardsmen, Lt. Andres Velazquez and Chief Warrant Officer Saki Mine, will join them next month.