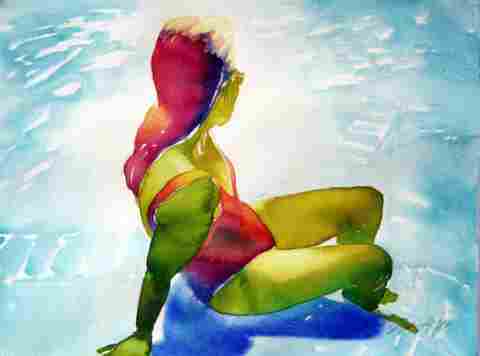 Three artists are featured in the "Remembering in Watercolor and Clay," which will begin at a reception from 5:30-8:30 p.m. Friday, Feb. 4, at Mango Tango Art Gallery on Raphune Hill. Carol Carter and Dana Wylder have created vibrant watercolors for the exhibition. Mandy Thody excels in expressing herself both in ceramics and watercolor.
Classically educated Carol Carter has painted and garnered collectors internationally. Carter's work is represented in many public and private art collections, including those of Citicorp, Blue Cross/Blue Shield, Arjomani Paper, Leonard Slatkin, Price University and Utah State University. She has been a visiting artist in Norway during three different stays. She is a favorite in St. Louis, chosen as the city's best artist in The Riverfront Times in 2000. She enjoyed a solo exhibition, sponsored by the U.S. Embassy at the Teatro del Centro de Arte, in Guayaquil, Ecuador, in 2003.
Gallery co-owner Jane Coombes said, "The praise for Carter is well deserved, but what the viewer will remember is her vibrant watercolors. In 2007, when she was teaching a workshop in St. Thomas, I was given a card which featured a swimmer she had painted. That image stayed with me because it was fresh and dynamic, capturing a moment in time. We are honored that she has taken time away from university teaching and her international workshops to exhibit with us."
Dana Wylder is best known throughout the Caribbean for her watercolors. Like Carter, Wylder is a professor of fine art as well a working artist. She began exhibiting in downtown Charlotte Amalie 25 years ago, when she lived aboard a sailboat. She deftly depicts the splendor of seaside scenes and the lacy balconies of the buildings of the islands. Recently, she mastered the technique of creating watercolor paintings on yupo paper. Yupo is actually plastic, a state-of-the-art synthetic material offering all the attributes of the highest quality papers. Musician and gallery co-owner Smokey Pratt said, "In her last show, she had started working on yupo, and I asked her to explain the process."
Wylder writes that "the works on yupo are a conversation with the paint — a collaboration between me, the paint and the surface. The paintings have a willful liveliness as I work on them. The wet paint moves around on the surface on its own. I can influence this a little or let it go on its own. The painting can change radically as the paint dries and surface tension pulls on the paint. I watch the drying process (which is hours long) adding color, and adding strokes or tilting the paper to change the flow. The challenge is to blend the loose paint with areas of greater control, allowing the images to be revealed. I enjoy the spontaneous, unplanned input of the paint moving on the smooth surface of the yupo support. I also appreciate the durability of the yupo in damp environments. It does not have the same vulnerability to mold as a work on paper. I would still avoid hanging them in full sun, as with any painting."
As a self-taught artist, Mandy Thody works in both painting and sculpture. She is always looking for connections between her two and three-dimensional work. She notes that "the same themes, primarily, that of humanity expressed through the face, run through my watercolors and sculptures. For the current show, I have only a few watercolors, because when Hurricane Otto was in the region, it created flooding and havoc on my studio and property near the rain forest on St. Croix. However, in the few paintings when I did have time to paint, the backgrounds are intended to convey an impression only and often include symbolic references, such as petroglyphs, flowers or artifacts with a specific cultural context."

Mandy Thody sculpts clay and then fires her creations in a kiln. Recalling the faces that surrounded her as she grew up in Zululand, she makes heads, busts and boxes. Whether a Thody work of art is to be displayed on a tabletop or on a wall, each is a true blend of talent, nature, form and function. Her recent trips to Haiti have also influenced her works. The ceramic portraits of the people of Zululand embody both pride and tranquility, while those that reflect the faces of Haiti present both pride and despair. She continues developing a body of steadily maturing work.

Meet the artists, while enjoying the music of 2 Blue Shoes. Neighboring restaurant Randy's Bistro is offering a three-course surf and turf special for $35 as well as the regular menu from 5-9 p.m. Gallery-goers from St. John will be offered a free shuttle at 8:30 p.m. and 9:30 p.m.
For more information about the show, call 777-3060. For dinner reservations, call 775-5001.