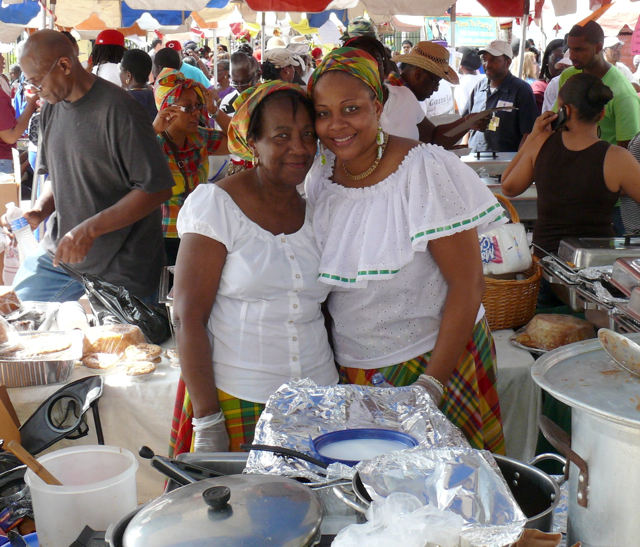 Throngs packed Frederiksted's waterfront Wednesday, sampling distinctive traditional recipes of the U.S. Virgin Islands, from steaming cups of kallaloo and maufe to slabs of sweet, layered Vienna cake and hard, clear dunderslaw candy, for the Crucian Christmas Festival Jane Meyers Food Arts and Crafts Fair.
Later rising families joined hundreds of revelers fresh from Jouvert. Families strolled about and filled the benches of Buddhoe Park, whose bandstand was swathed in bright orange, yellow and green madras. A hundred more milled about on the Ann E. Abramson Pier, where a group of teenagers periodically took turns sprinting and leaping off into the sea, doing cannonballs, poses and flips. Soca and calypso poured from loudspeakers.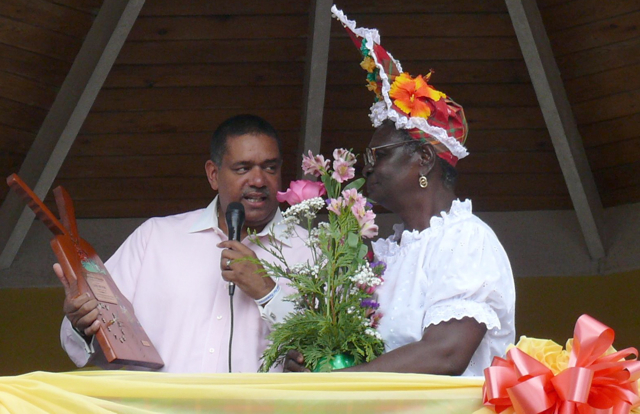 Across from Christian's Pharmacy, the V.I. Superior Court St. Croix Rising Stars steelpan band rocked the air and shook their double-decker truck. Local artists and artisans and authors including St. Croix's Richard Schrader sold their wares from tents and booths across from the pier. Gov. John deJongh Jr. mingled and worked the crowd, his aides at the ready a few yards away.
And as every year for many decades, the best local cooks, bakers and candy makers sold and served mounds and mounds of fresh, local goodies.
While some of the cooks were returning for the 10th or 20th time, others were relatively new to cooking for a crowd.
"Most of us like to cook and so I got a crazy idea to get my friends and co-workers together and do a booth this year,"said Elsa Clay of Frederiksted, taking a few seconds' pause between ladling up soup, bagging to-go containers and making change. This is her second time cooking for the food fair, she said .
"We did some black cake, sweets and pastries, a local dish we just call fish soup, and maufe," she said. Asked what was in the fish soup, she offered a quick, easy, flexible recipe:
"Just get your fish, take the bones out and boil with some pig tail, salt beef or whatever like that, then add in some tania, potato, your root vegetables, celery, parsley and all the local herbs we use," she said.
Maufe has many of the same ingredients, but is also thickened with cornmeal and usually comes with a dollop of cornmeal fungi, she said.
Each year a cook with special culinary talents and a long history of cooking at the festival is honored during a short ceremony at the opening of the food fair. This year the honor went to
Jane Meyers, an avid promoter of traditional cuisine who has cooked at festivals and other feasts on St. Croix for decades, frequently winning prizes.
"Miss Meyers' recipes have been passed down for generations and hopefully will be passed down for generations to come," said deJongh, who called the festival an opportunity to "cherish and respect" the traditional knowledge and ensure that it stays alive.
Growing up, Meyers was the only girl among seven brothers, said Bradley Christian, the master of ceremony, as he outlined her years of culinary and cultural contributions. She has been cooking for 46 years. Meyers helped her mother often in the kitchen, learning traditional home recipes passed down from generations before. She moved to the U.S. Virgin Islands during the 1960s when she was 20, married a native and learned to cook local dishes. An avid cook, she has cooked and participated in the St. Croix Christmas Food Fair and the V.I. Agriculture Festival for the past 27 years, Christian said.
"She has mastered most Crucian dishes except the maufe," he said. "So maybe soon she can come to my house to learn the maufe."
The governor and Festival Organization President Davidson Charlemagne presented Meyers with a lace-bordered traditional madras hair wrap, a bouquet of flowers and a memorial plaque to hang on the wall, while the crowd applauded.
"She is retiring and though she is here now, we already miss Miss Meyers and wonder who is going to take her place," Charlemagne said.
After the ceremony, reporters scrambled to speak to Meyers.
"It feels great to over the years to realize someone was watching and appreciated what you were doing," she said.
"I love to cook," Meyers said, when asked why she came out every year. " I look forward to it every year."
She said she likes cooking outdoors on the old-time charcoal pot.
"A lot of the dishes take a long time to cook, so its better to be outdoors," she said.
Along with a lot of jams and jellies, prize-winning guava-berry rum and sweet confections, she cooks up red pea soup, kallaloo, fish and fungi, dumplings and saltfish and smoked herring and rice, to name just a few of her specialties.
"Red pea soup is my favorite," she said.
As long as they had wares to offer, the cooks and artisans kept serving the crowd and families kept strolling about, eating, talking and shopping, until dusk fell.
While the one festivity slowly wound down, across the street in the festival village, booths began opening up, carnival rides lit up and began twirling through the air, and Crucian Christmas Festival continued into the night.
The festival wraps up this weekend with the Children's Parade Friday morning, from Claude O. Markoe Elementary School, the Adult Parade Saturday, Boat Races starting at noon Sunday at the Albert Edwards Fish Market, and the Festival Wrap Up from 8 p.m. to midnight Sunday at the Frederiksted festival grounds.