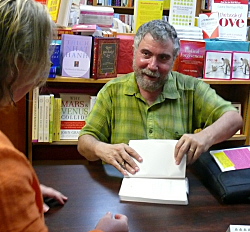 Health care reform, the issue du jour, was on the minds of the audience as much as recession when Nobel Prize-winning economist Paul Krugman came to St. Croix's Undercover Books Friday to talk about his latest book "The Return of Depression Economics and the Crisis of 2008."
Standing cheek by jowl, people on the big island packed the small store wall to wall, craning to get a glimpse of Krugman — and if they were assertive and lucky, maybe even get in a question to the influential New York Times columnist, prolific author and part-time Crucian.
For his part, for an hour and a half Krugman genially held forth and answered questions on any and all topics, as though at an impromptu seminar at Princeton University, where he teaches. Krugman and his wife, Robin Wells, spend about a month and a half each year on St. Croix. "If I'm lucky," he said.
Would "market-based solutions" such as allowing insurance companies to sell across state lines be a better approach to reform, asked one man?
Markets are wonderful things, but also can fail, Krugman said.
"Make a list of all the ways markets can fail and health care embodies every one of them," he said, enumerating a few. Despite a global recession and nonexistent inflation overall, California insurance premiums are going up nearly 40 percent, this year, he said by way of example.
Does U.S. spending more on its military than its European counterparts play a role in its spending far less on social welfare?
"We spend about four percent of GDP on defense while Europeans spend on average closer to two percent," he said. But some countries spend more than others, with France close to U.S. defense spending levels despite a much larger social welfare net, Krugman said. And Europeans come close to 10 percent more of GDP on social welfare than the U.S., "So defense spending is not the difference," he said.
"I like to compare the U.S. to France," he said. "In part because I love how it drives conservatives crazy." But France is in some ways a good model for comparison, among European nations, on defense policies, productivity levels and even the structure of its health care system, he said, referring to "French Family Values," an article he wrote a few years ago for the New York Times.
Will passing health care reform this weekend hurt Democrats in this fall's elections?
"If Republicans really thought the bill was going to be something they could campaign on this fall, they would not be trying anything and everything to stop it right now," he said. Krugman pointed to a "fake memo" released just that day, he said, by House Minority Leader John Boehner (R-Ohio) ostensibly from Democrats talking about how to sell the bill as an example. Democrats are saying the memo is a complete fake or forgery and Republicans have thus far declined to offer any evidence to its authenticity.
More broadly, with Democrats' standing in the polls sagging, are they likely to lose at the polls this fall, asked another listener?
Predictions are a difficult and uncertain business, he said. "But if health care passes this weekend …
… Democrats will have a chance to make up ground."
Does Krugman feel he ever changes anyone's mind or is he only preaching to the choir and not increasing its size?
Devoted partisan are rarely persuaded, but most Americans are not so partisan and not so committed to any orthodoxy, he said. Since President Ronald Reagan, the spirit of the times was to deregulate and privatize, but Bush's plan to privatize Social Security was stopped, and "it is not clear health care would ever have happened without people pushing," he said.
"If oil and oil reserves dwindle, are we doomed?" asked one fellow.
"You are talking about peak oil," Krugman said. "We know it is coming one of these days. It may be in five years or 15 years. It may have already arrived. It is hard to tell since we are in a recession right now. … But modern economies, given some time to prepare, can be incredibly flexible."
Although in principle optimistic about the ability of governments and economies to adapt, he has no rosy view on the current recession.
"This is ugly and it will get uglier as it goes on," he said. "One in six workers are either unemployed or involuntarily working part time. That is pretty disastrous."
When it all settles out and the recession is truly over, there will be some changes for the better, he said. "There will be more manufacturing jobs," he said. But the bad effects will linger for a long time into the future. "People who graduate into a year of high unemployment have significantly lower wages 20 years later than their peers who graduate in better times," he said, by way of grim example.
Was repeal of the Glass-Steagall a mistake? Enacted early in the Great Depression and repealed in 1999, Glass-Steagall separated commercial from investment banking and regulated lenders.
Yes, repealing it was a mistake, but it was not the sole cause of today's crisis, Krugman said.
"It was a contributing factor, but not the central one," he said. "We probably would have had the crisis anyway. … That was the last and in a series of deregulations." Reagan campaigned and governed on a platform of deregulation, free markets, laissez faire and supply-side economics and that has been the spirit of the times ever since, he said.
Toward the end of the discussion, someone asked him about Alexander Hamilton, who spent much of his youth on St. Croix. After a short political anecdote about former Republican House Majority Leader Dick Armey, Krugman said he was a fan of Hamilton.
"I guess I am a Hamiltonian," he said. "Hamilton favored a central bank. He was for investing in infrastructure. … Though he was probably a protectionist, he was a really smart guy. And he probably picked it all up right here on St. Croix."
After the question and answer period, Krugman signed over a hundred copies of his book and chatted with his fans.
A science fiction fan, Krugman actually became an economist partly because of the influence of the Isaac Asimov "Foundation" trilogy and the science of predicting future history invented by fictional character Harry Seldon.
"I chose economics as sort of the closest social science," Krugman said. He still reads science fiction and will be hosting a liveblog with Charlie Stross, one of his favorite current authors, Sunday evening at 5 p.m. at the blog Firedoglake.